Ace your
Learners Test
Getting your driver's licence should be easy. That's why we have created an all-in-one app containing everything you need to ace the Ls Test / Driver Knowledge Test (DKT)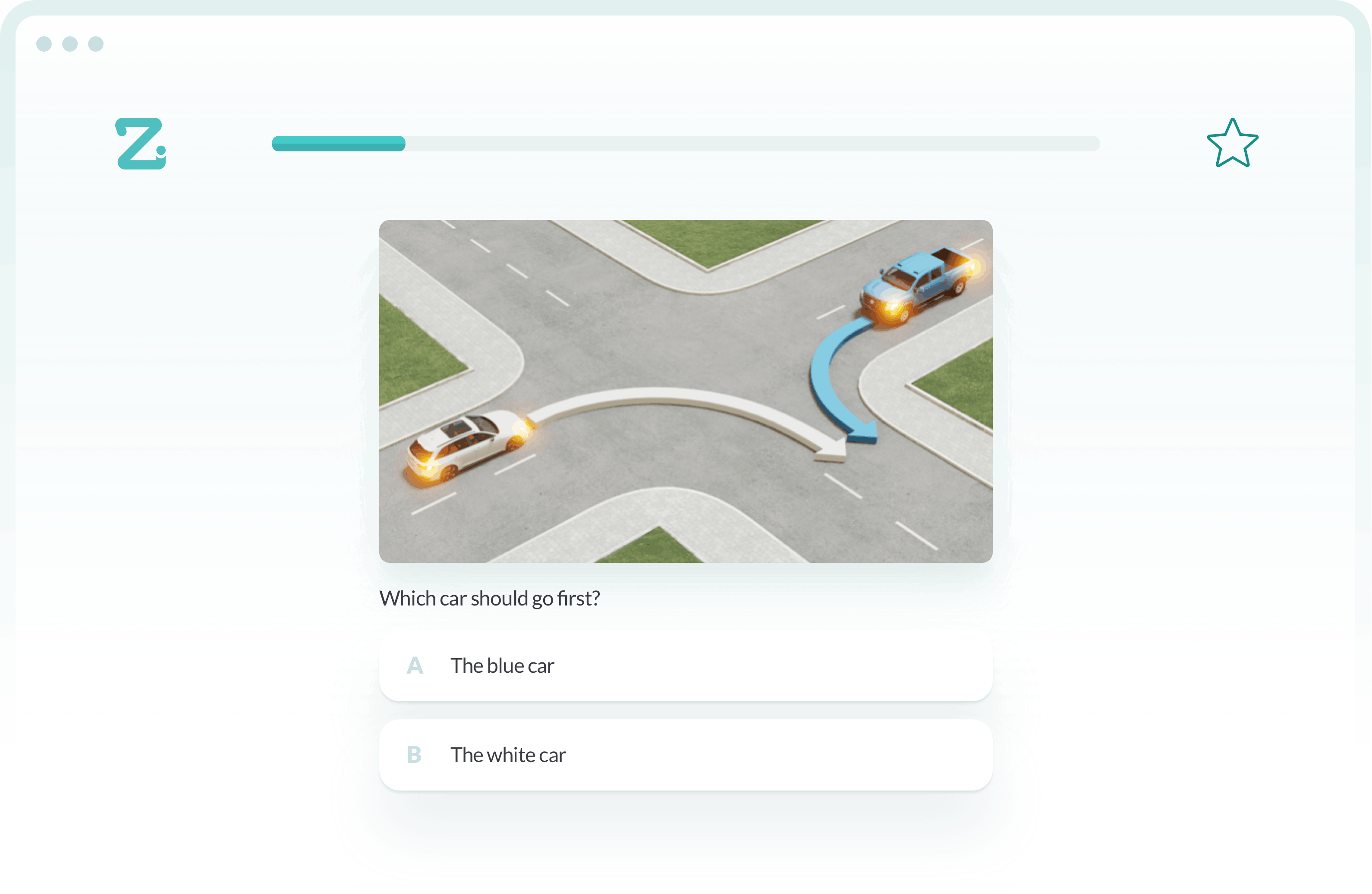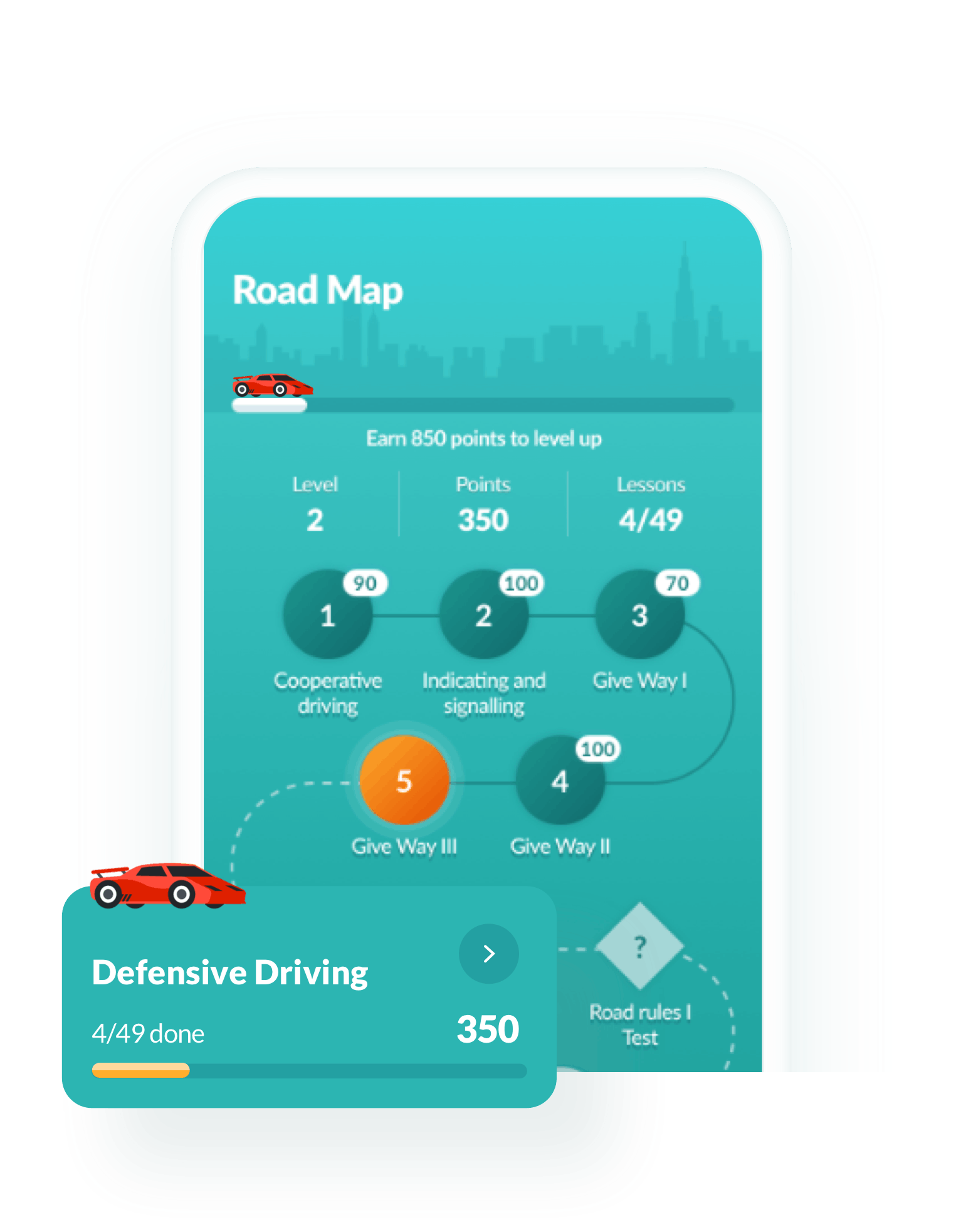 All-in-one resource
Your complete Learners Prep resource - including a summarised handbook, all the practice tests you need, exam simulator, and much more! Rest assured, all of our courses are state-specific.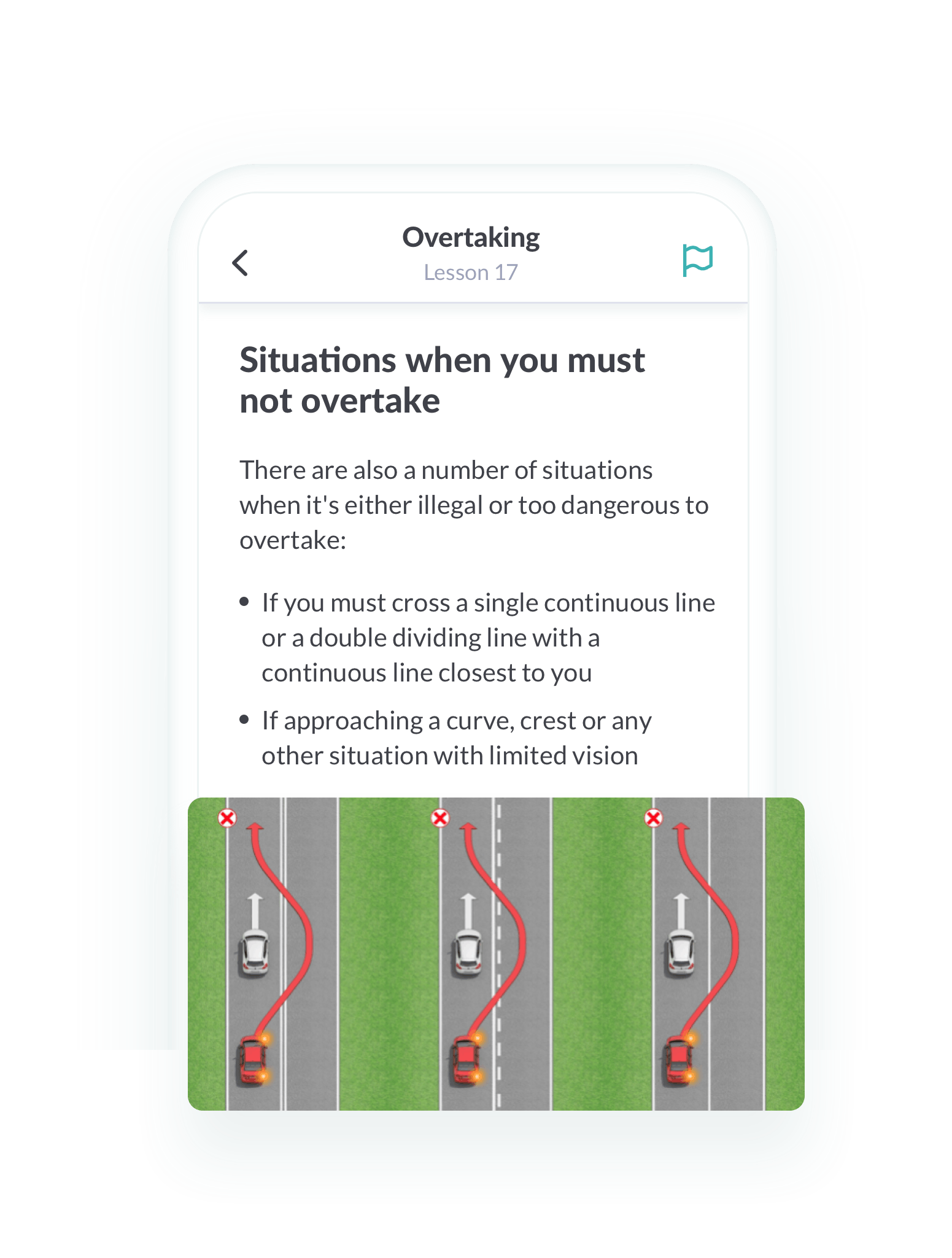 Toss your Handbook
Our step-by-step method will guide you from a beginner to a pro in a heartbeat. Each step contains easy-to-understand theory without all the unnecessary drivel, and questions that are almost identical to the real test.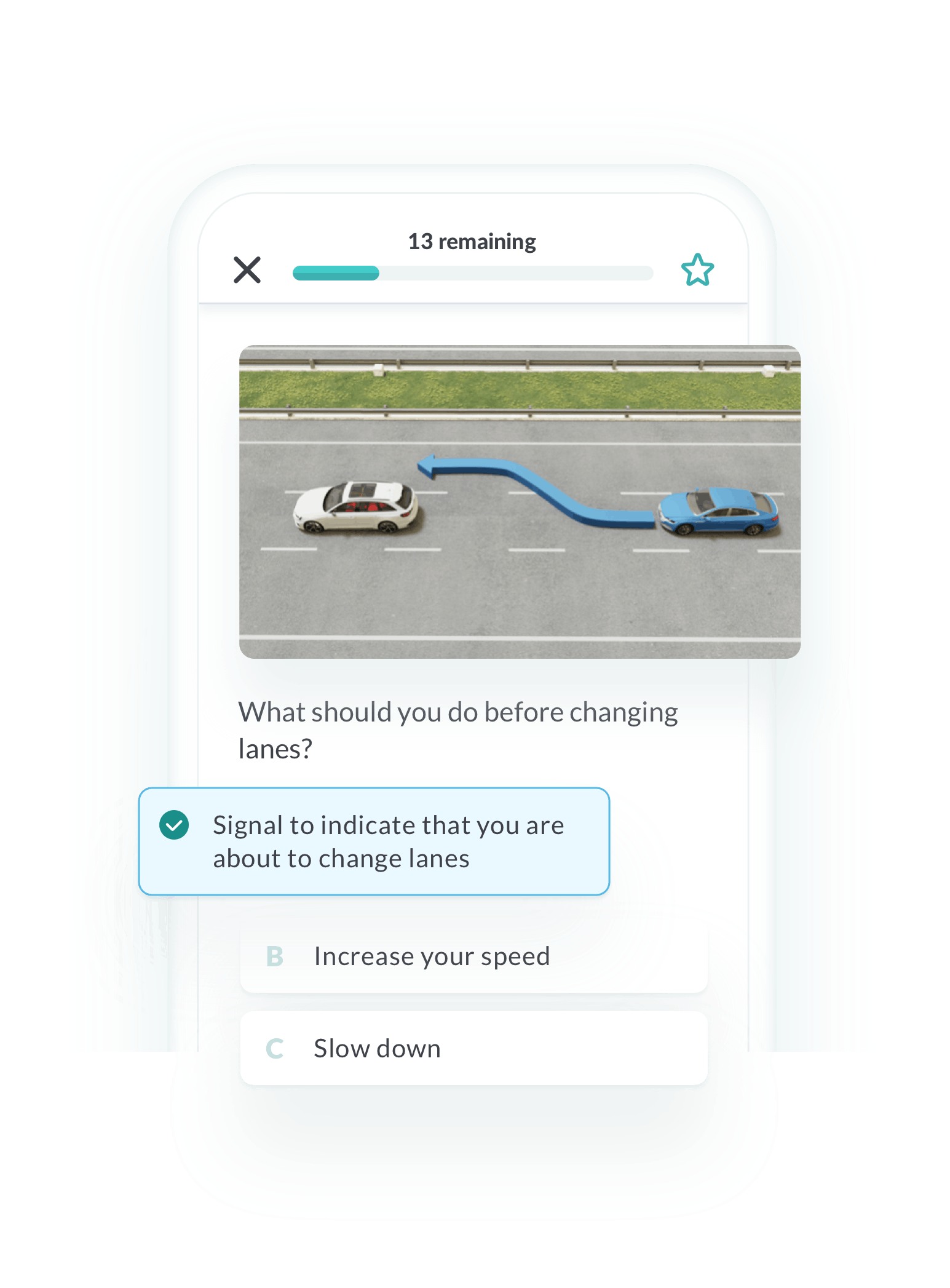 All the questions you need
Test your knowledge using hundreds of questions. Every question comes with a detailed explanation to help you understand better.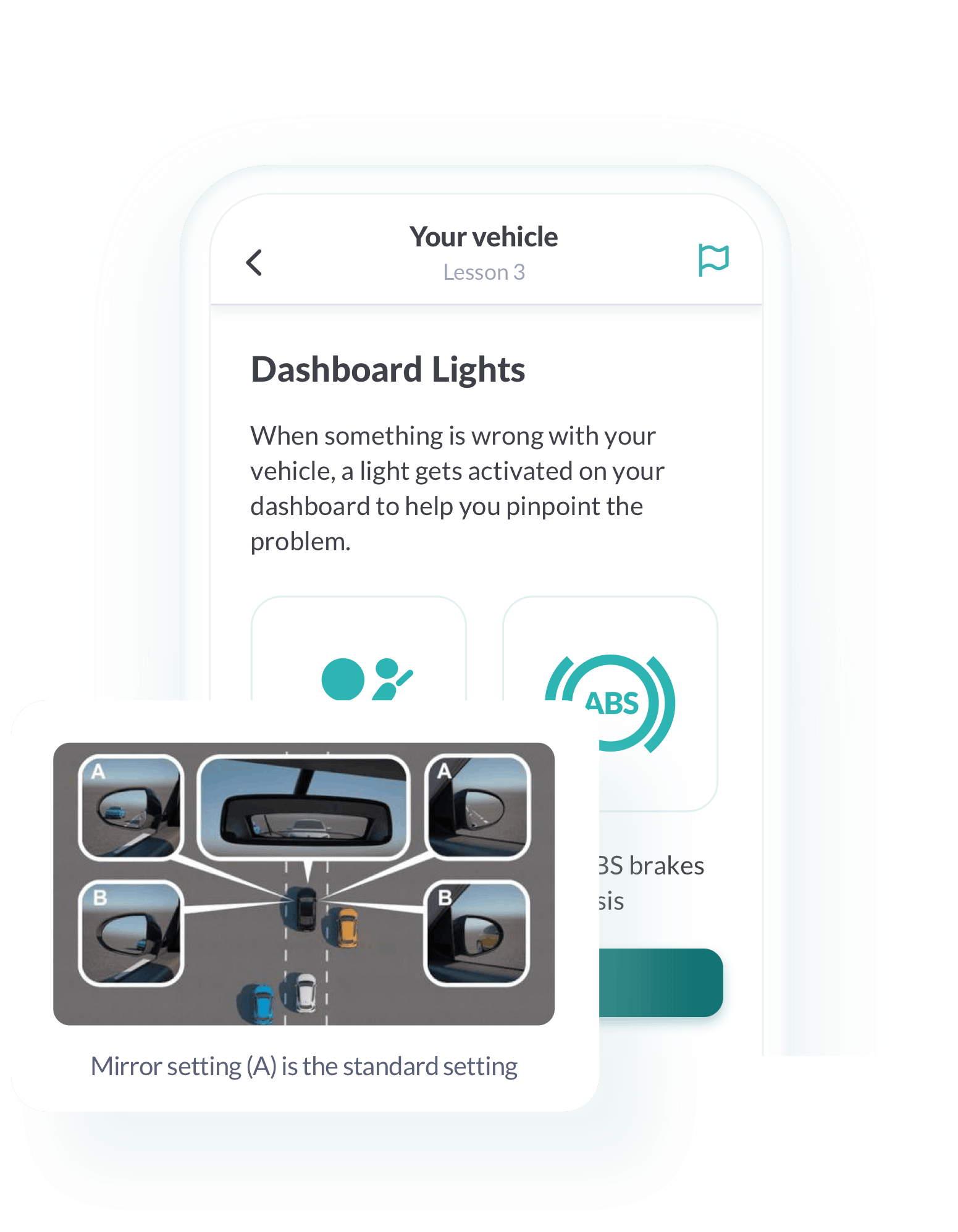 Learn by seeing
Lots of pictures and illustrations will prepare you for tricky situations you will encounter as a driver.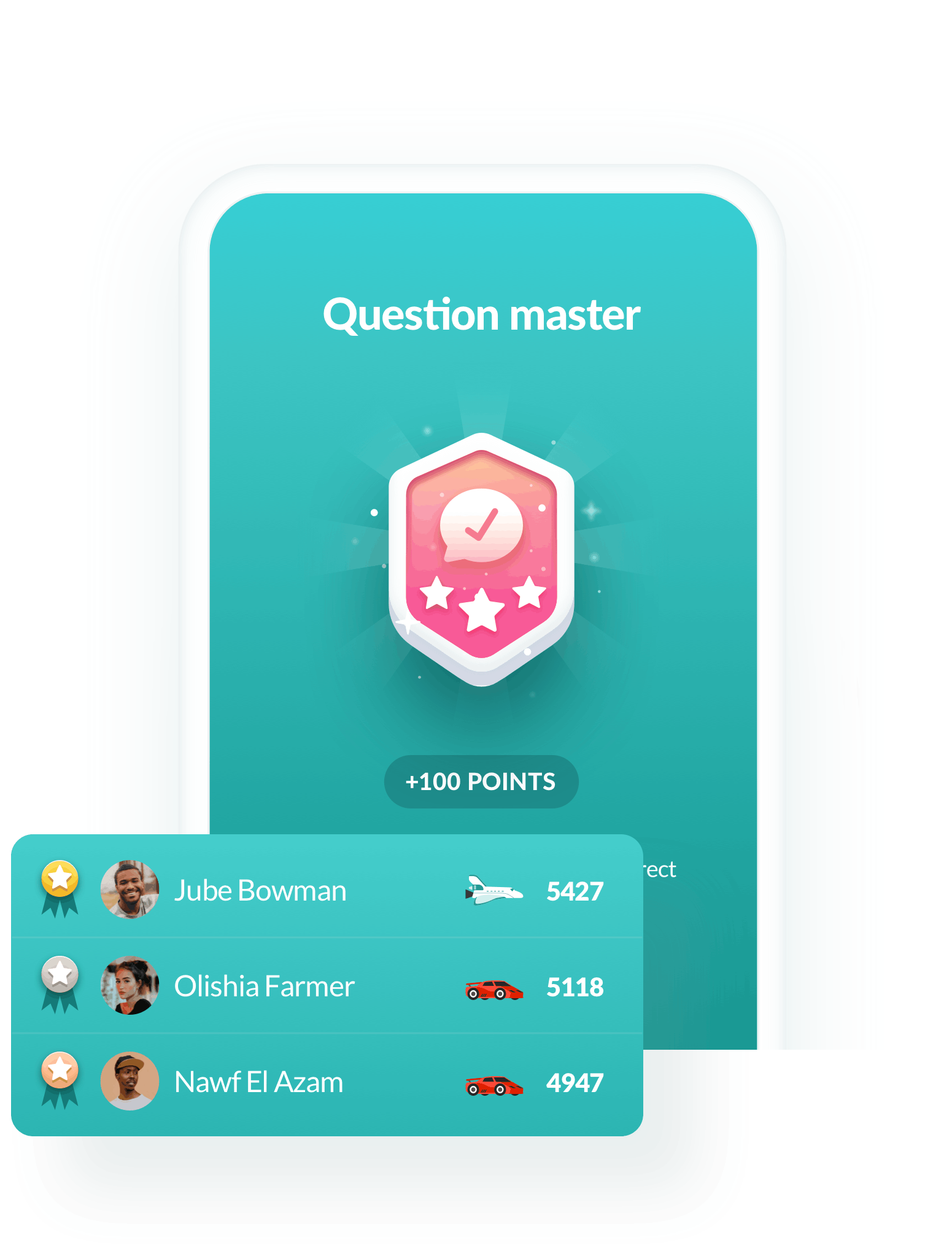 Have fun while learning
Studying doesn't have to be boring - earn points, level up and compete with your friends.
How does it work?
Learn using bite-sized lessons
Go through the exam-like tests
Finish final test simulating your official exam
Pass your Learners Test and get your licence
Reviews
Zoom 8
Although I had completed the learner's test required in my state, I felt uneasy with how much I truely knew about driving—I found it hard to believe that by simply passing 30 questions, I was now permitted to drive. So despite already receiving my learner's, I downloaded Zutobi. Now, I wish I could say that I bought the subscription and had immediate access to Zutobi's amazing premium features, however, financially, I personally made the decision to not buy it. Sure, without the subscription you need to wait 24 hours each time before accessing two more lessons, but Zutobi's facilities are worth waiting for. Considering the quality of their chapters and questions, I have to thank them for making their product offerings free... not like a "the first few chapters are free then you have to pay" sort of thing... (something we are all familiar with when searching for a driving app). Worth your time and/or money if you'd like to buy the subscription. Thank you so much
Continue reading
KayleeShae
I just got back into this app as I am taking my learners test (again) this week and decided to study on different apps. This app is the best for me and would definitely recommend to other people who is struggling about different questions. I had a few problems but I contacted them through email and sorted everything out. Their customer service has been a huge help and they do anything they can to fix any bugs that users may be experiencing including upgrading me for free on a different account. I am very grateful for this and and I will also update this on how it helped me through my learners test. Thankyou very much. 🙂
Continue reading
Muskanu
Useful because: - I had nearly a week to prepare and had practiced online a few times before but the confidence didn't build up. Then I found this app and started learning and my confidence level was much higher and I knew I could ace the test, btw, I got 91%. Interesting because: - You don't have to waste your energy reading boring instructions from the solo manual, rather you can learn in a better way with this app with a few laughs here and there along with accurate demonstrations. The tests in this app are perfectly designed. I would highly recommend this app.
Continue reading
Hilal1998
I accidentally stumbled across this app while looking for a L test. Many platforms attempt to recreate the Learner Test but nothing in terms of design, ease of use, functionality can even be compared or be put on par to Zutobi. Unparalleled learning experience. Highly recommend it to anyone wanting to get their L's in the future. The fact that the app helps to guide new learner drivers in their driving lives by providing with set content and mastery of knowledge is what has attracted me most to this app and is what in the future will help bring road fatalities to zero.
Continue reading
Taylahrose13457
This app is really good I have learnt so much in such a short time much more then I did trying to use the learners book the team behind the app are lovely I have had a few problems with offline but the staff have been super on top of it replied to my email very quickly and have gotten people on to solving the problem amazing service so happy I found this app and still recommend it despite the little technical issues I have had thankful for Leo's help in trying to fix the problem
Continue reading
Scarlet2005
I absolutely love this app!!!! I have already learned a lot and it is very well put and it is all so practical. I do not recommend any other driving apps!! THIS IS THE BEST ONE!!! This app is great for beginners and if you want to refresh your knowledge of the road. And the staff are amazing and in particular Joel, very friendly and definitely very helpful. They are eager to make sure you have the easiest ride to getting your license and I am definitely confident with using this app. Thank you so much guys have a great week 😊
Continue reading
the littlest bird
To start it's worth saying that I have a series of learning difficulties, including: dyslexia, memory problems, and comprehension/processing. This app has made learning to drive an achievable goal for me, which is truly awesome. I highly recommend getting the premium version as (assuming that you are only studying for a few weeks/months) it's relatively cheap for such a high service. I highly recommend this app for anyone learning to drive, but also to those who have further difficulties - this makes it achievable!! - Angel
Continue reading
tjy225
I purchased this app and it's really great for learners and people who need more information, the app was hard to use without having the full access and so I thought I would start the three day trial, when signing off on the three day trial it told me that I could go to settings and stop it whenever I wanted I went to settings and couldn't find any button, could you please help? How is this a three day trial when it's gonna make me pay for it, it you know how to cancel please help me out
Continue reading
lloydnoz
I got the app just 2 days before my test with no study and all I did was get through half the tests on it and multiple practice tests on the offical NSW website and read the book and I passed with flying colours no wrong answers what so ever seriously the best app for this kinda thing, and for you to get the best out of the app you need the premium subscription however I just used the free trial for 2 days and I was just fine, seriously good job
Continue reading
Ronniec14_
I got this app to help study for the DKT test to get my learner licence. This app has been tremendously helpful as it breaks down the information booklet provided by the government to study into different chapters that are easy to read and include a quiz to help you retain the information. There are numerous tests throughout the chapters that question all that you have learnt so far, ensuring that the knowledge is retained and understood. This app helped me pass my driving test with no mistakes! Thanks to the amazing app developers :)
Continue reading
izelle1030
I had a competition between me and a guy about who would get the highest score from there L test. He went for his first and got 91%. I downloaded the app and made sure I went through everything, even bought the full version (100% worth it) it's super helpful and even the test at the end is amazing, it really helped me know everything... literally. I just took my test recently and thanks to Zutobi got 100% on mine straight up.
Continue reading
Alex_H0540
This app is superb. This is far better than just studying a learner's book at a desk for ages as you do proper tests with feedback and explanations for why you were right or wrong. I was frustrated with the give way rules and the 'Give Way to Right' rule but the tests and feedback from my answers was invaluable in helping me to remember it. Absolutely recommend for any beginner drivers looking for something better than a learner's book.
Continue reading
Jensenanderson
I was worried about getting my L's, but this app is really good as I feel more confident with the road rules. Even things that aren't covered in the road rules are taught, so you can feel more confident on the road. I would also recommend for people already with their L's or even P's, as they can revise and even learn something new. Definitely worth paying $7.99 for premium.
Continue reading
the shadow lord 2008
I would definitely recommend this app it helped me so much with passing my drivers test. I would only pay for the week subscription then cancel it so you only pay on the the weeks you are going to use it. Don't rely just on this also take the online practice tests multiple times.
Continue reading
Love me ECM
I needed an app that helped me study for the driver knowledge test! Luckily I found this one after some research! Not only did I pass the test to get the learner licence, but this app also made it easy and fun to sit with the phone studying! If you want to pass the test you should download this app! Can't recommend it more!
Continue reading