Ace your
Permit Test
Getting your driver's license should be easy. Therefore, we have created an all-in-one app containing everything you need to ace the exam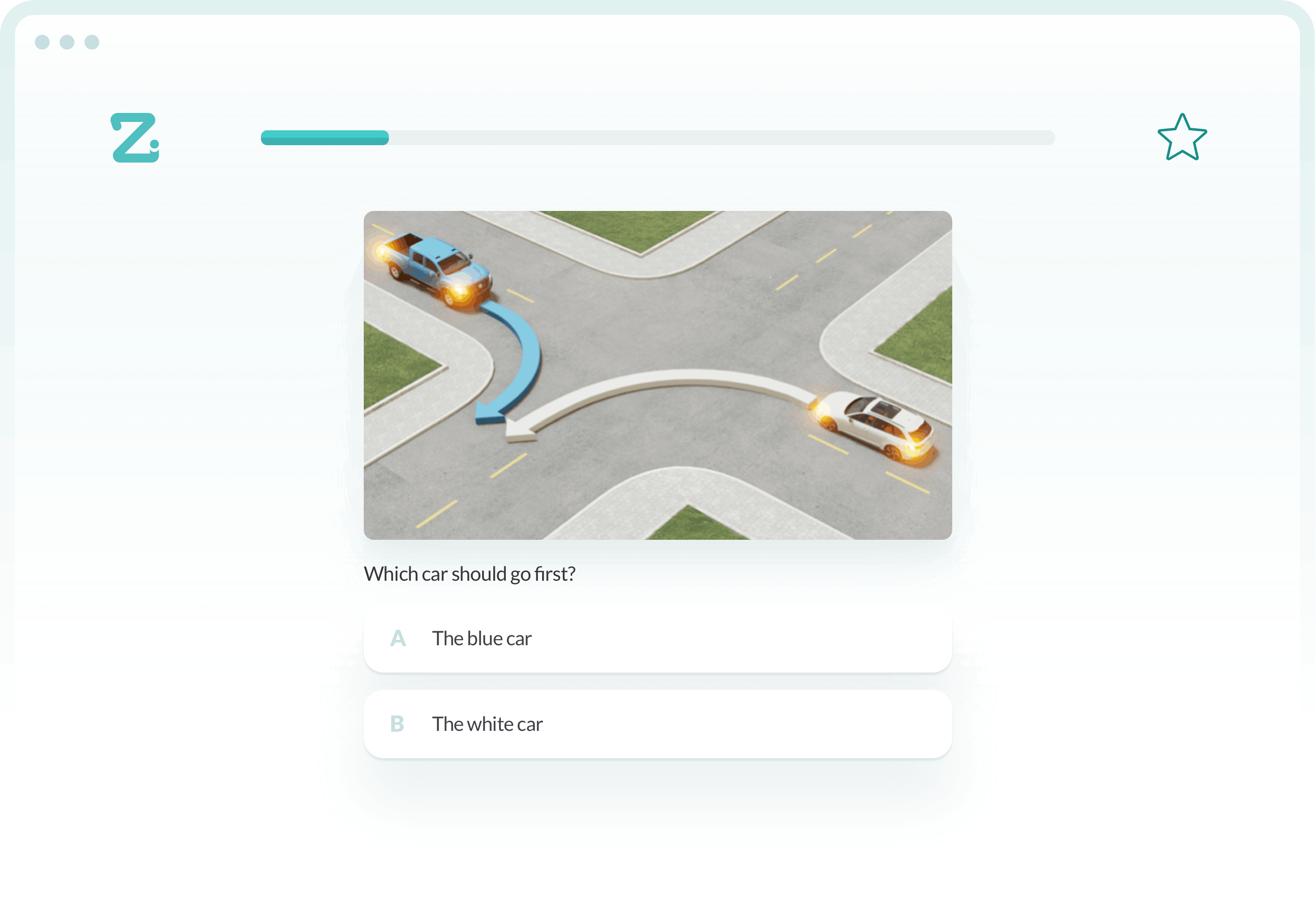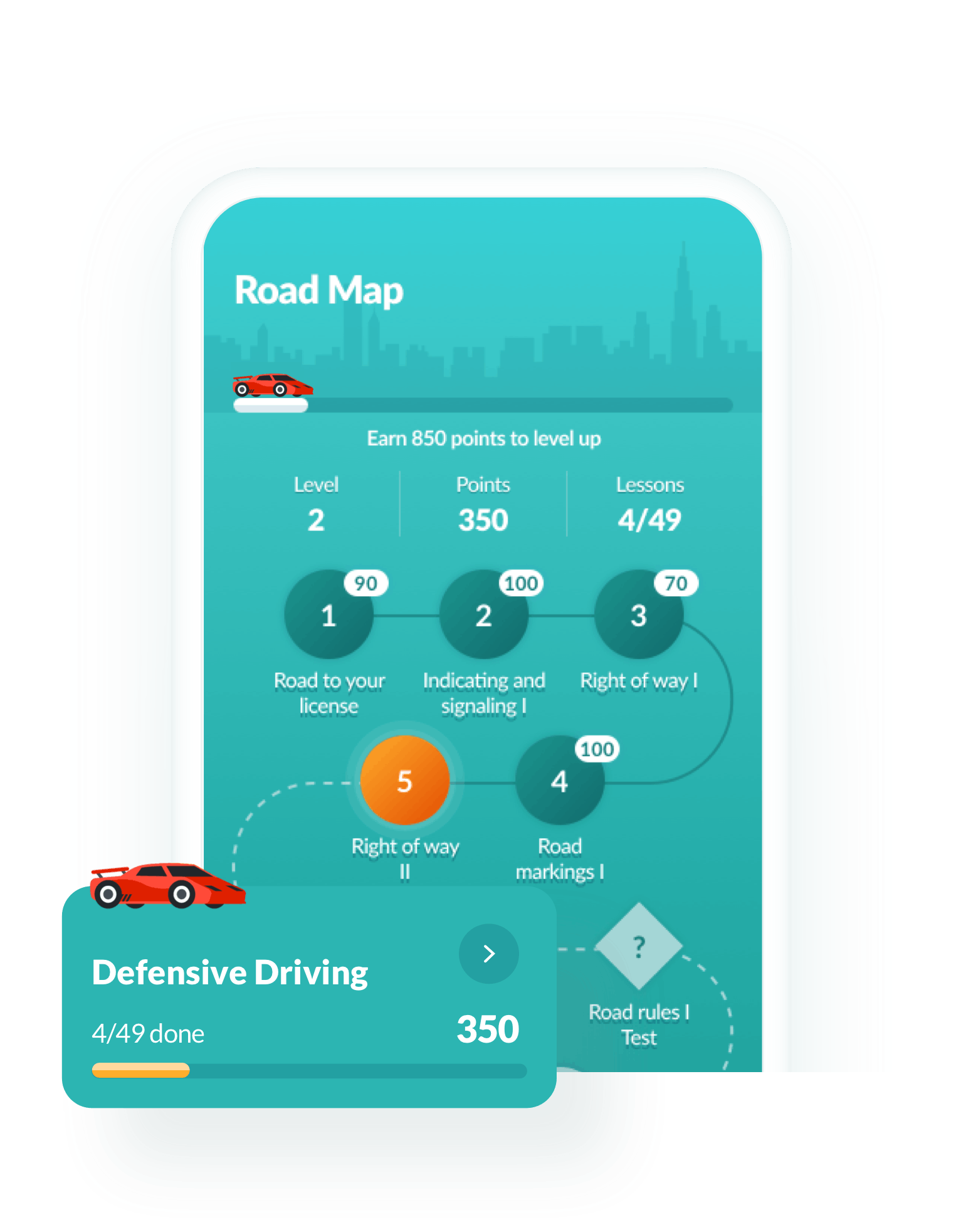 All-in-one resource
Your complete DMV Prep resource - including a summarized handbook, all the practice tests you need, exam simulator, and much more! Rest assured, all of our courses are state-specific.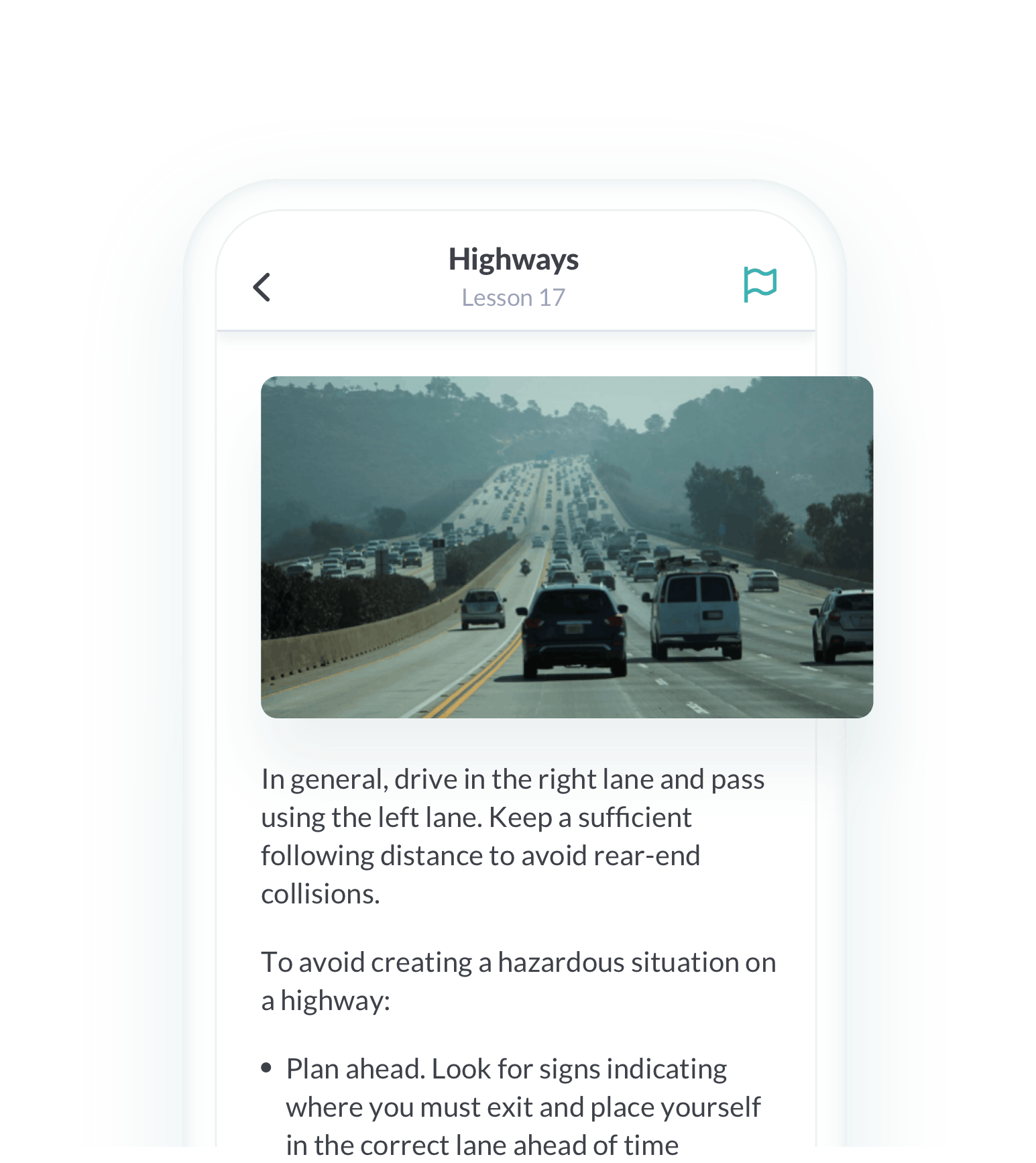 Summarized DMV Manual
We've summarized the entire DMV Manual into an easy-to-read format without all the unnecessary drivel. Download the app right now and toss all your other study materials - you won't need them.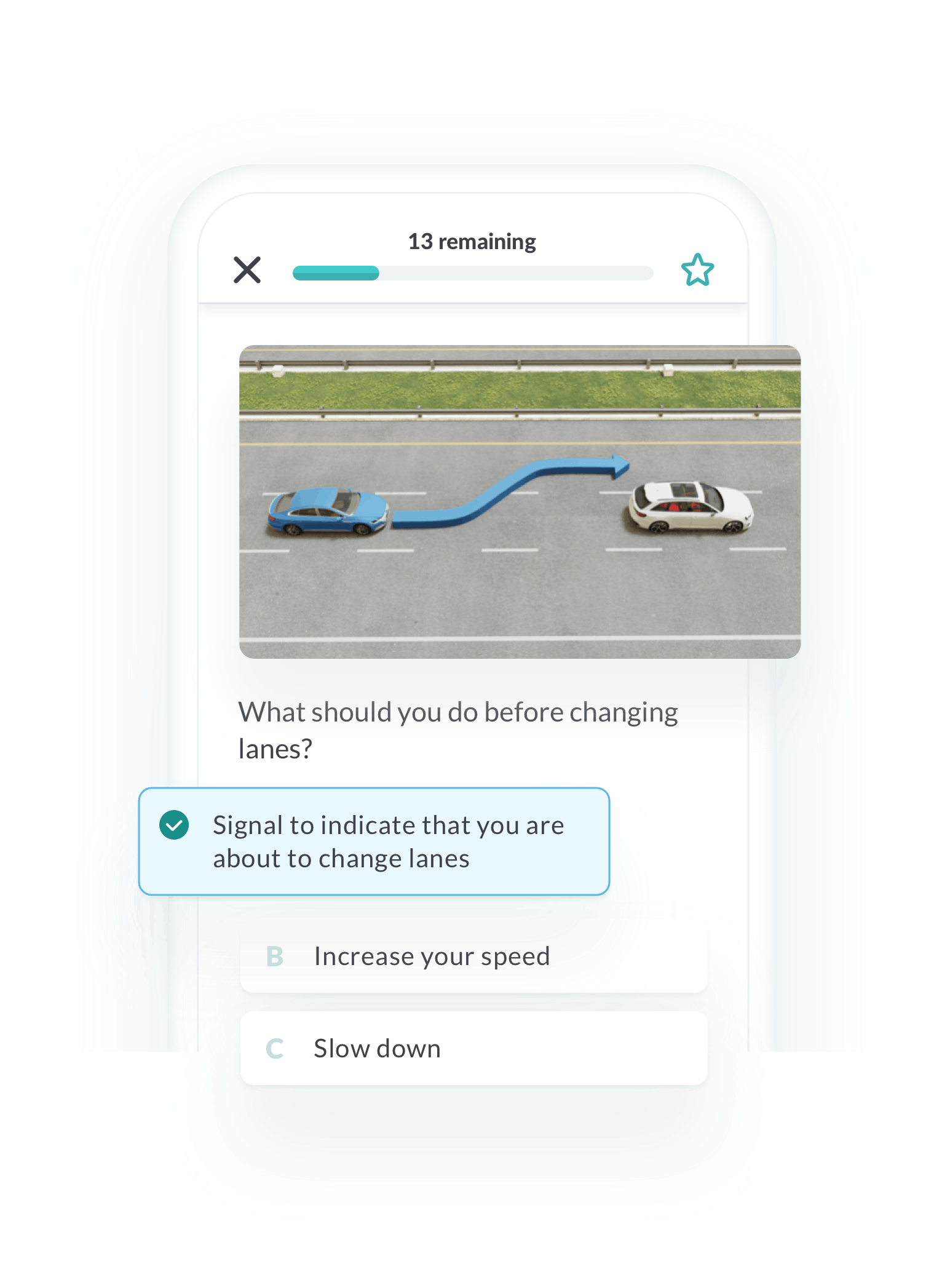 All the questions you need
Test your knowledge using hundreds of questions based on the official 2023 DMV Manual for your state. Every question comes with a detailed explanation to help you understand better.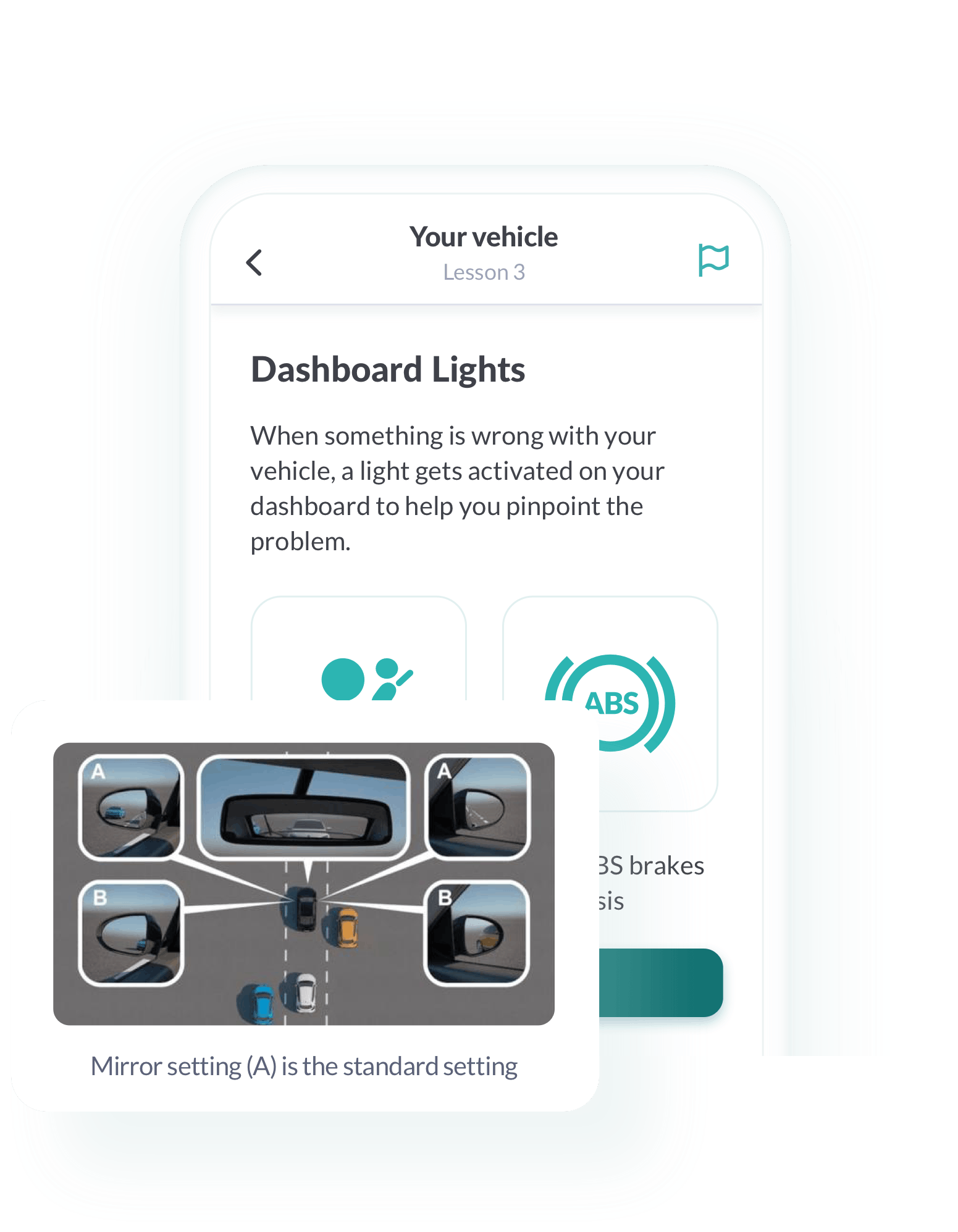 Learn by seeing
Lots of pictures and illustrations will prepare you for tricky situations you may encounter as a driver.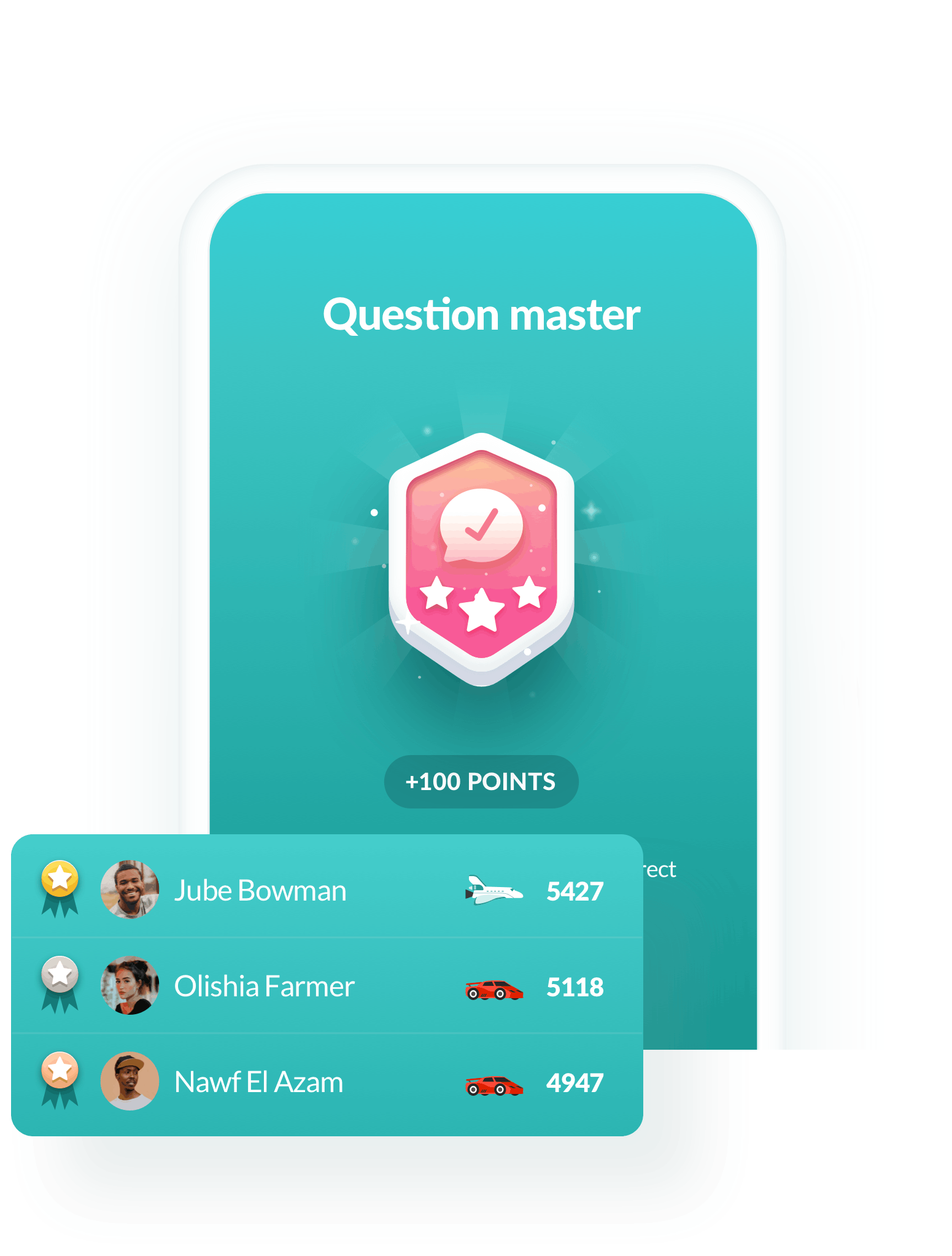 Have fun while learning
Studying doesn't have to be boring - earn points, level up and compete with your friends.
How does it work?
Learn using bite-sized lessons
Go through the exam-like tests
Finish final test simulating your official exam
Pass your DMV test and get your license
Reviews
Kurtis Huscher
hmm what will I learn.!?
Continue reading
Popal Jan (Popal Afghanistan)
It is good
Continue reading
TusdereChan 13
this app helps me practice for when I'm ready to actually start driving!!
Continue reading
Frank Trejo
I'm learning so much in one checkin.
Continue reading
Justin Chukwunyere
The best app I need in order to know what to do on a practical driving test. Thank you Team Zutobi. It makes it easier for someone to get the idea of what to do in different situations if realistically driving.
Continue reading
Buatia Ami
it good for learning
Continue reading
Shhdhdkdndmwisb
I literally love this app. I downloaded this app yesterday and studied all day. I took my permit test today and passed it with a perfect score. I don't understand why everyone is complaining yes you do have to pay but there's a 3 day free trial after that you have to pay. I did all 60 levels in one day because I had to take the test the next day. If you can't afford it just use the free 3 day trial and memorize and much as you can. This app makes studying fun and entertaining. I couldn't stay studying for more than 20 minutes on the Book I'll end up falling asleep but I studied all day this this app which is shocking to me. There's even an option to pay $9.99 a month instead of $4.99 a week. $10 a month is not expensive especially for the amount of information this app gives you! I know this a long review but I'm just in disbelief of how much I've learned in a couple of hours. When I first downloaded the app I literally had no clue about anything that do with driving. A Day later I passed my permit test with a perfect score. Anyways the point is I loveeee this app and give it a try!
Continue reading
Shelby K :)
Hi! If you want to get your permit but you just can't sit down and read the book, maybe it's the attention span (that's me) or you just don't have time (also me) or maybe the book is just too boring (also one of my problems 😂) this app helps out with these problems a lot. It's on your phone and so whenever you have free time just open the app click on the next chapter and start reading. The chapter are just shortened versions of the actual book so you get all the information you need just in a shortened version! The app is colorful and it's like a game. If you pass the tests, you get points and go to different levels, with these different levels, you get a different car each time! So it really grabs your attention and makes you wanna keep passing the tests and keep up to see how many points you get. So if anything I said sounds like wow that sounds fun or wow that would really help me out, then definitely get this app and check it out! 10/10 would recommend! 👍👍
Continue reading
Kaylamia B
I would recommend this app, It's so worth it. I'm studying for my permit test and just taking the DMV practice test or trying to read the book is so boring. I feel they make the question very confusing and hard to understand but with this app I understand everything. I love that they give you pictures to show what is happening or what it is looks like. I like that they give you preview and explain about whatever section u are doing before taking the test for that section. It also explains to you why you got the answer wrong or got it right. Then after a few sections you can take a mini test on those sections u did already. I found this app very helpful so i would definitely recommend it. Especially you're like me and a visual learner this is the app for you. Plus if you buy the app you get the first 3 days for free and then you start to pay for it. You can even cancel before you start to pay.
Continue reading
~🌹GoldenSlayQueen🌹~
I am so nervous about my taking my test. I have been wanting to go to drivers school for a while now. I asked my mom she said it'll have to wait then a couple of days ago me and my oldest sister was talking about how she was gonna get me a car and which one we wanted then she said something about drivers class that I've been wanting to go to. She called up to the place and signed me in I was excited then she said I had to take a permits test, I got scared because I thought I would fail it because I know nothing about driving really. My mom let me drive her car a few times and I did really good. I went on google to see what the questions was like and I barley knew the answers to them. Then I saw a ad for this app and I haven't felt more confident taking a test in my life. If your looking for something that will help you pass your test for sure this is the app for you.
Continue reading
485;$7tfc
I LOVE this app. I have one year until I can get my permit, so I want to know everything about driving. This is definitely the perfect app for that. I have learned so much already about driving since the second lesson! The lessons are quick and easy. This app basically has you take these quizzes, and you answer which you think is right. (it's multiple choice) It will tell you if you're wrong/right, and then gives some helpful reasons why the rule is that way. The only thing I don't like about this app, is all the ads I have to watch because I don't have the full version. To unlock a level, you have to watch an ad. I understand that watching the ads help bring money to the company that made this, but maybe we can watch an ad every other level instead? Despite that, I love this app and definitely recommend it!
Continue reading
libragoddess420
It's not even expensive.. Single teen mom here who waitresses, so I'm busy. This app helped me stay on track. Everything about it is amazing. I have adhd and some learning issues, but the way they set the curriculum.. not too much reading but enough to inform you about everything. After each chapter (which none are super crazy extensive long) you take a short quiz. All throughout the levels. I think there's like 62 levels before the final test. I've passed every level 80%+ and I'm on level 42 I believe. I love it. It's an amazing app whoever created it deserves a raise and recognition forreals cus I still wouldn't know anything abt driving or have the enthusiasm to get my license if it weren't for this app. Definitely worth it. 11/10 would recommend
Continue reading
giba bravo
I love this app. I passed my test because of this app. Only one tiny problem- there is one question on this app that does not match to that of the official DMV written test. My first time seeing the question on Zutobi I clicked my answer but it turned out to be wrong. I thought there was no way it could be that answer, but it was on Zutobi. On the written test though, I got the exact same question from Zutobi and I clicked the answer that Zutobi said to be correct. Guess what? I got it wrong on the written test! Turns out, the answer I knew from the beginning was the correct answer. Thanks a lot Zutobi. No I'm kidding, besides that one question, everything is accurate and very helpful. I recommend this app! Good luck :)
Continue reading
Gamer700
I bought the premium version a week before my permit test so and then cancelled my subscription after. This app is really good at helping you understand the concepts you need to know in order to pass the test. None of the practice questions are actually on the real test but this app does a good job at providing similar examples. I went through the whole course in like four days and read the whole drivers handbook. I was really worried about not passing but I got a 100% and I don't think I would have without this app. The subscription is worth it and just pay for a week and then end it after you pass your test!! Good luck you got this!!!
Continue reading