Ace your
DVSA Test
Getting your driver's licence should be easy. That's why we have created an all-in-one app containing everything you need to ace the Driving Theory Test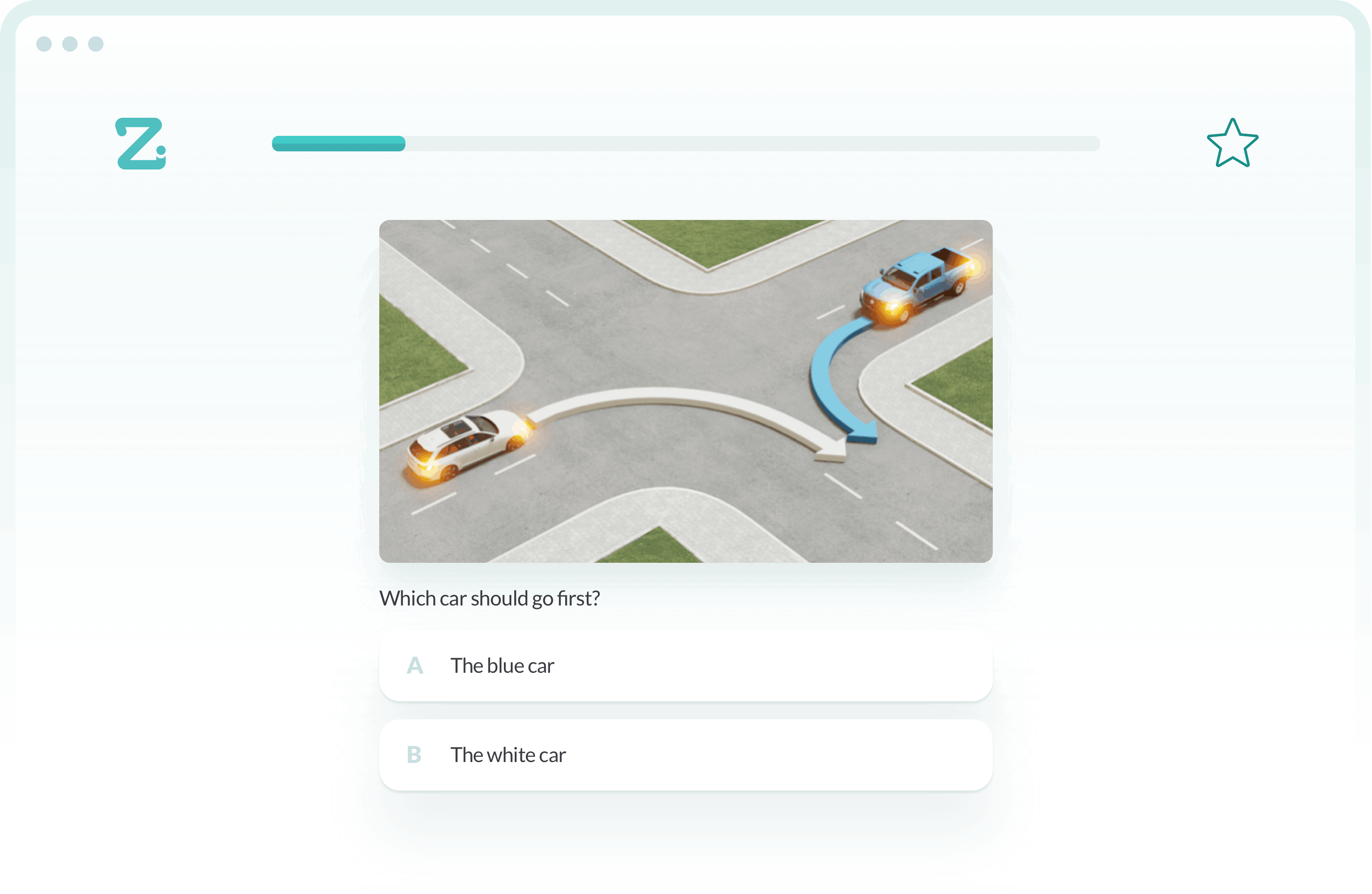 All-in-one resource
Your complete Driving Theory Prep resource - including a summarised handbook, all the mock tests you need, exam simulator, and much more!
Summarized Highway Code
Bite-sized steps will guide you all the way to your licence. Each step contains easy-to-read theory based on the Highway Code, followed by the latest DVSA revision questions.
All the DVSA revision questions
Test your knowledge using over 700 questions made by the people who set the test. Every question comes with a detailed explanation to help you understand better.
Learn by seeing
Lots of pictures and illustrations will prepare you for tricky situations you may encounter as a driver.
Have fun while learning
Studying doesn't have to be boring - earn points, level up and compete with your friends.
How does it work?
Learn a specially prepared theory
Go through the exam-like tests
Finish final test simulating your official exam
Pass your Theory Test and get your licence
Reviews
Urbangunner
I came across the app through word of mouth by family as I've just started getting driving lessons and thought I'd do the smart thing and going out and spending a fortune on books that I thought I was going to need spending just over £30. Gave them a try and since finding this app they have subsequently been left to gather dust! This app is so easy to use and understand it's made learning and understanding so much more enjoyable not to mention the much friendlier price tag that goes with it. I've not had it long but safe to say I've learnt a lot more using this than any other method I've tried it's fantastic! Many thanks to the developers and just a quick question as I haven't seen it thus far, is there a hazard perception training element available to use?
Continue reading
4&TRis🌟✨💫
I love this app! I have tried a few others for driving theory and this has to be the best, I've been using for a few months and now feel confident with driving theory! I love the layout and the way each topic is set out - with being able to read through each chapter (easy key information and diagrams) and then practice questions until you understand the topic. There are also quizzes every few chapters to check knowledge and an overall mock test. Being able to star difficult questions to come back to is also super useful and the app is just great! On my laptop I can see progress and just runs so much better than others tried. Would recommend this app to anyone - it is really great - thanks so much to the developers!! :)
Continue reading
Beauty tunes charts
The developers clearly care about the person and their journey to safe driving. Even when it isn't financially sustainable to have it completely free, they still provide an alternative method which does not cost anything in order to continue studying for your test(watching sponsored videos). This app clearly breaks down each section and after the first run through you can go back to the section tests to get an even better understanding, not to mention the full tests available. If you use this app and still don't pass first time, you're probably not going to pass at all. Thank you guys
Continue reading
AbBy❤️🍪
I'm 16 and want to start preparing for tests that may come in the future so decided to download the app to see if it helped me remember things about driving and being on the road. And it certainly does! Each day I get a reminder that it's time to take a quiz about specific topics like roundabouts and signs whether I get them wrong or correct the app explains each answer to where you understand. The questions you get wrong will come back later on in the test to jog your memory and get a higher percentage on the outcome. Over all a great app that is also fun to use and you begin to look forward to using it.
Continue reading
Lalatutey
This app has been great. When I first encountered an issue stopping me from using it the customer support got back to me quick and helped me very efficiently. They also gave me 12 months upgrade which was very generous! This allowed me to experience the full app which I quite honestly think is a must have when using the app. Since then I have passed my theory test first time within less than 23 days of using the app. When taking my theory I felt very comfortable and recognised most questions in the exam after having answered them after each chapter on the app which made the theory very easy!
Continue reading
MarcusW88
I came across this app via a game I was playing (it was an advert) So far I love it, I love how it gives you a score after every question abs helps you understand. As a person who has ADHD I find it very difficult to understand abs my attention tends to move onto something else but this app is helping me. I have taken my theory test 11 times and failed due to me not remembering the answers. Hopefully this time I can pass and it will be thanks to the developers of this app! July 2022 is my month to PASS!!!
Continue reading
bjvfubjcf
I've tried a fair few different theory test apps and this is the most visual learning one I've found, it's nice to not just have words after words after words, the images also help you visualise the question and work it out better! On each question you get it explains why you were right or wrong and repeats the questions you got wrong at the end to help you remember I also like the ability to level up and get points, it's just a nice incentive (:
Continue reading
kay.kii
I rarely leave reviews about an app, but this app is true to its words and it will truly help you pass your driving test and fully worth the £3/weekly. Quick tip try to see how far you can get within the free trail you'll receive before paying, because what ever you are able to get through with the days of the free trial you'd be able to keep after the trial even if you haven't carried on the subscription. 🙃😌 Good luck
Continue reading
Alyyyyyyyyuu
I downloaded Zutobi couple weeks ago and its great ! It really helps you and teachers you a lot ! I really like how it has a test at each category to see how you understood everything. Yesterday i payed for the subscription and it was working perfect but in the evening it stopped working every time i would try to go on to the app it will load and say " Error please restart application " I deleted it and downloaded it so many times but it still don't work when i logg in it just loads and the screen goes blank. Can you please try and help me out or I'm going to cancel my subscription. Thank you very much.
Continue reading
_Ni-nix
I was struggling to find a good app for learning theory however the add for zutobi came up and I was honestly so surprised. Even though it's function is just to learn theory, the app is so engaging compared to other apps I was using. The staff are incredible. I had a slight issue and emailed in getting a quick and satisfied response from Tim. This app and its customer service is amazing. Thank you so much.
Continue reading
XFiscool
I saw an advert for this and thought why not give it a try, I'm getting a car next year so I wanna make sure I pass first time. When I saw the app I was skeptical that all it promised would be in the app, but it is, it's great, I wasn't getting 100% at first on the mini tests but by the time I was taking the full tests on the app I'd learnt what I needed to get 100%. Would recommend.
Continue reading
Shivvyy
I have never written a review but I down loaded this app a little less then a week before my test (today) and I passed first time 48/50. Bearing in mind I didn't even complete all 50 stages ( got up to about stage 27) Would really recommend worth the money & gives you full explanations in things I didn't understand l.
Continue reading
K137A
I downloaded this app a couple of days ago and I think it's great. I love that theirs an alternative way to complete the chapters which is watching advertisements. The best thing I love about this app is that before doing a test you get to read about what's coming up in the test so you get a better understanding of the questions being asked.
Continue reading
Dimitri Ricci
I downloaded this app for my son so he can study for his theory test. He's very happy with it! This app has all the road signs and theory you could ever need. The only downside is that it doesn't have hazard perception, but it's possible to study that online. If you're looking for an app that can help you become a driver, this is a very good choice!
Continue reading
Lucy Niclen
This app is so self explanatory and just amazing. i was so nervous because i was spending so much money on books and apps that i didn't really have, then i found this and just gave it a whirl. There was a bit of a problem at first but now it's amazing and i would recommend this app to anyone talking or planning to their theory.
Continue reading