FREE 2022 Motorcycle Permit Practice Test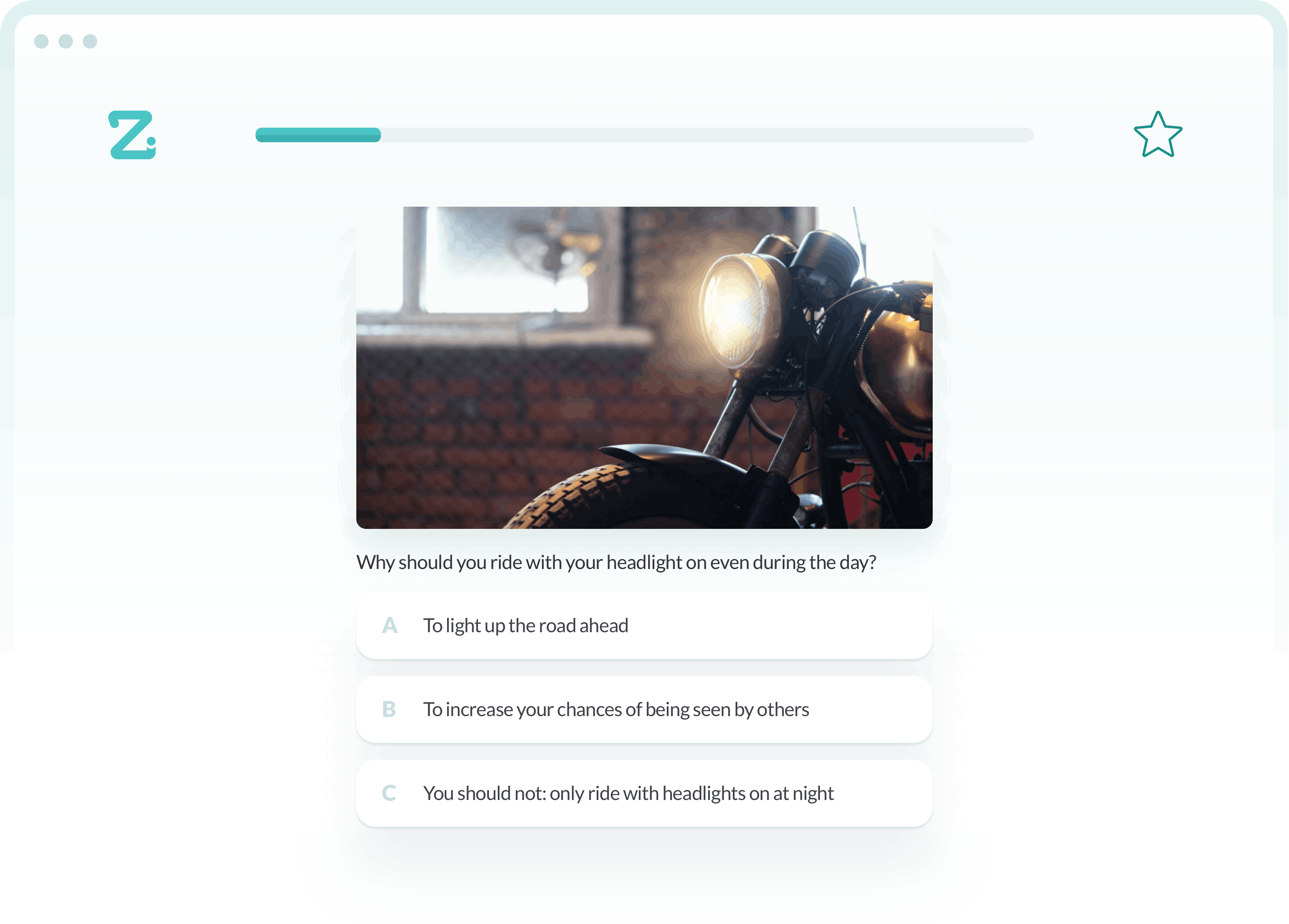 If you have spent any time studying your state's motorcycle operator's manual in order to pass your motorcycle permit test, then you know it's not the most productive study tool. To prevent failing the test, you need to study using a method that works.
Zutobi is the online learning platform that specializes in helping drivers of all types prepare for and pass their permit tests. We have gamified the process of learning the rules of the road and can help you learn all of the information you need to know in a fun, engaging way.
Pass Your 2022 State DMV Motorcycle Test with Zutobi
Zutobi offers several unique features to help you pass your motorcycle permit test on your first try. These features include:
State-specific motorcycle permit practice tests that simulate the real written exam to help you feel prepared and comfortable on test day.
Fun, interactive learning levels that help you stay motivated as you earn points and achievements.
Answers and explanations to all of our practice test questions give you instant feedback so you can learn the correct answers and the reasoning behind them.
Test-relevant, important information that you need to know in order to pass your motorcycle permit exam. Learn everything from road signs to traffic laws and regulations for motorcyclists.
Our practice test questions and answers are near-identical to the actual state permit tests, so they make the perfect study guide for your motorcycle test.
Can I Get My Motorcycle Permit Online?
Most states require riders to take and pass an in-person written exam and vision test in order to earn their motorcycle permit. You cannot get your permit online in most states.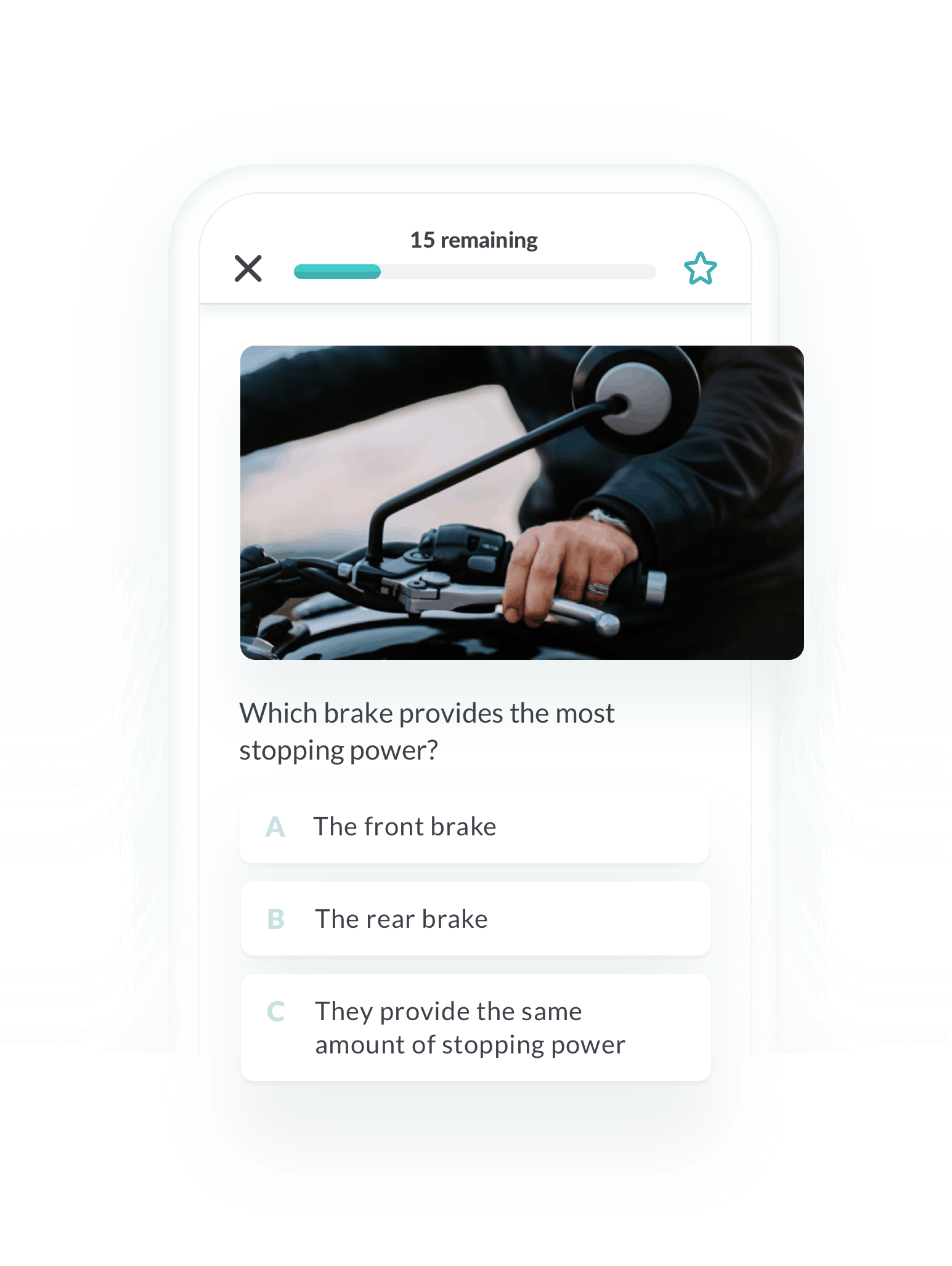 How Hard Is the Test?
The motorcycle test is a multiple-choice test, normally 25-30 questions long. Around 80% is usually considered a passing grade in most states. On the test, you'll have to select the correct reaction of a motorcyclist in various traffic situations. You may also be tested on various hand signals, highest-risk situations, and motorcycle safety precautions.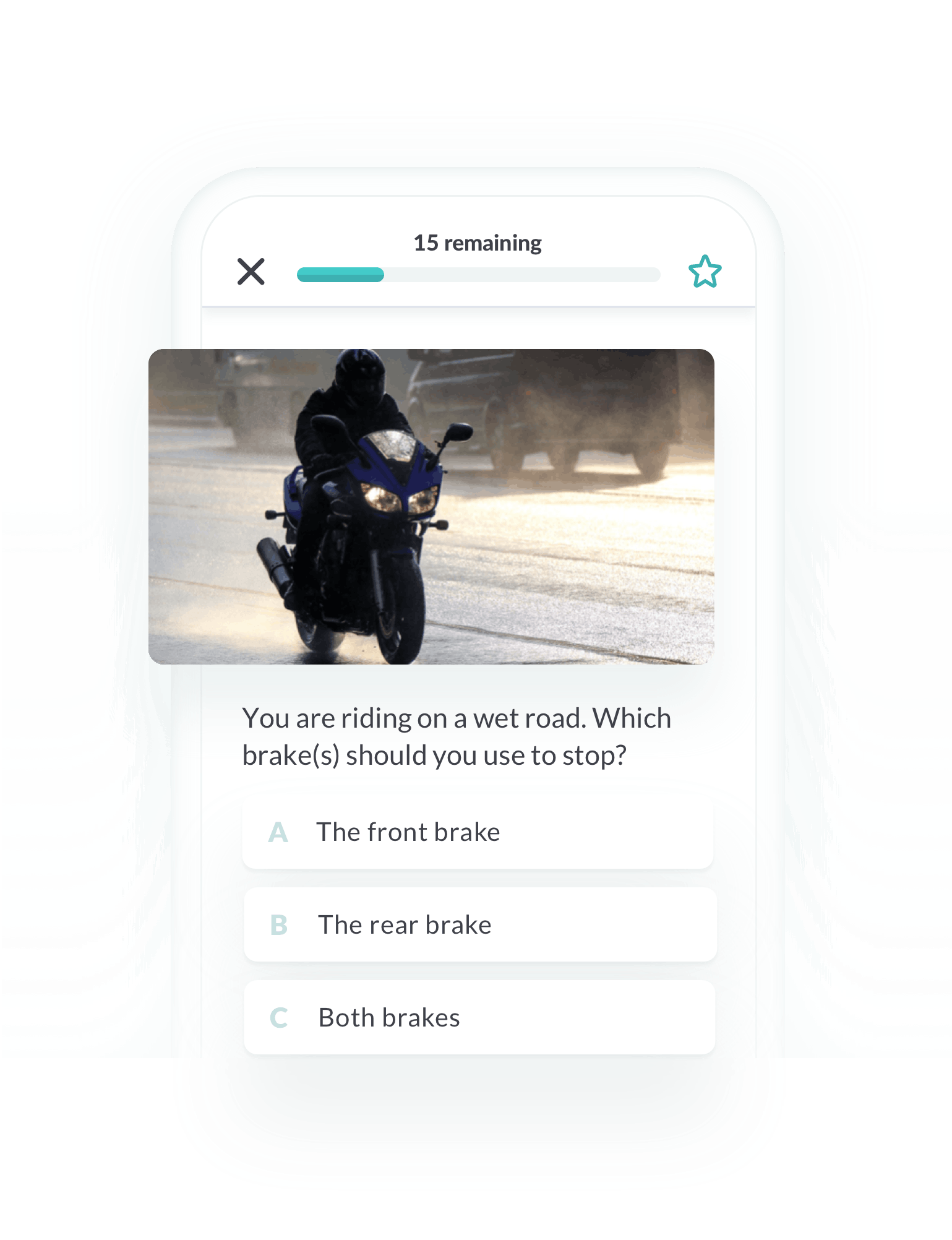 FAQ
Where Can You Take the Motorcycle Test?
You'll take the motorcycle permit test at your local DMV or driver licensing office. Some states may have a third-party option as well. Check your state's licensing website to find a convenient location, and be sure to schedule an appointment if necessary.
How Many Questions Are on the Motorcycle Permit Test?
The Number of questions you'll have to answer on the motorcycle test varies state by state, but there are generally 25-30 questions. To pass the test, you'll have to get a passing grade, which also varies. 80% is a common minimum passing grade in many states.
Are There Any Requirements to Take the Test?
First, you will need to make sure that you are old enough to take the DMV motorcycle test. Required age varies between states – 14-16 years is common. If you have reached the required age, have obtained parental permission if necessary, and hold a valid driver's license, you can schedule your test at a nearby licensing office.
How Can You Prepare to Make Sure You Pass the DMV Motorcycle Test?
If you want to pass your test, you'll have to put some effort into it. It's a good idea to read through the motorcycle operator's manual for your state, which will contain all the information you need to know. You'll also want to do some motorcycle practice tests before taking the real thing. Start practicing well in advance so you have the time to properly learn all you need to know.
Do You Need to Schedule Your Test?
You may or may not have to schedule an appointment to take your motorcycle permit test. Check your state's licensing website to find out if walk-ins are allowed. If you do need to schedule your test, you can usually make the appointment online or by phone.
How Many Times Can You Take the Motorcycle Permit Test?
This varies between states. Many states have you wait a set amount of time, such as one business day between attempts. If you fail the test a certain number of times, you may have to wait longer. However, even if you fail multiple times, you'll continue to be allowed to reattempt as long as you're willing to wait between attempts.
What Do You Need to Bring to the Motorcycle Test?
You'll need various identification documents, such as a social security card, driver's license, and/or birth certificate. Applicants under 18 may need a parent to accompany them and provide identification. Proof of residency and legal presence may also be needed. Remember to bring the required fees as well.
Try Our
FREE State Motorcycle

Permit Tests

You can check out your state page below to find a free DMV motorcycle practice test. Test what you think you already know, then sign up to our popular course if you want to pass your actual test with certainty.