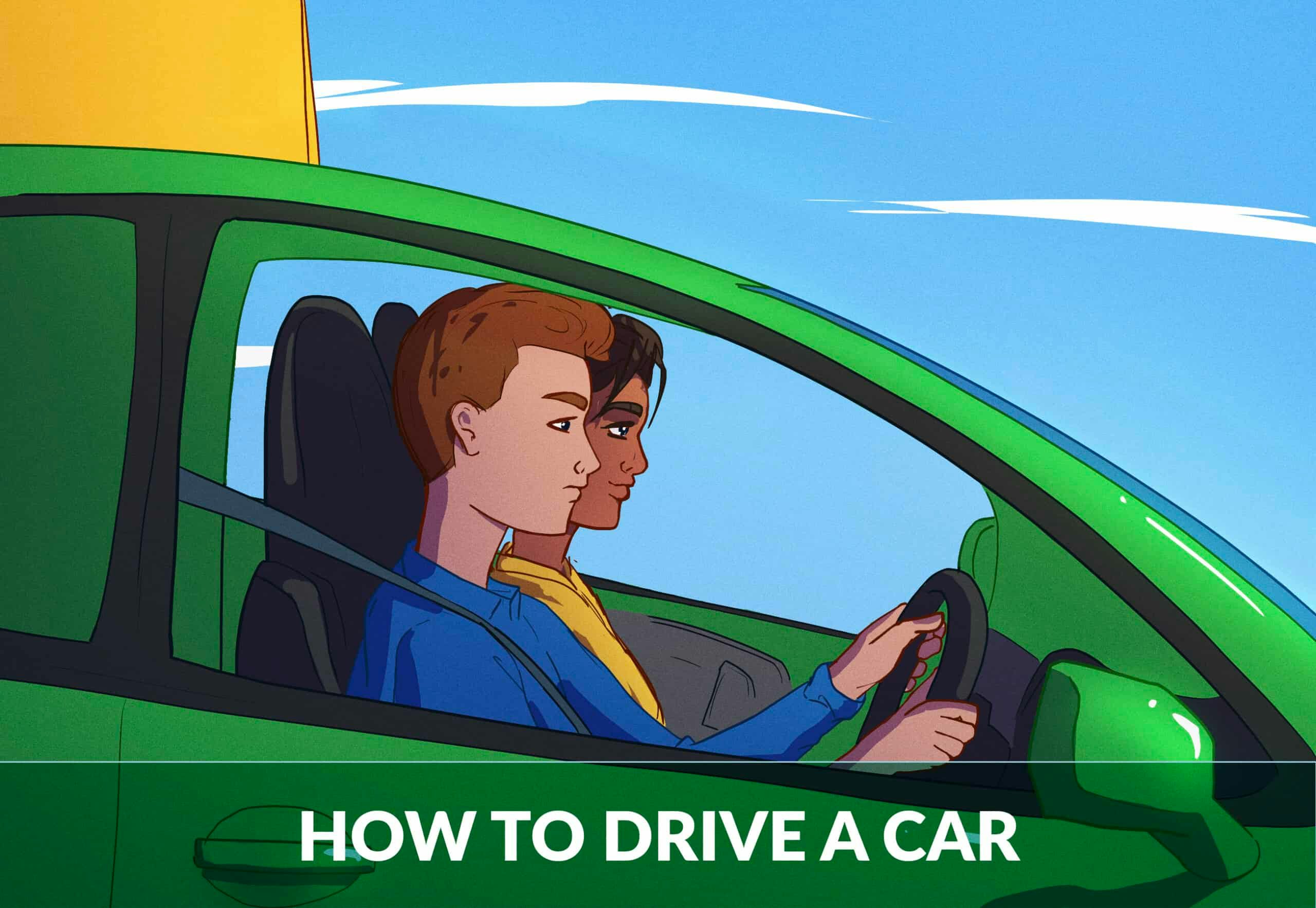 Learning How to Drive: A Beginner's Guide
Learning how to drive is an exciting and important moment in the life of most people. A licence comes with freedom and independence, but also responsibilities. Each year, there are thousands of fatalities in the UK as a result of traffic crashes. It's vital that you learn how to drive a car correctly and that you learn the rules of the road to not become a statistic.
Getting Started With Driving
So, how do you actually get started with driving? Well, there is a lot you need to do and learn. But don't worry, we'll go through it all in detail for you.
Study a Driving Resource
As part of studying for your licence, you will need to learn the rules of the road and the intricacies of different driving situations. We recommend thoroughly reading the highway code right before driving for the first time as this will help you feel more confident and allow you to focus on improving your actual driving skills. Zutobi is perfect for this, as you're able to access your study material directly from your smartphone device or on the web. Use Zutobi to review your road signs, road rules, driving tips, and much more.
If you haven't yet studied for your theory test, you can prep using our free online mock tests here. You have 2 years to pass your practical test from the date you pass your theory test. If you don't manage to pass by then, you have to start all over again, which means retaking the theory test!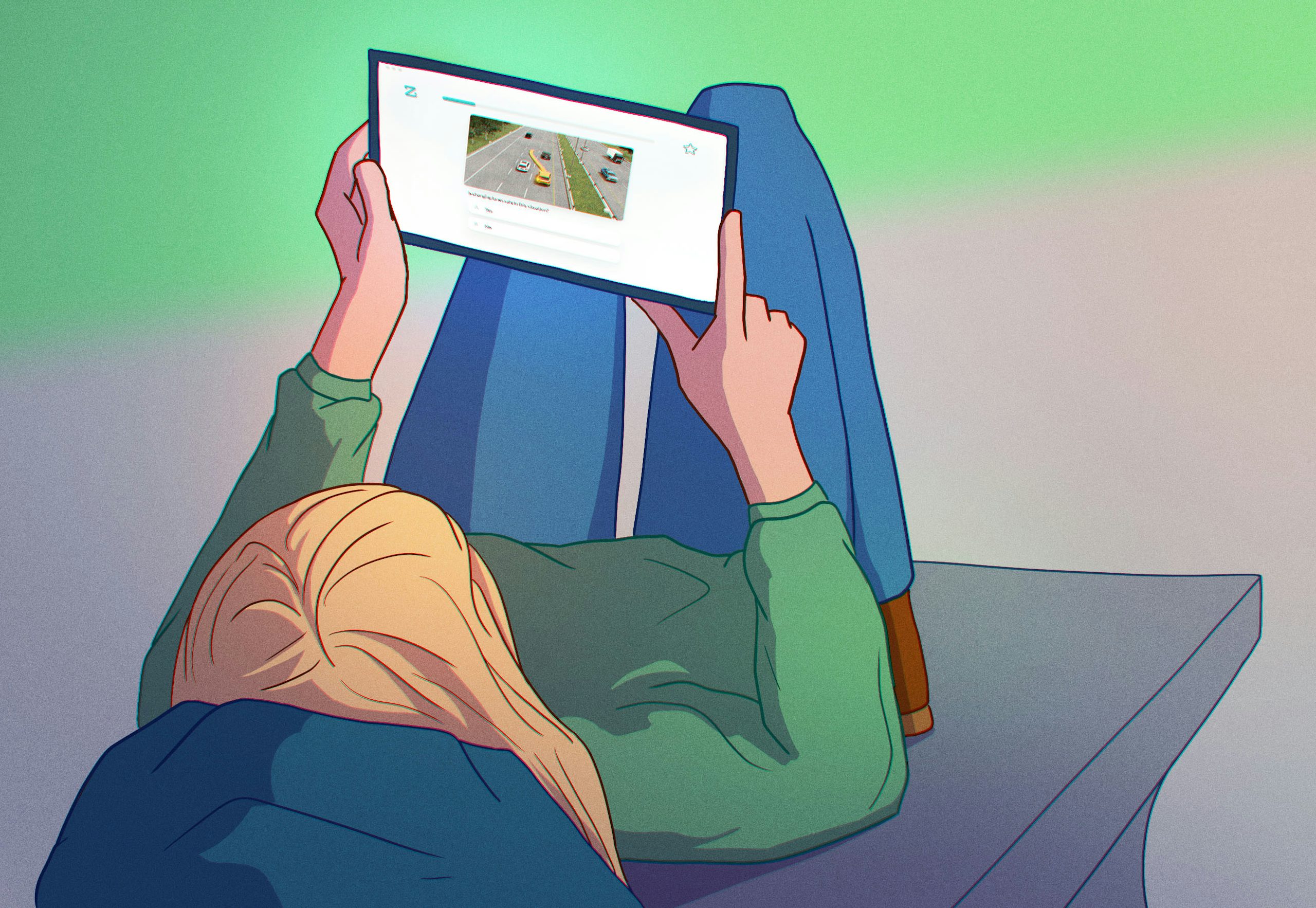 Student studying mock tests online
Learning How to Drive a Car
The first thing you should do when learning to drive is to learn how to control the car. Take it slow. Get used to the controls, the pedals, how to check and adjust your mirrors, and the size and feel of the car.
You can begin with the engine off to get a feel for the clutch (if a manual car) and how the stick shift works. Once you are comfortable with the engine off, you want to begin practising with the engine on. We advise that you start driving in an empty parking lot so you get a feel of how the car works at a slow speed without other traffic.
As you get more and more comfortable, you can move to roads with more and more traffic. Just remember; moving to a busy street before you are ready and comfortable is both stressful for you and dangerous for others.
Driving Practice Under Supervision
When driving with a supervising driver, he/she should teach you about important aspects of driving, such as changing lanes, how to check oil, how to park, and defensive driving.
There is a lot you need to think about and when you learn to drive, such as:
What is a suitable speed for the conditions? When you are new to driving, you should be especially careful as you lack experience.
Understand the basics of owning a car. For example; you may need to change a tire, pump gas, add fluids to the car. Modern cars use dashboard lights to indicate when something needs attention, so learn the dashboard lights!
When is changing lanes safe? Ask your supervising driver and practice it!
How do you reverse and when is it suitable? Avoid reversing on any roads where you cannot see clearly in both directions.
How do you park? What's a suitable size on a parking spot and how do you perform the manoeuvre?
How do you make a safety check of your vehicle? You'll be instructed to do a vehicle safety test on the practical driving test to demonstrate that you can determine that your vehicle is safe to drive.
How do you drive defensively, and what does it mean?
Properly adjusting the car seat, mirrors, and steering wheel.
While these are just a few examples of the stuff you need to learn, it serves to show that there is a lot. We strongly encourage you to take sufficient lessons with a formal driving instructor in addition to the practice sessions with your parents or guardians.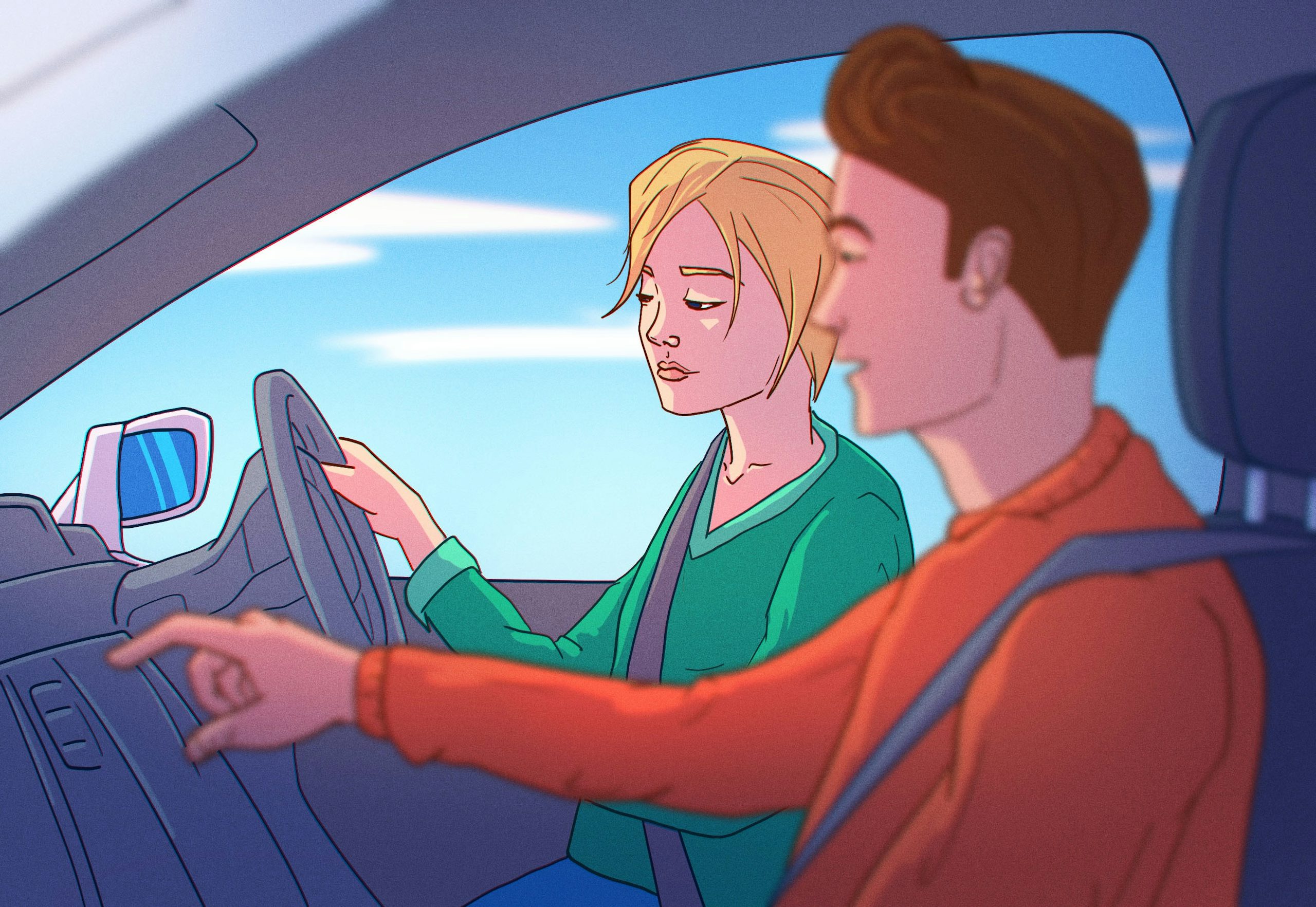 Student taking a driving lesson
Driving instructors are very skilled at teaching new drivers how to drive a car correctly, and know the common mistakes that beginners often make and how to correct them. Also, they usually know the local routes that examiners take when you have your practical driving test. Parents or guardians, on the other hand, may have forgotten the basics a long time ago.
Remember, you cannot have driving lessons or take informal practice on the road until you have a provisional licence. So don't book anything until you have it in your hands.
Practice, Practice, Practice
There is a lot you need to know and understand when learning to drive. The more you practice, the better and safer driver you will become.
You may not get enough driving practice from your formal instruction lessons alone unless you've got a really big budget, so try to ask friends and family to take you out on the road. You can drive on every public road except motorways as long as the supervising driver satisfies the legal requirements, you have motor insurance, and the car displays 'L' Plates.
Learning to drive a car takes time – you don't just become a good driver overnight, you learn it through practising behind the wheel for many hours.
1st Hurdle: The Theory Test
The theory test combines a multiple-choice test containing 50 questions, followed by a short break before tackling the hazard perception test. Just over half the people who sit their theory test fail it.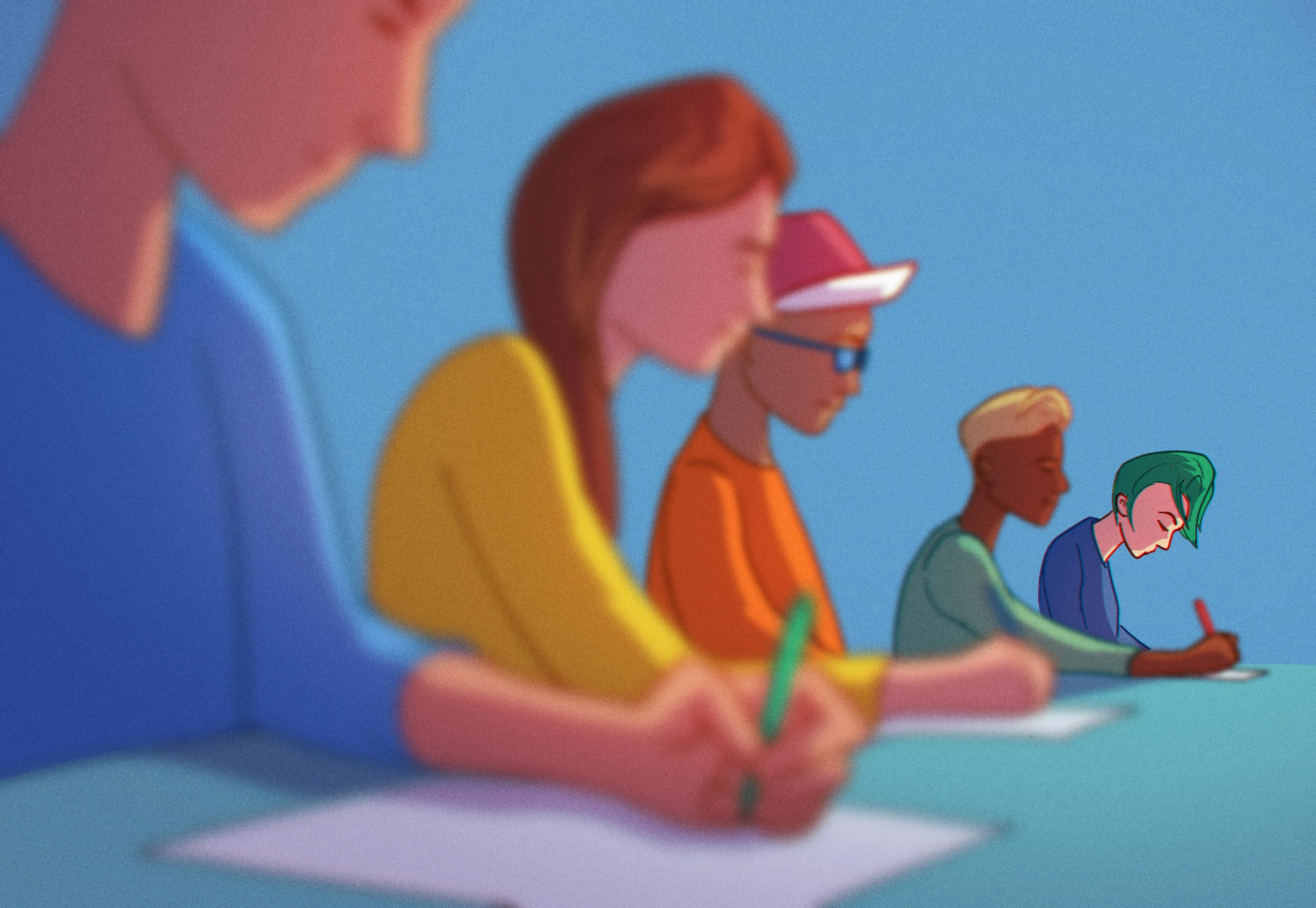 Students taking the driving theory test
You could read the Highway Code, as it contains all the knowledge you need to ace the theory test. But that isn't much fun and might become tedious after a few days. The Zutobi test prep course contains everything you need to easily pass:
The Highway Code rules and guidelines are presented in a fun way.
All the DVSA practice tests and revision questions for this year so you know you'll have as much practice as you can manage.
2nd Hurdle: The Driving Test
The test is a test divided into several parts, the eyesight check, the basic safety check and the in-vehicle driving test.
The first part is an eyesight check, which you must pass to continue. The eyesight test checks your ability to read a number plate from 20 metres and your visual acuity.
The second part of the driving test is the basic safety check(s). The driver needs to carry out a number of checks on the vehicle to make sure it is safe for use.
The third part is the actual in-vehicle driving part. The examiner will give you instructions and directions. You will be examined on your overall safe standard of driving in addition to the several exercises you will be asked to carry out.
Manual or Automatic Transmission?
Perhaps the first big decision you have to make is to decide whether you intend to learn how to drive a manual or an automatic. The decision will decide the type of cars you may drive in the future. For example; if you pass the driving test for an automatic, you won't be allowed to drive a manual vehicle. However, if you pass the manual driving test, you will be allowed to drive both.
That's It!
That's everything you need to know about learning how to drive as a new driver. If you need any help studying for your upcoming exams, then you've come to the right place.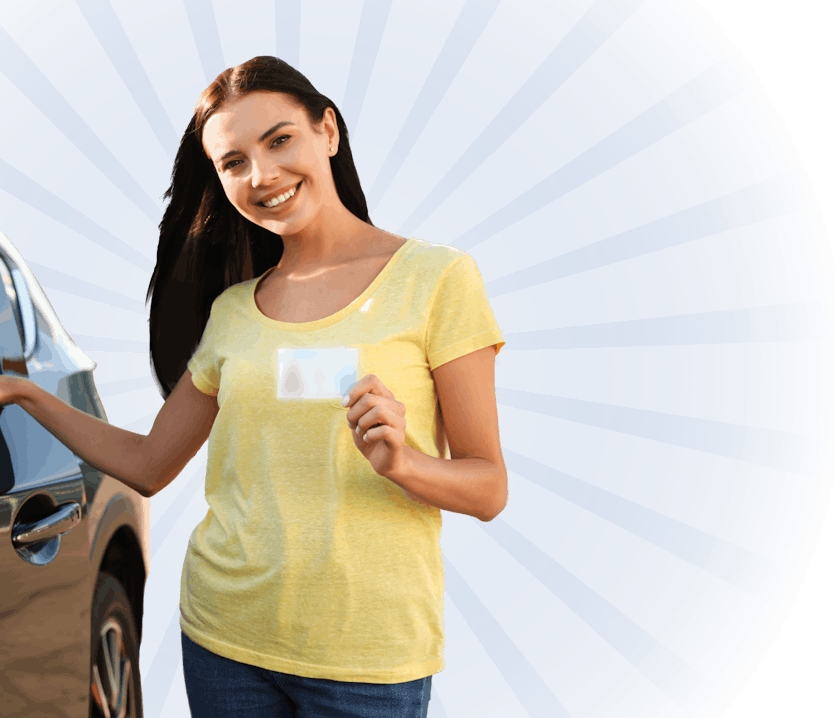 Ace your theory test, guaranteed