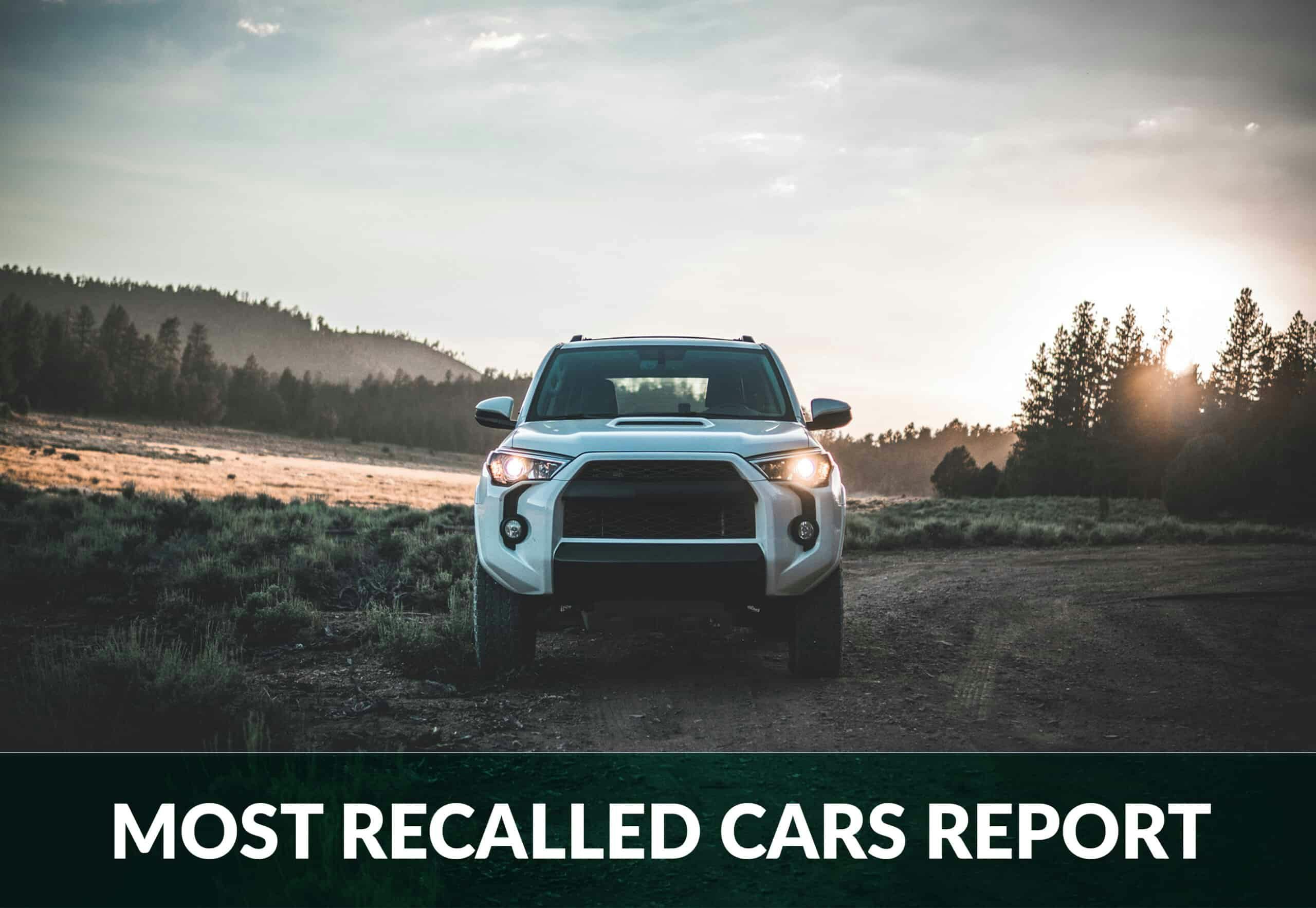 Most Recalled Cars Report
Which cars are most commonly recalled by the manufacturer in the UK?
Reliability is crucial when you're buying a new car, and nobody wants to have to take their car into the garage for repairs, but the very last thing that you want is for the car to be recalled by the manufacturer!
Unfortunately, when there's something seriously wrong with a certain model, sometimes the big car brands do have to recall entire lines of vehicles.
But which brands and models have had to recall their cars the most often, and what are the most common reasons for recalls?
The most commonly recalled brands in the UK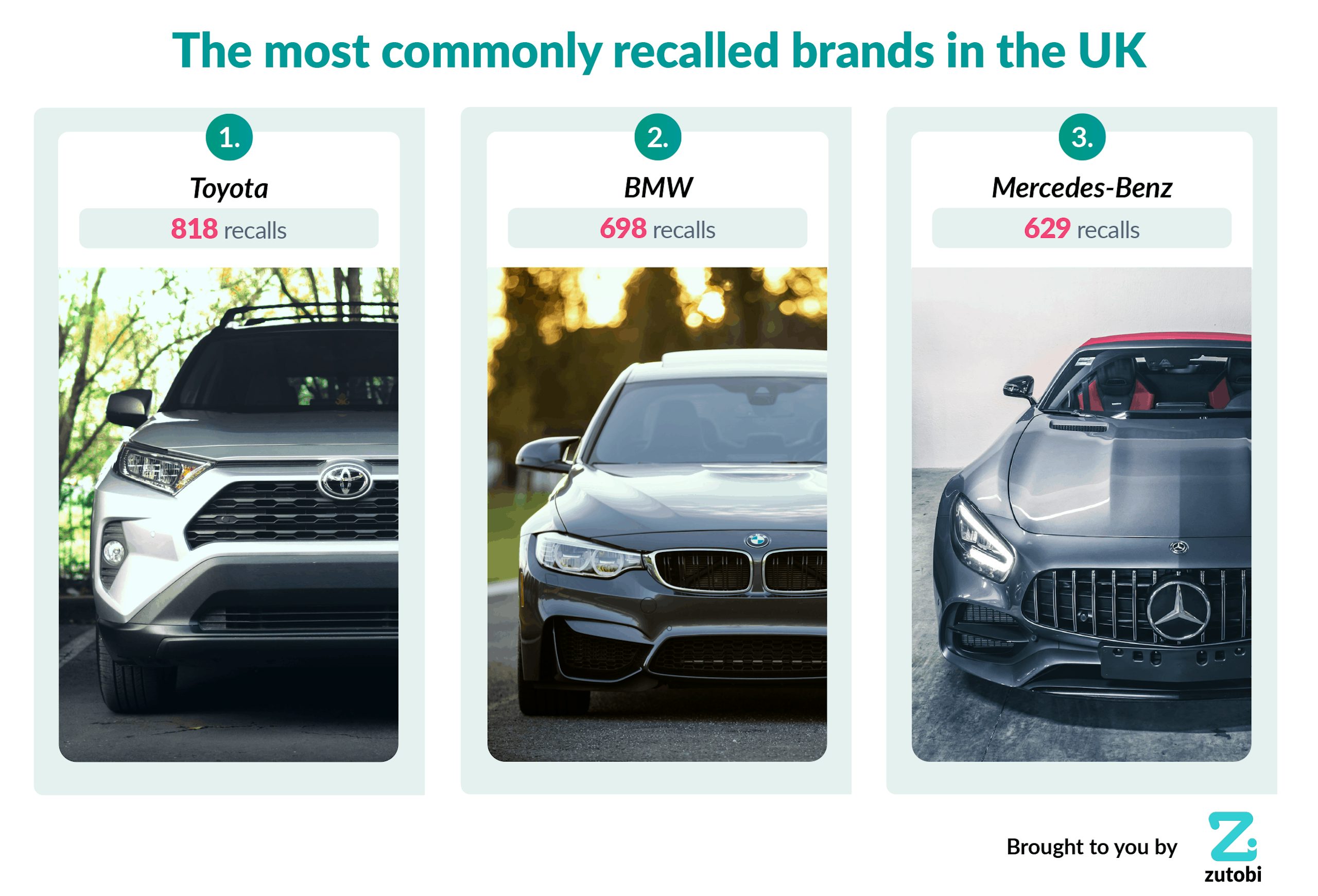 1. Toyota – 818 recalls
UK data on vehicle recalls goes back to 1992, and in that time, Toyota was the brand to experience the most recalls of any brand, with 818. One of the most recent high-profile examples was in 2018 when the Japanese manufacturer had to recall over 2.4 million hybrid vehicles around the world due to a fault that led to them losing power, with 55,000 Prius and Auris models being affected in the UK alone.
2. BMW – 698 recalls
Second place goes to BMW, with 698 recalls in the last 30 years or so. The German motoring giant actually experienced a mass recall at around the same time as Toyota's hybrid issue, with 268,000 vehicles needing work to fix possible leaks which could lead to fires. If that wasn't bad enough for the owners, supply issues meant that many were without their cars for up to eight weeks while the issues were resolved.
3. Mercedes-Benz – 629 recalls
Taking third place is another German luxury carmaker, Mercedes-Benz, with 629 recalls since 1992. The most common of these were the E-Class and C-Class, including an issue in 2017 that caused airbags to prematurely deploy in some models. Note that we've just looked at cars made by Mercedes here, so this figure doesn't include vehicles made by the company's vans, buses and trucks divisions.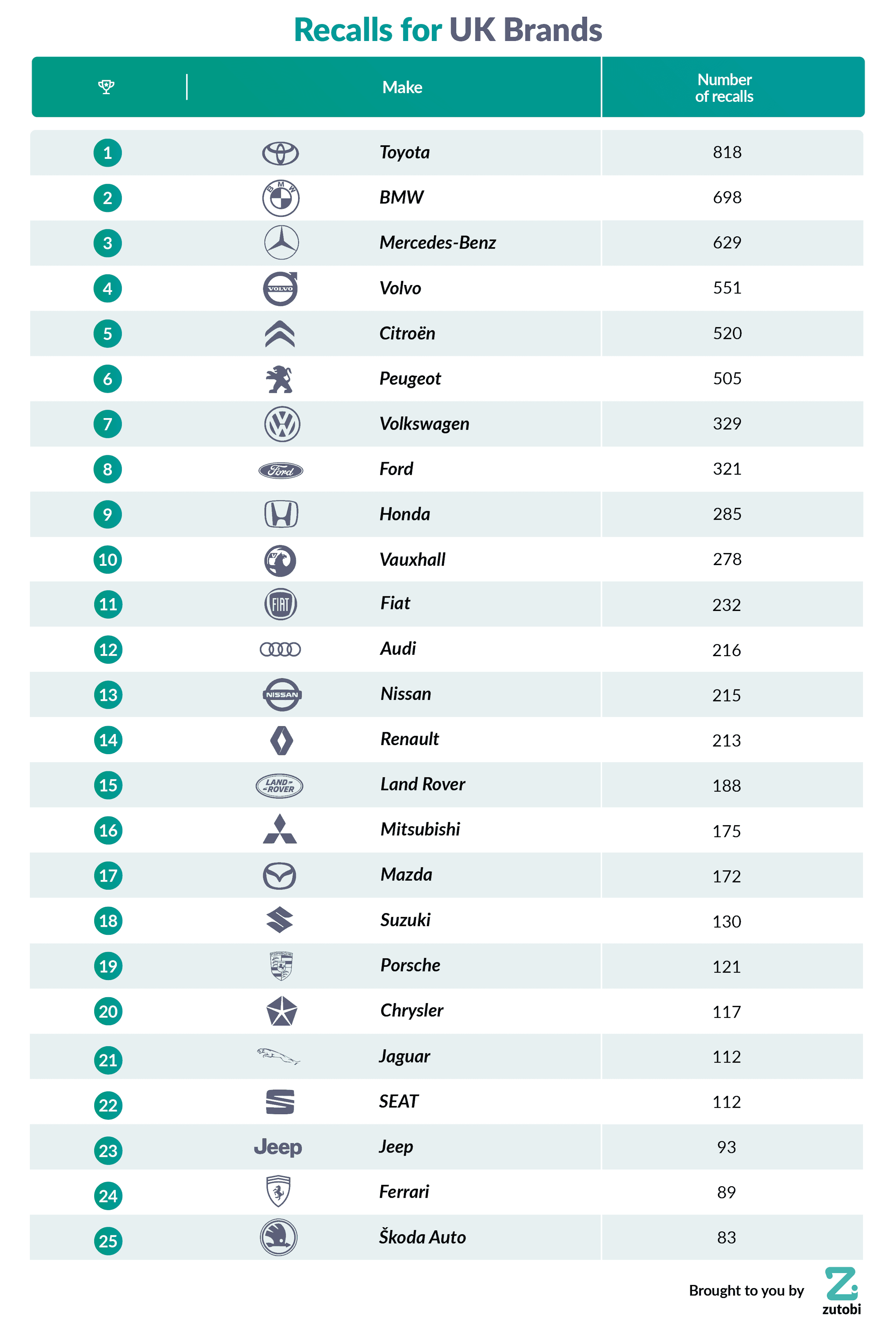 The most commonly recalled models in the UK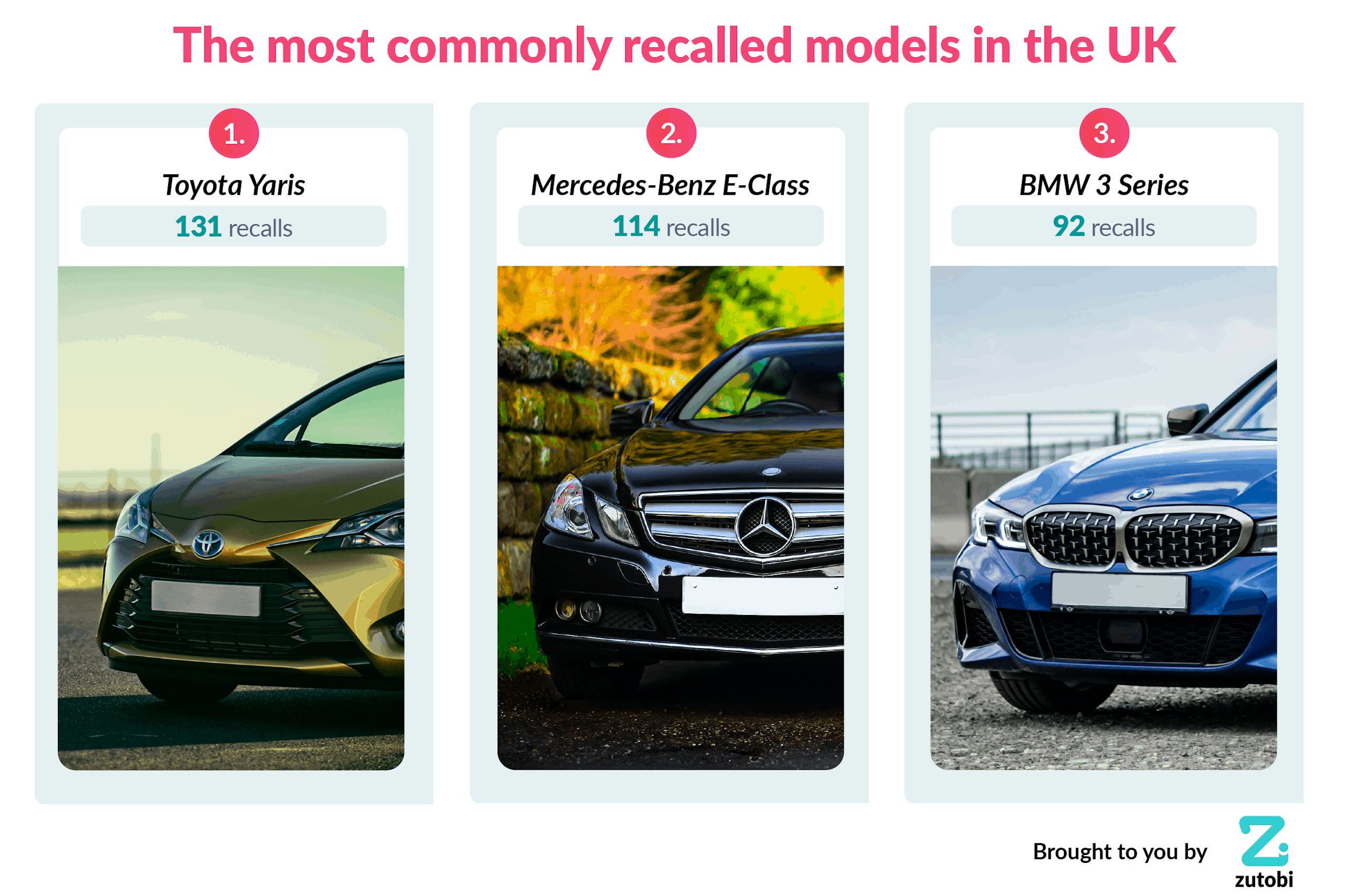 1. Toyota Yaris – 131 recalls
Looking more specifically at the models which have been recalled the most often, it's the Toyota Yaris which holds the dubious honour of top spot, with 131 recalls since 1992. Various issues over the years have affected the Yaris, which has been on sale since 1999, including issues with faulty Takata airbags in 2020.
2. Mercedes-Benz E-Class – 114 recalls
The Mercedes-Benz E-Class has been hit with 114 recalls over the years, putting it in second place on our ranking. Despite having so many recalls over the years, the E-Class is generally seen as one of the more durable cars on the market and they are often used for taxis and even as special-purpose police and ambulance vehicles.
3. BMW 3 Series – 92 recalls
The 3 Series is BMW's most popular vehicle in the UK and has been recalled 92 times since 1992. The most wide-ranging recall was in 2018 when all 3 Series built between December 2004 and July 2011 were recalled due to a potentially faulty wire between the battery and heater fan, which led to over 88,000 cars being recalled.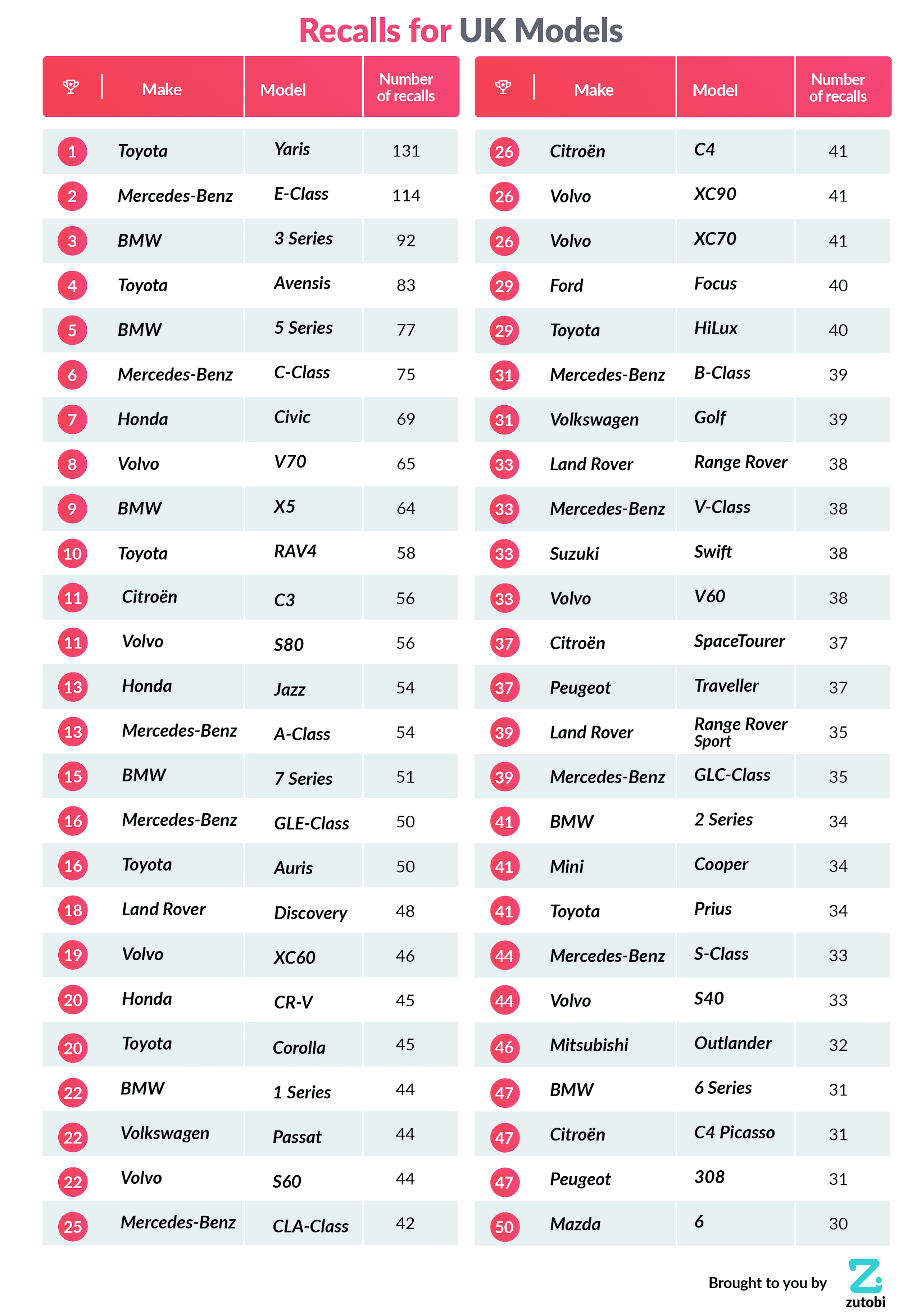 The most common reasons for recalls
With so many different specific reasons for recalls, we've grouped some of the most common defects that have affected vehicles over the last 30 years.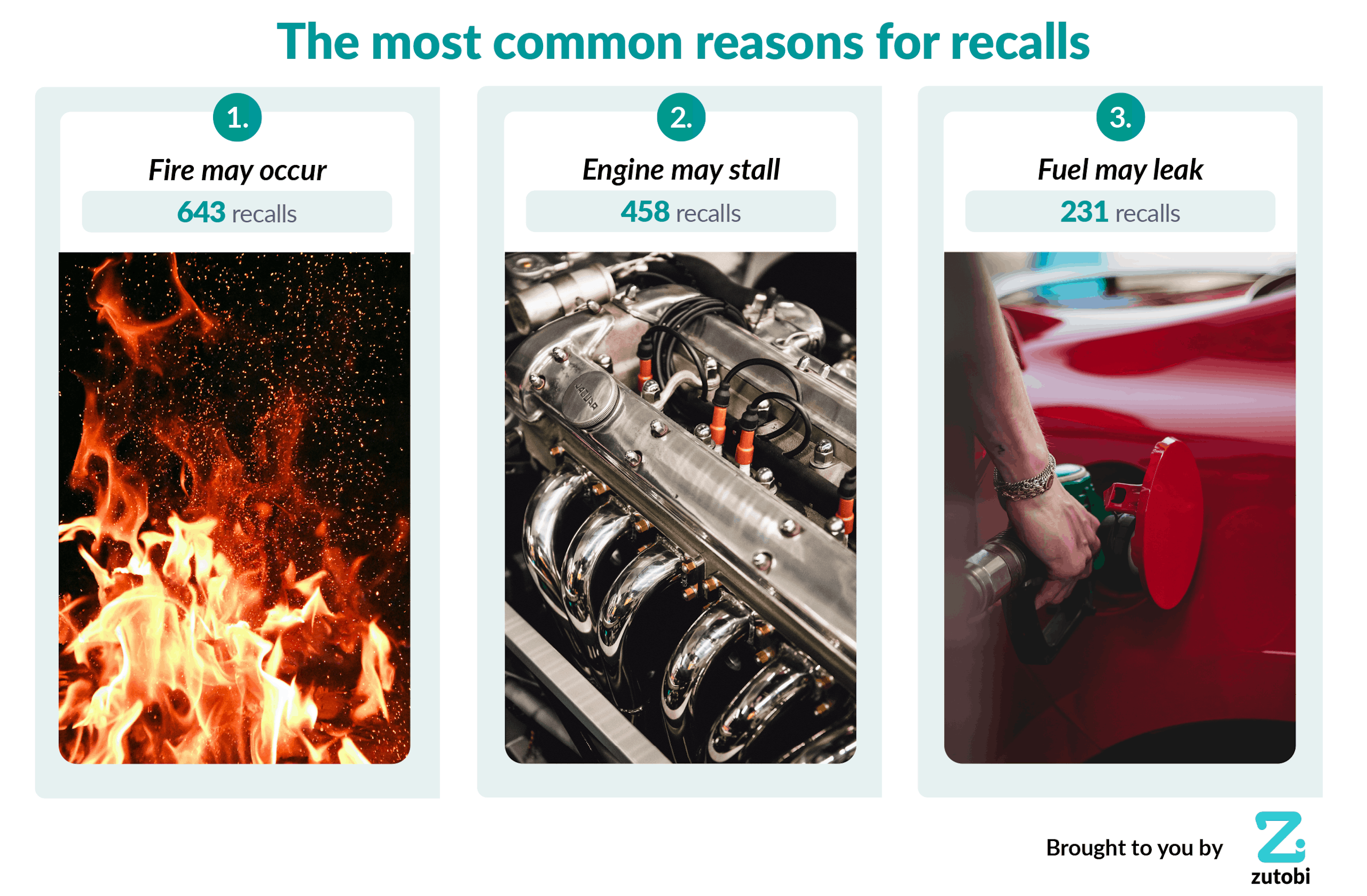 1. Fire may occur – 643 recalls
It might sound alarming, but the most common reason why cars were recalled since 1992 was actually that there was a danger that a fire could start within the vehicle. Thankfully the risk is usually fairly small but you can understand why manufacturers would want to ensure that any of these defects are fixed as soon as possible. This is why it's so important for drivers to comply with recalls and get their cars repaired.
2. Engine may stall – 458 recalls
An engine that cuts out may seem a lot less serious than a potential fire starting in your car, but it's the second most common defect that leads to vehicles being recalled. This is often caused due to faulty fuel pumps and engine stalling can be very dangerous at high speeds, or if you're unable to restart the car in the middle of a busy road.
3. Fuel may leak – 231 recalls
231 recalls have been issued for vehicles where there's a risk of a potential fuel leak, with issues with the cars' plastic intake manifolds causing leaks which, in extreme cases, could cause a fire.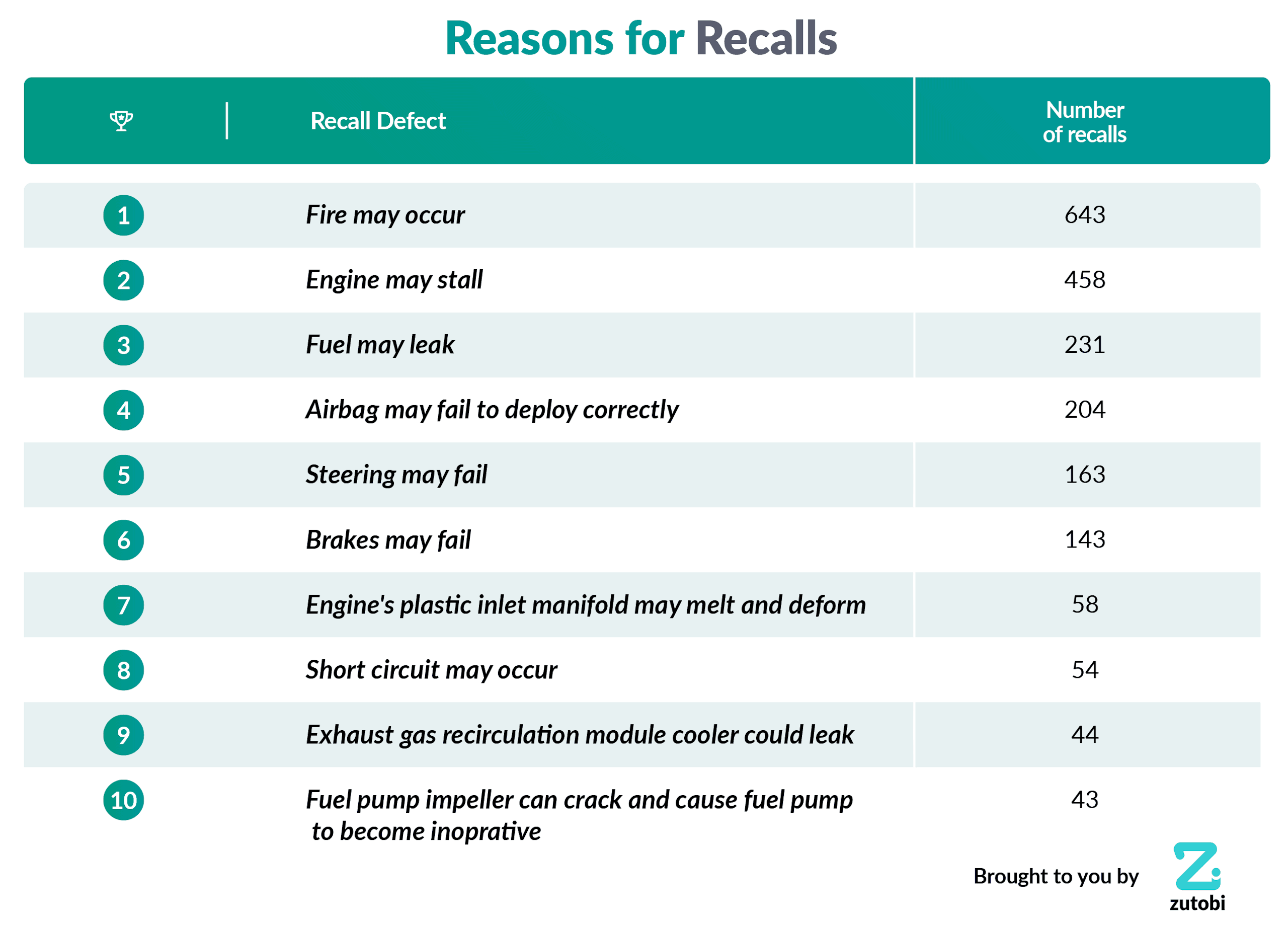 Methodology
All data sourced from the Driver & Vehicle Standards Agency's recalls data, which holds data on all recalls since 1992.
Note that we chose to only look at makes and models of cars, excluding the likes of motorcycles, vans, buses, and other commercial vehicles.
When looking at the most common defect reasons, many very similar defects were worded slightly differently (for example, 'fire may occur' and 'risk of fire'), so in these cases researchers have attempted to combine the most common of these.
All data correct June 2021.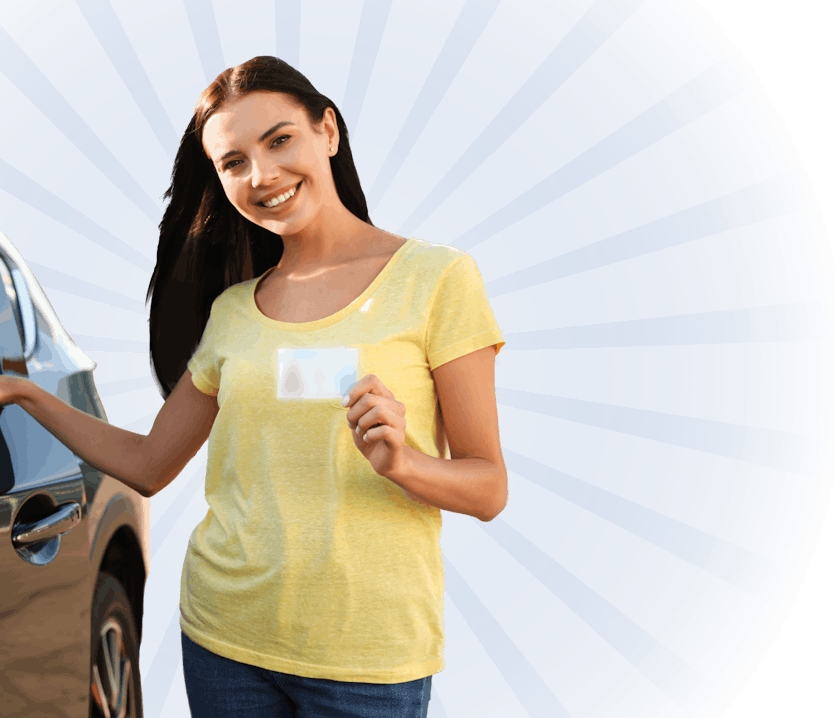 Ace your theory test, guaranteed