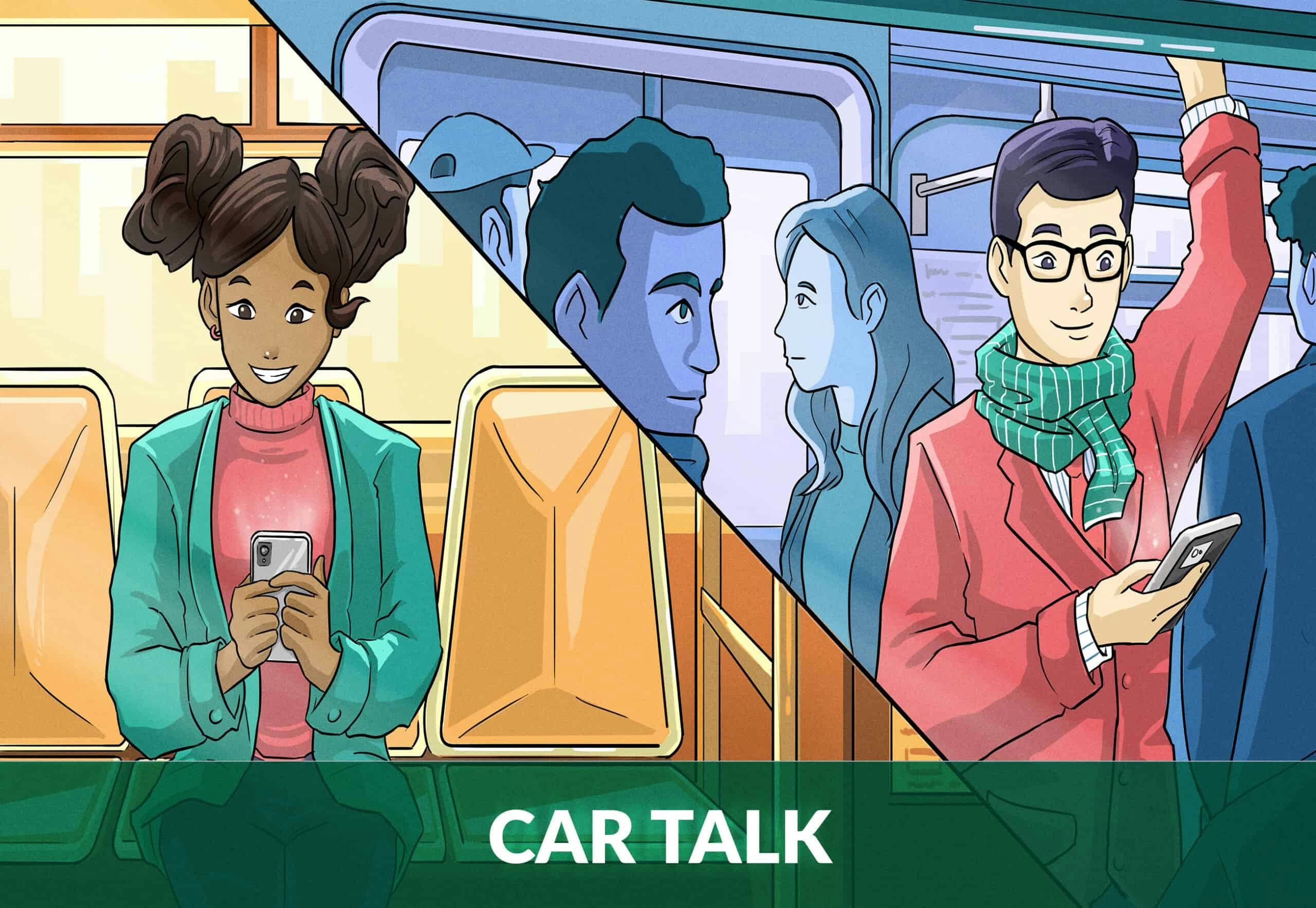 The Most Popular Cars in the World
The Car Makes and Models Generating the Most Buzz Online
Whether you're a seasoned petrol-head or someone who has just passed your driving test, car lovers of all abilities love to show off their treasured motors. More than anything, car enthusiasts take great pride in comparing and contrasting vehicles with others on social media, whether it's the fastest supercar, the latest electric model, or their very first car.
Social media is crucial exposure for all brands and this is true even for car manufacturers, but which cars and brands have us talking the most? By exploring Twitter mentions, Instagram hashtags, and Reddit posts, we've taken a look at which vehicles and brands generate the most discussion online.
The most talked-about cars on the internet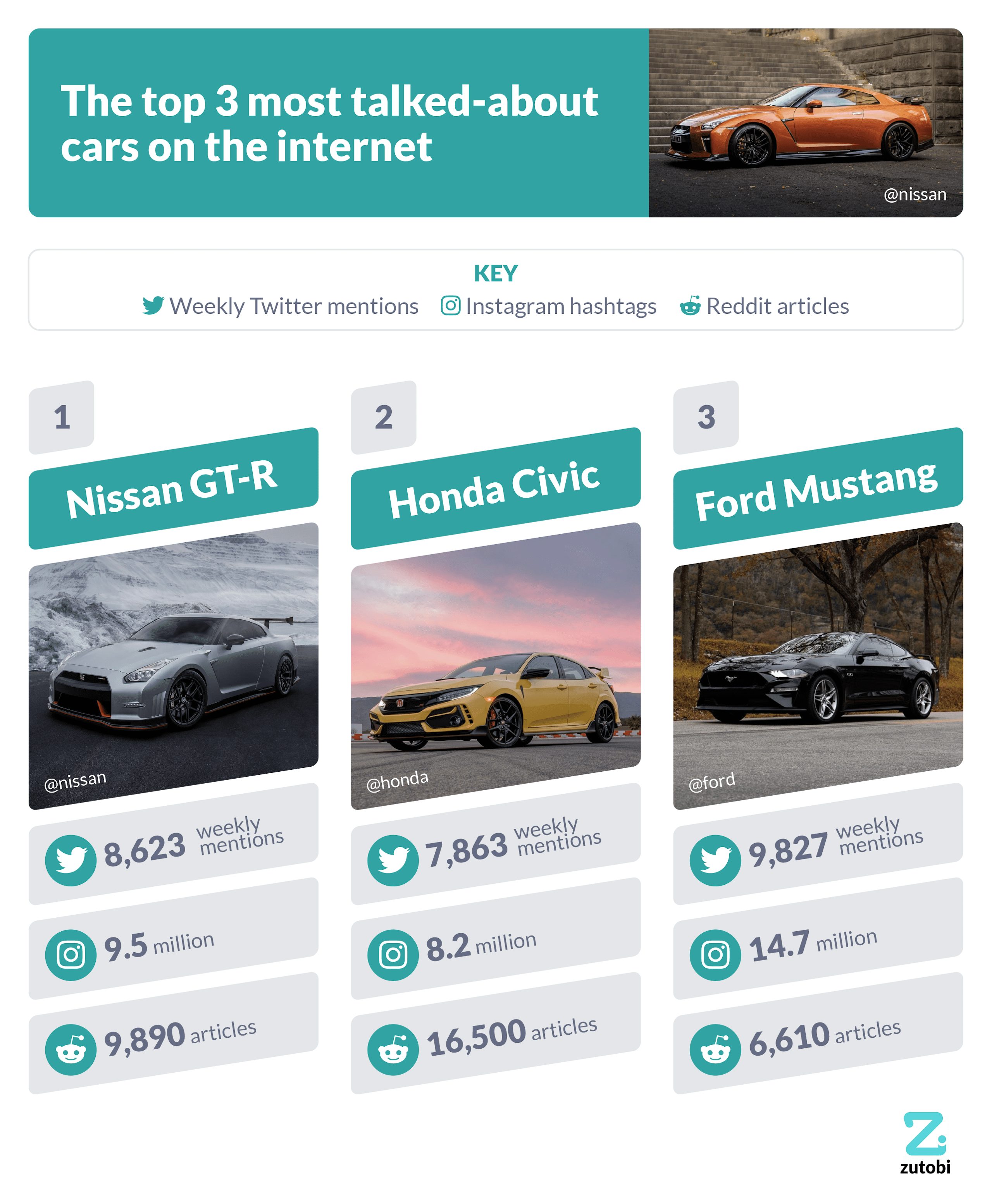 1. Nissan GT-R
Weekly Twitter mentions: 8,623
Instagram hashtags: 9,488,290
Reddit articles: 9,890
Nissan's legendary GT-R supercar takes the top spot for the most talked-about car on our list, with a popularity score of 9.49. The GT-R may be the most talked-about car on the internet due to the fact that it has been one of the most affordable supercars you can buy since its release in 2007.
With a top speed of 196 mph and 0-60 in 3.2 seconds, it's easy to see why rave reviews have followed the GT-R for so many years and why it is still the most talked-about car on the internet today. On top of its breathtaking acceleration is a near-unbreakable grip and fantastic handling, and the GT-R gives most modern hypercars a run for their money.
2. Honda Civic
Weekly Twitter mentions: 7,863
Instagram hashtags: 8,167,905
Reddit articles: 16,500
In 2022 the Civic will celebrate its 50th year anniversary with its eleventh generation model already on sale in the US. Longevity that impressive is few and far between in the motor industry and truly speaks to the popularity of this car.
Initially renowned for being a reliable, fuel-efficient runaround, modern Civics such as the Type R, VTi, GTi, and Si have shown a sportier, higher-performance side to Honda that appeals to petrolheads and family buyers alike.
3. Ford Mustang
Weekly Twitter mentions: 9,827
Instagram hashtags: 14,670,692
Reddit articles: 6,610
Completing our top three is the iconic Mustang, Ford's flagship sports car. By far the most talked-about car on Instagram with over 14 million hashtags, the Mustang boasts five million more hashtags than the next most hashtagged car on our list (the GT-R with nine million).
The Mustang is a brilliant sports car and, while a little on the thirsty side, is an extremely big bang for your buck with prices starting at under $28,000. An instant hit with buyers, the Ford Mustang is a surprisingly practical sports car with great handling and its iconic design is still a definite head-turner.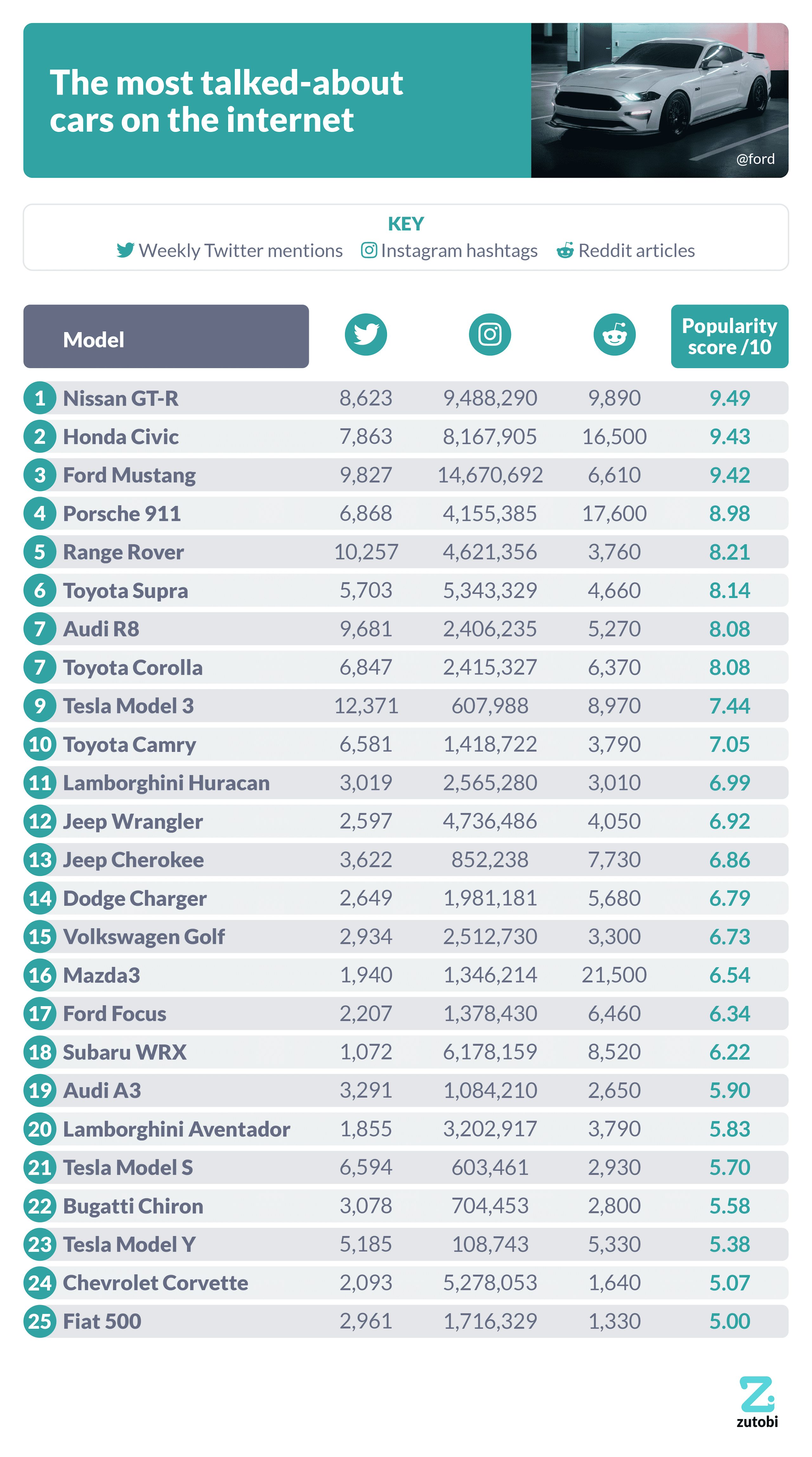 How things have changed over the last year
Last year we conducted the same research to see what were the most talked-about car models of 2021. Last year, we had the same three car models in our top three, however, the race for the top spot is more heavily contested.
Nissan's GT-R was still in top place and has received an additional 400,000 Instagram hashtags since last year. Interestingly, the discussion of this car has decreased on the other two social platforms, with the GT-R seeing 3,000 fewer weekly Twitter mentions. Despite this, the GT-R is still our most talked-about car on social media.
The second and third spots, however, have changed since last year, with the Honda Civic overtaking the Ford Mustang. This is largely due to the Civic receiving significantly more discussion on both Twitter and Reddit this year compared to last. While the Mustang has seen increases in both these domains, Ford's flagship has not managed to grab the attention of online petrol heads as much as Civic has been able to this year.
This is likely due to Civic having continually increasing popularity and success. At the beginning of 2022, the Civic was crowned the North American Car of the Year in Detroit, a highly coveted and prestigious award within the automobile industry. The third-place challenger, Ford's Mustang, could get back in the race soon though, as rumors have recently circulated surrounding the 2023 model which is already seeing the car pull in greater online attention.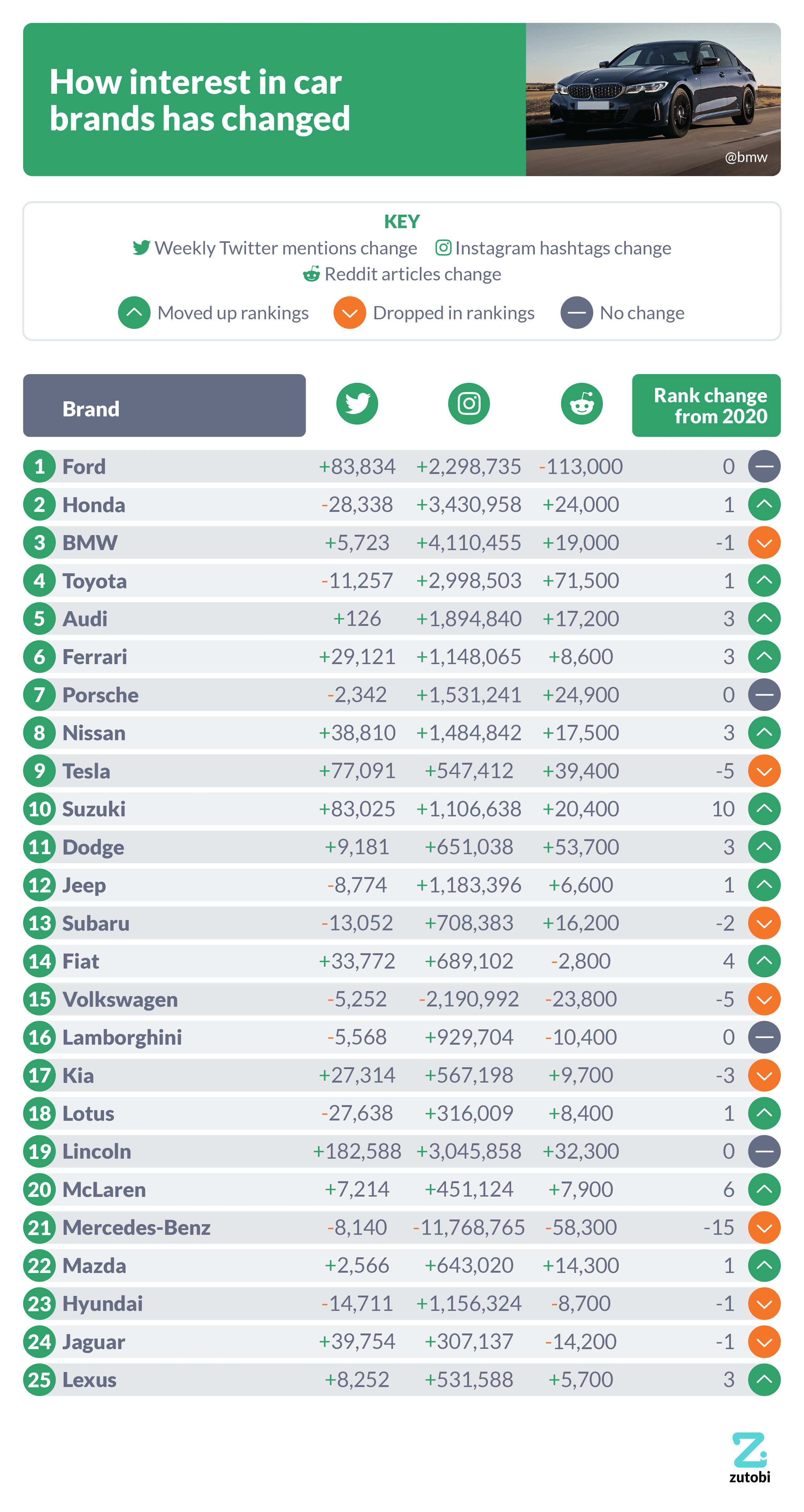 The most talked-about car brands on the internet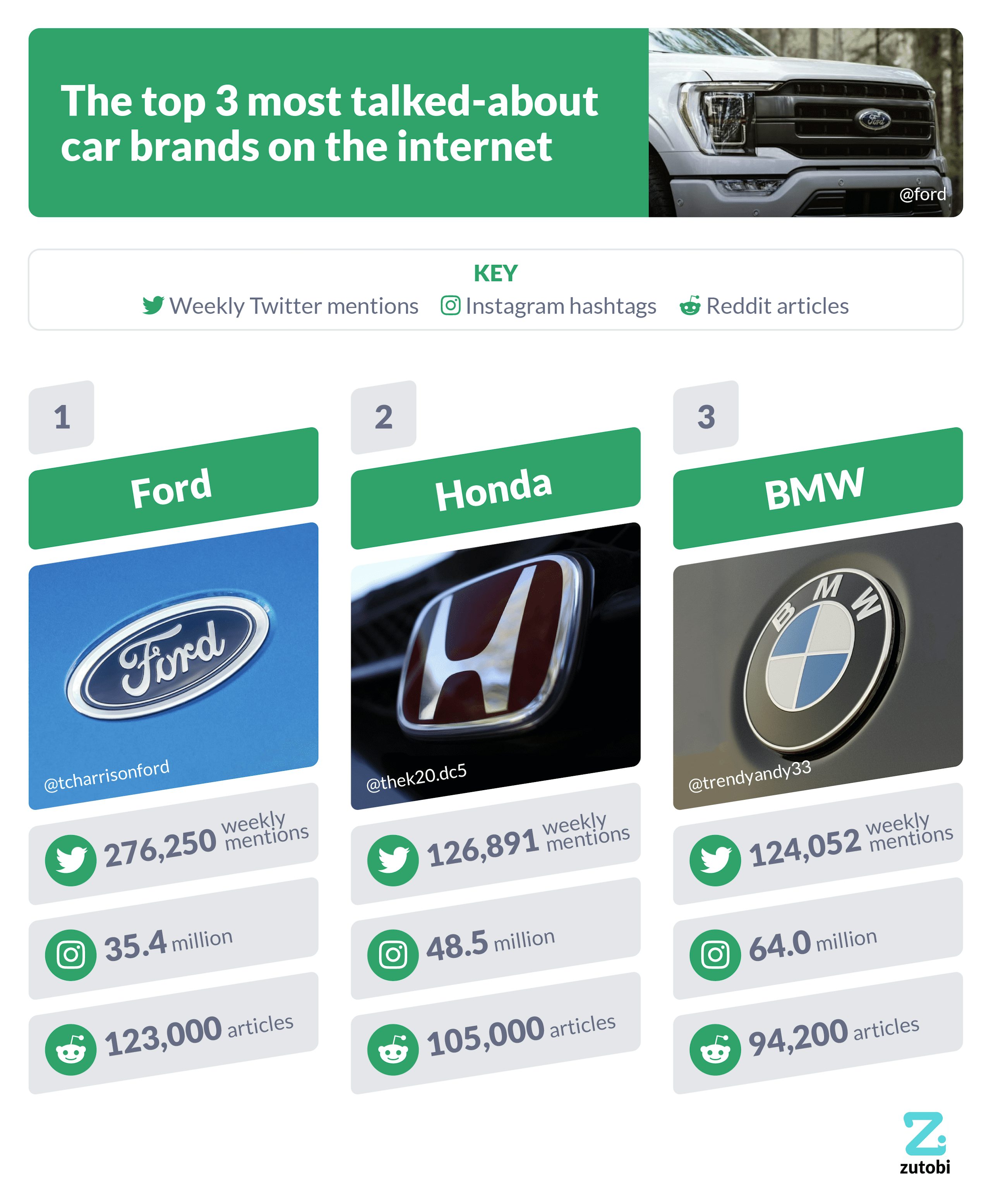 1. Ford
Weekly Twitter mentions: 276,250
Instagram hashtags: 35,395,202
Reddit articles: 123,000
When it came to brands, Ford took the top spot with a normalized popularity score of 9.74, largely due to it being within the top 3 most talked-about brands across Twitter, Instagram, and Reddit. Native to the US, Ford is a truly global brand and the fifth-largest automobile manufacturer in the world.Ford is one of only three American car manufacturers to win titles at the FIA World Championships, alongside Shelby and Chevrolet. Ford also won the World Sportscar Championship for three consecutive years in 1966, 1967, and 1968.
2. Honda
Weekly Twitter mentions: 126,891
Instagram hashtags: 48,493,335
Reddit articles: 105,000
Honda takes the runner-up spot on our list with impressive discussion across social media. The Japanese manufacturer is the eighth largest car manufacturer in the world and also the world's leading motorcycle manufacturer.
Honda won their first Formula 1 World Championship Title since 1991 last year when Max Verstappen steered their Red Bull-Honda RB16B to victory at the 2021 Drivers' World Championship.
3. BMW
Weekly Twitter mentions: 124,052
Instagram hashtags: 63,993,582
Reddit articles: 94,200
In third place for most talked-about car brand on our list is BMW, with a whopping 63.9 million hashtags on Instagram (over 15 million more than our runner-up, Honda). Known for its luxury vehicles, BMW has operated under the slogan "The Ultimate Driving Machine" since 1974.
BMW also has a long-standing involvement in motorsports such as Formula 1, 2, & E, touring car racing, and endurance racing.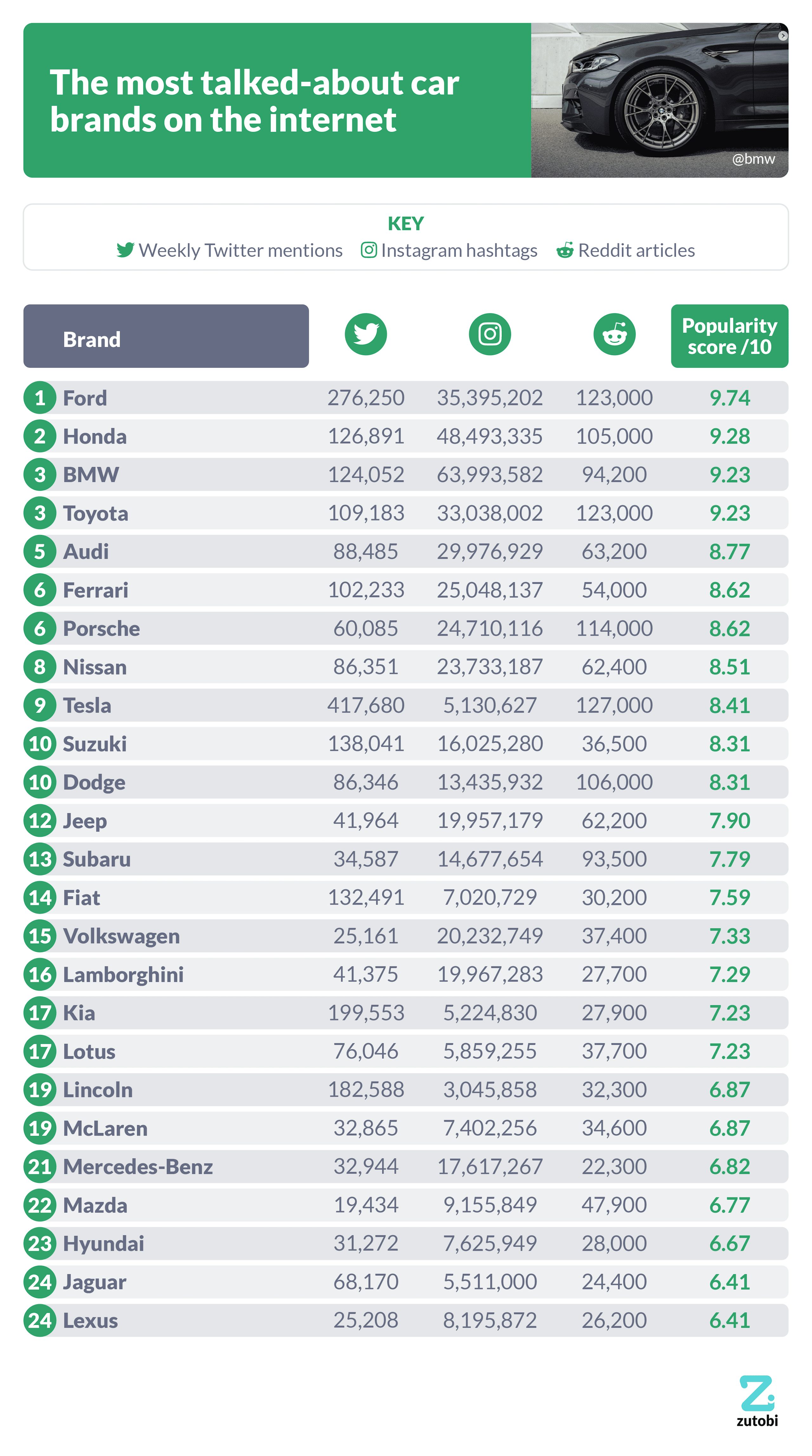 How things have changed over the last year
Again, we wanted to compare these results with what we saw last year and have seen a similar change in the top three brands as seen in the top three models. While Ford continues to dominate online discussion across our three chosen social media sites, competition for second place is stiffer than ever.
This year, Honda has taken the runner-up position in our most talked-about car brands online, arriving in third this time last year. This is largely due to a significant increase in posts about Honda on Reddit, with the car manufacturer seeing an increase of over 30,000 Reddit posts over the last year, whereas posts about BMW increased by just 10,000. In addition, BMW saw around 30,000 fewer weekly Twitter mentions, hurting its overall popularity score and dropping the brand into third place.
With the environment for most talked-about cars always changing, we are expecting to see a shift in the popularity of car brands in the coming year. Electric vehicles are fast becoming the most sought-after and talked-about cars in today's more environmentally-aware climate. For example, Tesla has both the most weekly Twitter mentions and Reddit posts of all car brands on our list, largely due to its rocketing popularity in the industry. Tesla comes in ninth overall due to its lack of Instagram prevalence, but we don't think it will take long before Tesla racks up enough hashtags to compete for the top three spots on our list.
Interestingly, Ford has made news because of its own devotion to electric vehicles. Ford has sworn to give electric vehicle start-ups such as Tesla some stiff competition when it comes to electric technology and has begun this process by hiring Tesla's former engineering director, Alan Clarke. Ford continues to make headlines for its investment in electric vehicle production, with some claiming the company will reap heavy rewards in the near future, even hitting the trillion-dollar market cap by just 2030.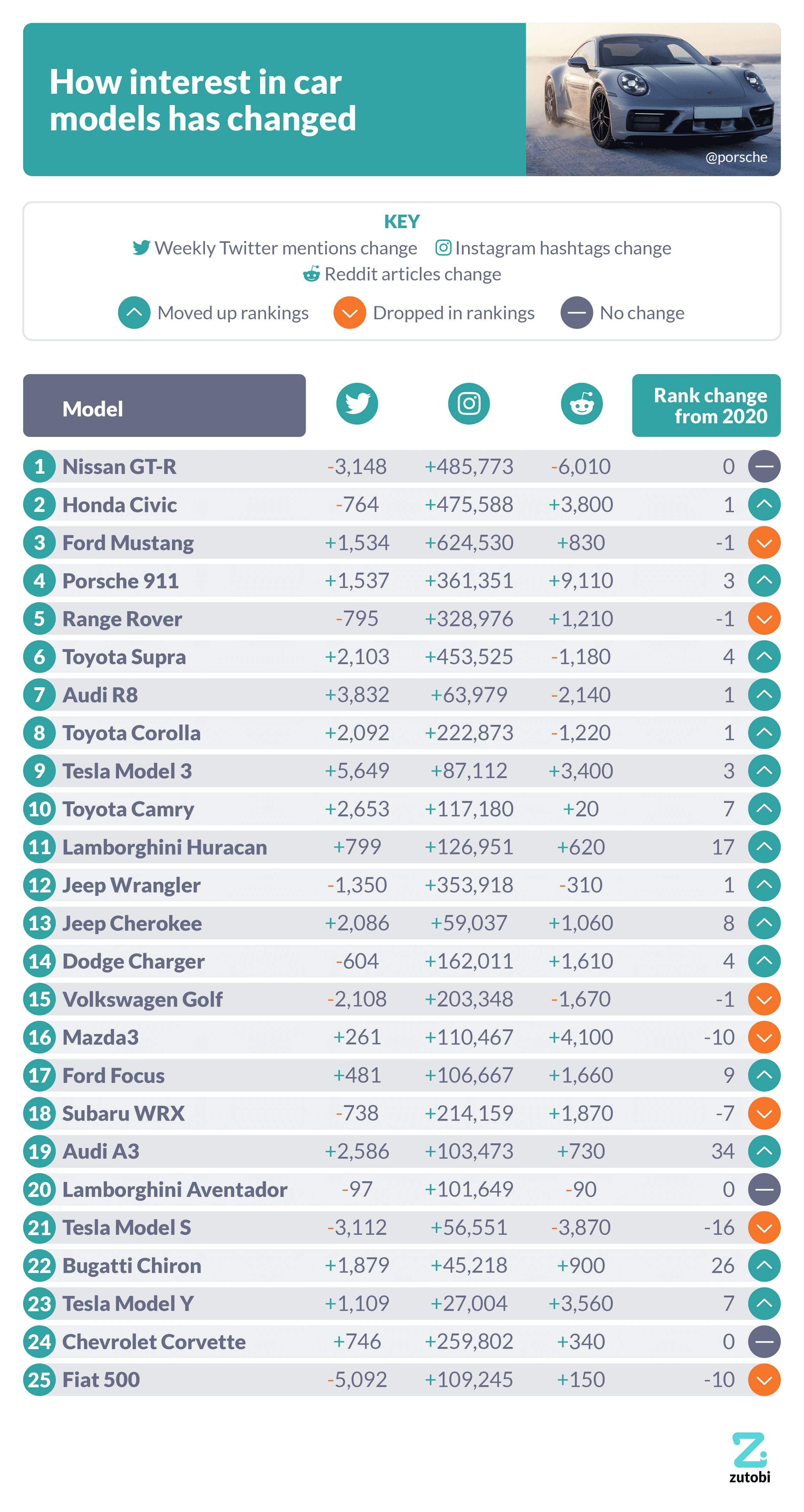 The 2021 Car Talk Report
If you want to read our previous report you can view and download it here:
Methodology
We ranked each car on the following three criteria, giving each one a normalized score out of ten for each factor, before taking an average of these three scores for our final popularity score out of ten.
Twitter mentions
The number of Tweets on Twitter mentioning the car or brand over one week (February 1st – February 8th, 2022).
Instagram hashtags
The number of Instagram posts mentioning each car on Instagram using hashtags, as of February 8th, 2022.
Reddit posts
The number of posts on Reddit with the name of each car in their title, as of February 8th, 2022. Values for Reddit posts were taken using the Allintitle function on Google. These values represent the number of posts on Reddit with the car/brand in the title and can be subject to dynamic change depending on the date of record due to the live forum nature of Reddit.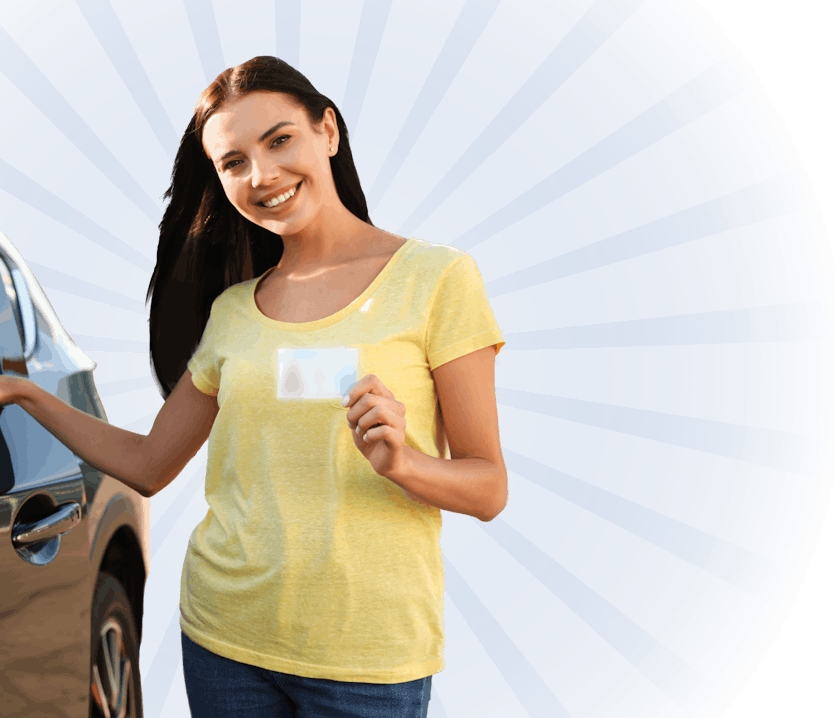 Ace your DMV test, guaranteed