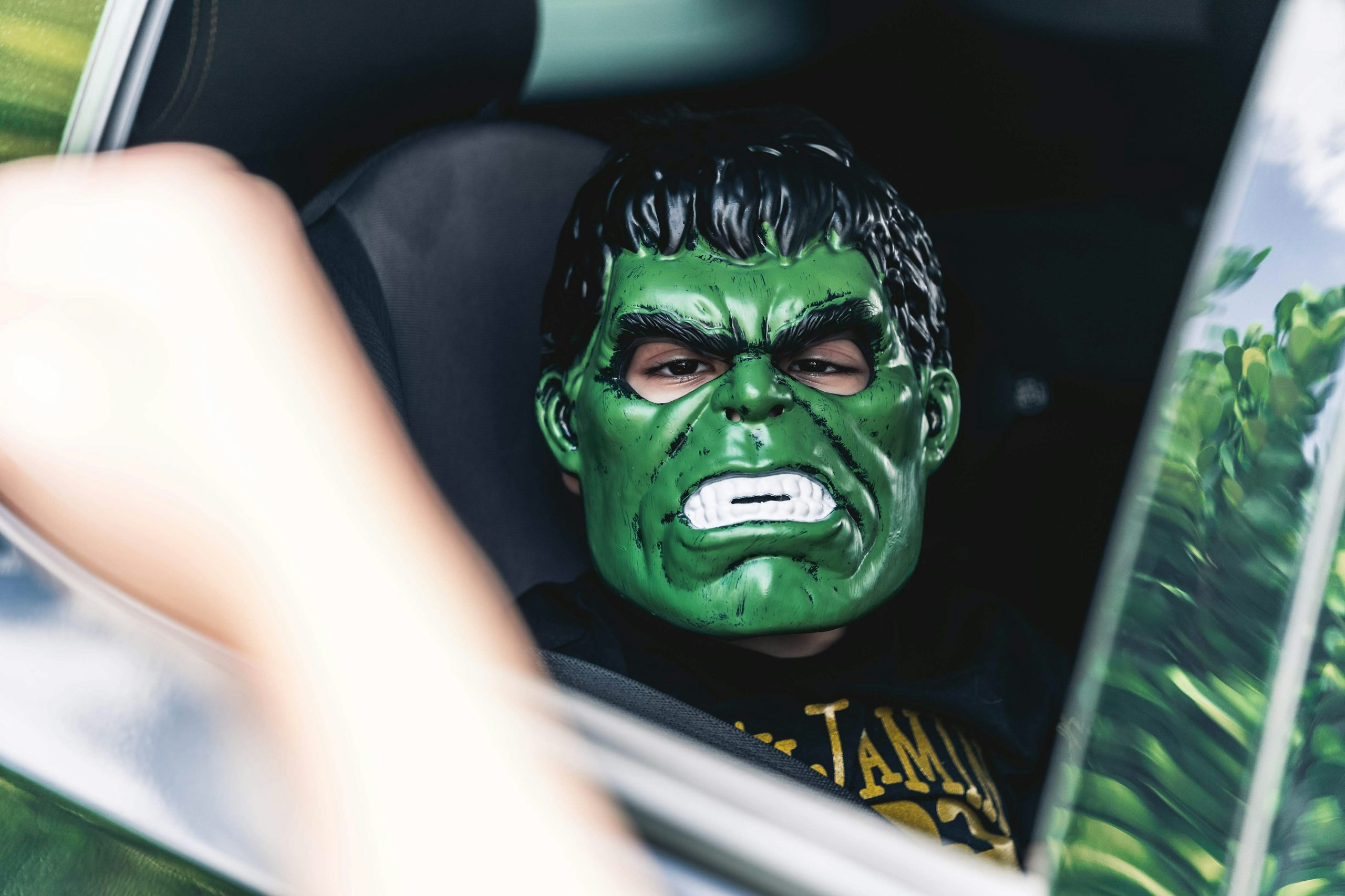 Child Passenger Safety – Car Seat Safety and Tips for Keeping Your Kids Safe
With Child Passenger Safety Week around the corner, Zutobi shares some great tips to protect your children in and around cars.
During September each year, the National Highway Traffic Safety Administration (NHTSA) and the Ad Council works to raise awareness during Child Passenger Safety Week, which is slated for September 18-24, 2022, and culminates with National Seat Check Saturday this year. This awareness week is a great time to brush up on the potential dangers of combining children and cars–and do everything we can to protect future generations against these risks.
Safety Restraint Systems
Car crashes are the number one cause of death for children. According to NHTSA, of the 38,824 traffic fatalities in 2020 in the United States, 1,093 were children 14 and younger. An additional 139,042 children were injured in traffic crashes. The problem is on the rise with child traffic fatalities up by 3 percent from 2019.
Roughly 42 percent of children killed in car crashes were unrestrained, which means there's an opportunity to better protect children from death or serious injury with the proper use of car seats and restraint systems. A series of public service ads work to remind parents and caregivers of the importance of selecting and using the correct restraint system for each child's age, height, and weight.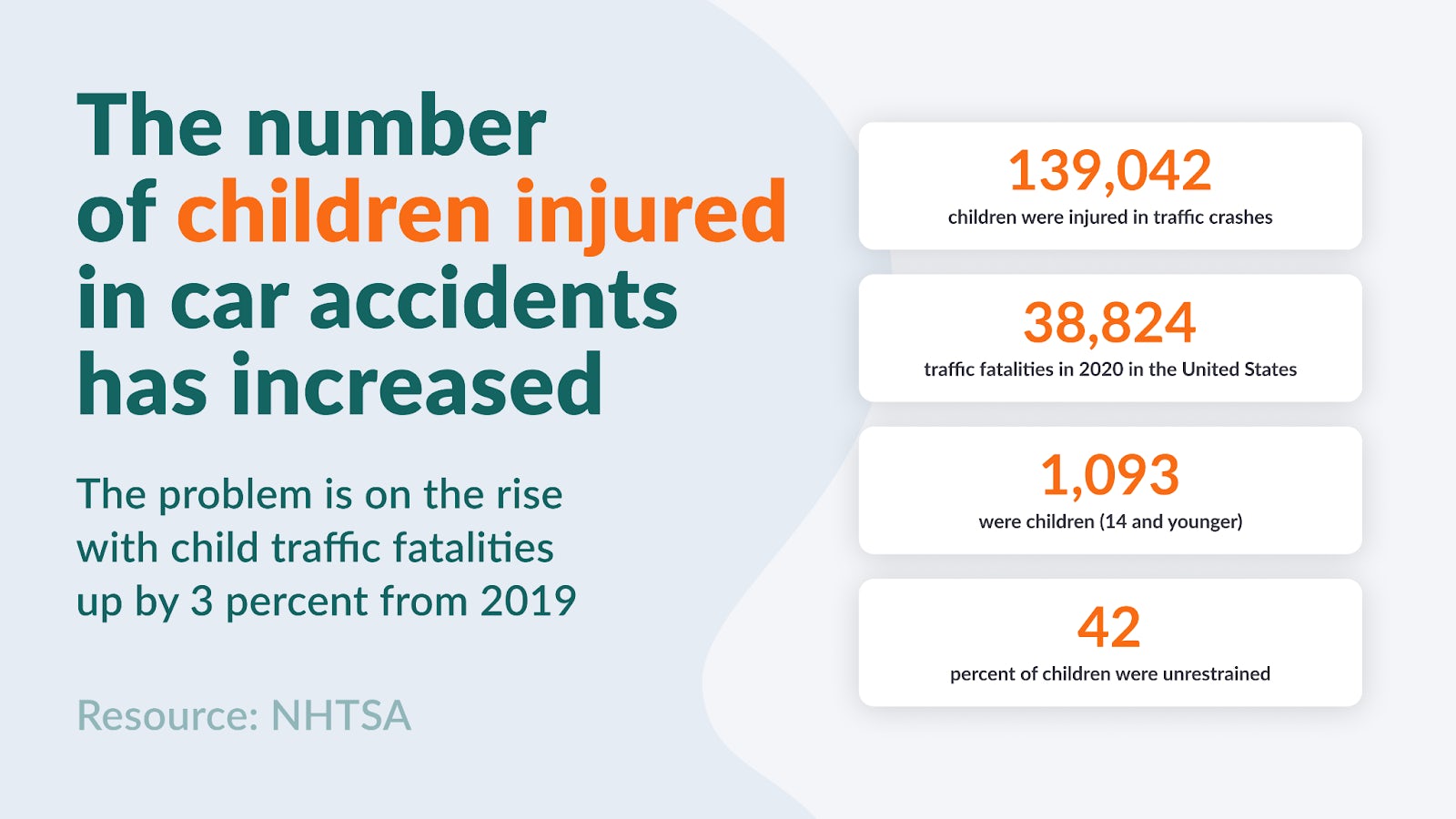 Four Types of Seats
Currently, four types of restraint systems for children. Selecting the right one is the first step to keeping young passengers safe. Here is a snapshot of each:
Rear-Facing Car Seats. Infants have fragile necks and spinal cords, which can be severely damaged in a car crash. The safest position for young children is facing backwards to minimize the impact in the case of a crash. Rear-facing car seats are available as infant-seats only, convertible seats, and all-in-one models. These should be used between birth and at least one year of age. Smaller children should stay rear-facing until they reach the top weight and height limits of the seat.
Forward-Facing Car Seats. Once a child's body has grown and developed, a forward-facing car seat that restricts a child's movement can be used. Convertible seats can transition from rear-facing to forward-facing while a combination seat moves children from forward-facing to a booster. An all-in-one seat offers protection at all stages of growth. These seats should once again be used until the children reach the top weight and height limits of the seat.
Booster Seats. As children grow, they often do so in spurts. Smaller children in particular require a little height in a vehicle so that lap and shoulder belts fit properly over the correct points of their hips, shoulder and chest. Both booster seats with a high-back and backless models used in vehicles with head rests can meet this need. Combination seats and all-in-one versions will also suffice. Booster seats should be used until a child is large enough to fit in a regular seat belt properly, but always in the back seat.
Seat Belt. Finally, once children reach the stature that's suited for a regular seat belt, they can be used into adulthood. Lap and shoulder belts should fit snugly across the shoulder and chest, not on the stomach or across the neck. Keep children in the back seat until at least the age of 12.
Besides carefully following the instructions and safety guidelines of car seat manufacturers, parents and caregivers can utilize other resources offered by the NHTSA. An easy-to-use online car-seat sizing calculator can help select the right seat for a particular child.
In addition, many community organizations offer car seat installation assistance and inspections to ensure that any of the children's car seats are properly secure.
Additional Things to Be Aware of As a Parent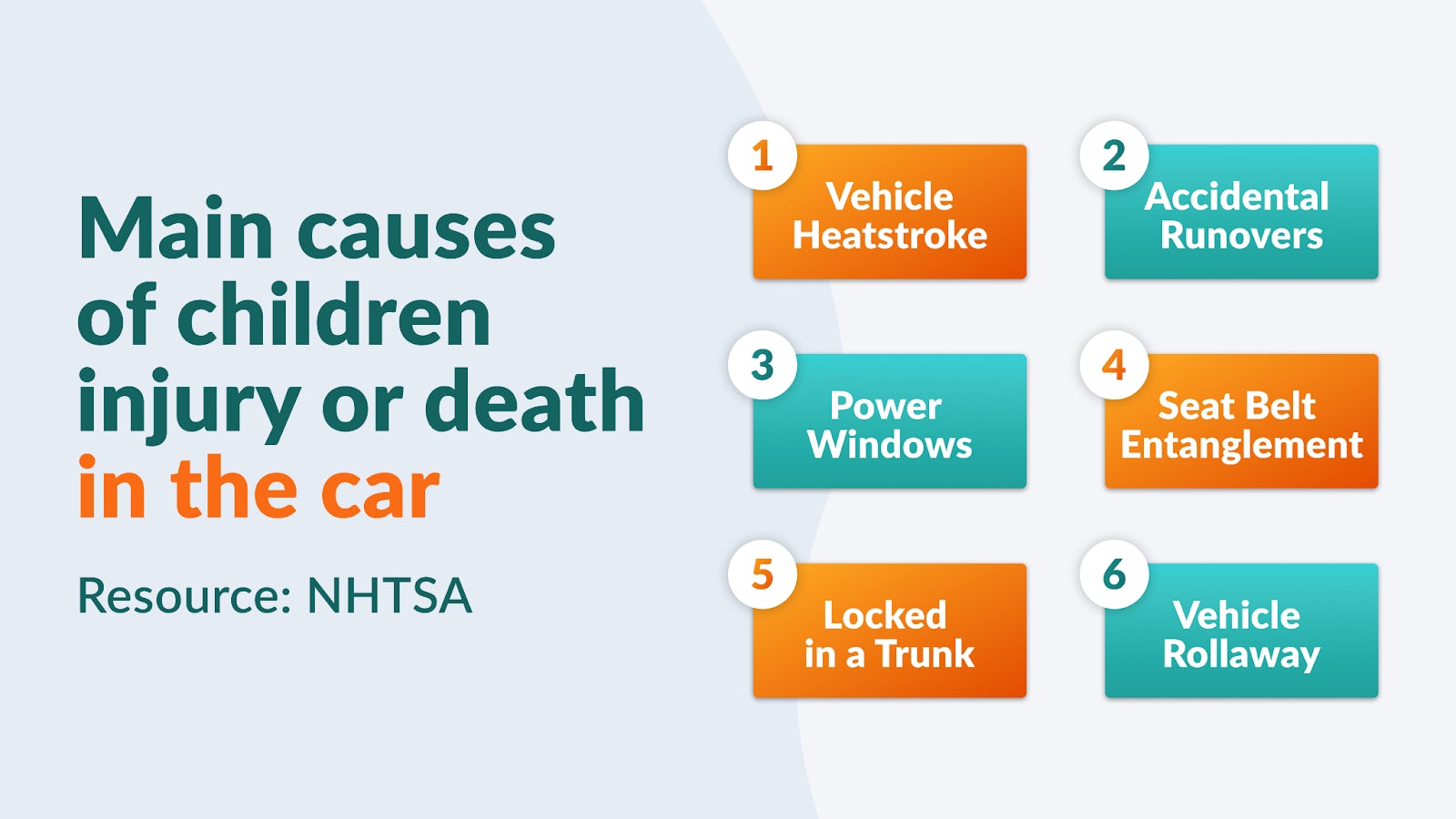 Vehicle Heatstroke
Anyone getting into a closed car in the heat of the summer knows how stifling the temperatures can be. Vehicle heatstroke is particularly dangerous and potentially deadly if a child is left in a hot car. One of the leading causes of childhood death, heatstroke occurs when the body temperature reaches 104 degrees becoming deadly at 107 degrees.
Terrible accidents occur when a parent or caregiver forgets a baby in the back seat or a young child climbs into a car to play unbeknownst to an adult. Here are are top prevention tips to prevent such an accident from occurring:
Habitually look in the backseat. Make it a habit to check the back seat every time you leave your vehicle.
Secure your vehicle. Make sure children cannot get into a car without you knowing it. Lock the doors and keep the keys out of reach.
Be aware. If you happen to see someone's child locked in a car in a public parking lot, be sure to find help immediately.
Accidental Runovers
Since children are small in stature, it can be easy to miss them in a driveway or parking lot. Often, a child is not visible in mirrors. Here are the best tips to prevent such an accident:
Educate children. From a very early age, teach children not to play near parked cars and to move out of the way if they happen to see one moving.
Double check. Take a quick walk around the vehicle before moving it, especially in an area where children often play.
Keep them in sight. If children are nearby, ask them to stand in the lawn or someplace where you can see them as you're pulling out.
Use your senses. Watch carefully around and behind your vehicle and keep your windows down so you can see and hear what may be happening outside.
Don't rely on detection devices alone. Although more cars now have backup cameras and sensors, do not rely on these tools alone.
Power Windows
Most parents probably do not consider power windows a dangerous hazard, but the reality is that children can be injured when such a window closes on a finger or hand. There have even been cases of children being strangled. Here are prevention tips:
Instill rules. Be sure children know window switches are not toys, and that it is not allowed to stand on door arm rests.
Proper restraints. Children buckled correctly in car seats will be much less likely to be able to reach controls.
Double check. Ensure children are not playing by the windows before you close them.
Secure vehicle. Do not leave a key in the ignition so that power windows can be activated without supervision. Some vehicles allow you to lock the power windows.
Seat Belt Entanglement
Pulling a seat belt and watching them retract can be fascinating for a child, so it's important to know that children can get dangerously tangled into a seat belt if it gets wrapped around their head, neck or waist. If a seat belt locks when this is occurring, the child may be trapped. Ways to prevent this from happening include:
Enforce rules. Children should know that cars are not for playing in or around.
Proper restraints. Children buckled correctly in car seats will not be able to get tangled in seat belts.
Buckle unused belts. If a seat belt can be reached, fasten all unused belts and lock them in this position.
Locked in a Trunk
Children hiding in a trunk or playing in a vehicle can get trapped, resulting in heat stroke or asphyxiation. While automobile manufacturers have been required to equip all new vehicles with a trunk release mechanism as of September 2001, the danger still exists. Here are some ways to prevent a horrible accident:
Teach. Most importantly, teach children that trunks are for suitcases and groceries, not for people and playing. Show them how to use the release mechanism in an emergency.
Look first. If your child is missing, check your vehicles immediately.
Secure vehicle. Lock the car and keep keys out of reach. Also, make sure seats are locked to prevent children from entering the trunk from the passenger area.
Vehicle Rollaway
Thanks to the development of the Brake Transmission Safety Interlock (BTSI) system, which has been required in all vehicles since 2010, vehicle rollaway is much less common than it used to be. However, modern vehicles that have keyless ignition or push-button start features can still pose a risk if the cars are not shifted into park. Here are some prevention tips to guard against this problem:
Shift to park. Be sure your car is in park before leaving your vehicle.
Supervise. Be sure that children are not unsupervised around parked vehicles, especially on inclines.
Secure vehicle. Keep your vehicle locked when it is parked and never leave keys accessible.
Drivers' Education
Finally, remember that a strong drivers' education program can help new drivers stay safer on the road as well as provide a much-needed refresher on road safety for experienced drivers. Every driver should refresh their knowledge every few years to remain a safe driver their entire driving career. Zutobi is the perfect resource for this.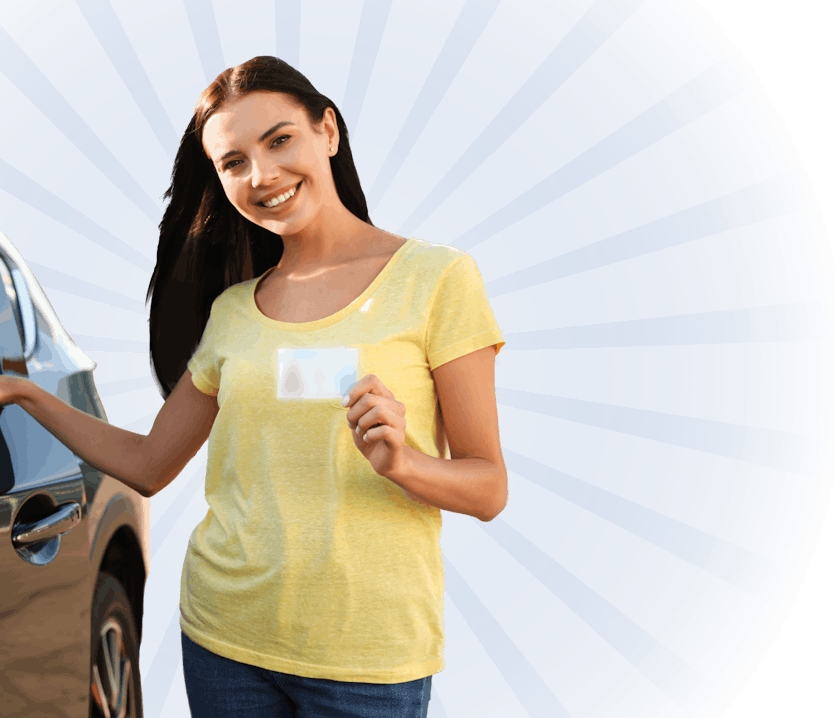 Ace your DMV test, guaranteed