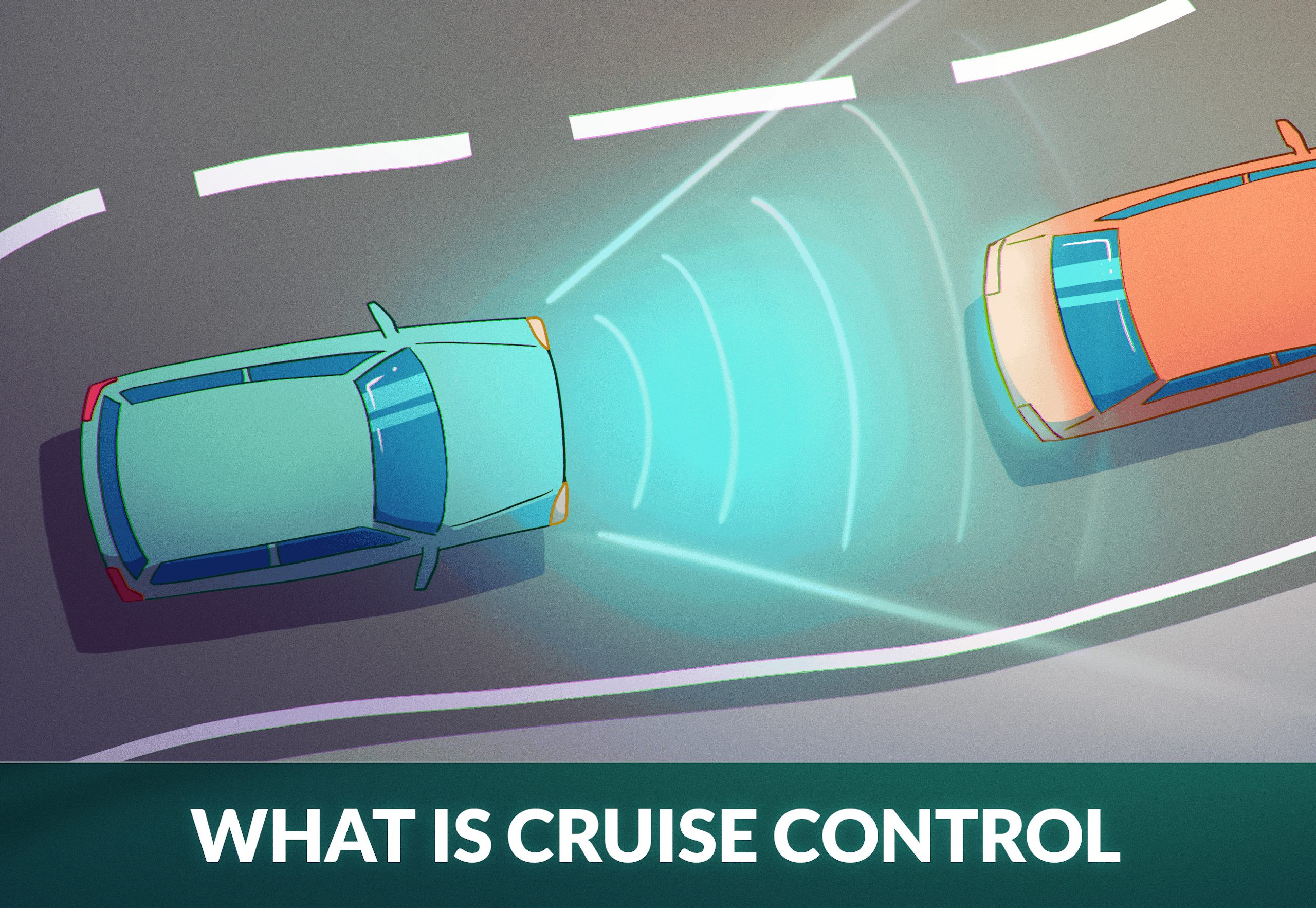 Cruise Control Explained – All You Need to Know
Cruise control has come a long way since first invented and patented by Ralph Teetor in 1950, who originally named it the "Speedostat". Chrysler Corporation was the first manufacturer to offer the groundbreaking mechanism as an option on several of its luxury vehicle models nine years later. Today, cruise control is rapidly becoming the standard on all new vehicles, providing drivers with increased convenience on their daily drive.
As you're learning how to operate a vehicle, understanding cruise control will help increase your comfort behind the wheel and knowledge of driving.
What is Cruise Control?
Cruise control is an electronic device within your vehicle that controls the speed of your vehicle. It allows the driver to maintain a constant speed of 25 mph without holding their foot on the accelerator. Although the feature has been around for 70 years, automotive manufacturers continue to improve upon the technology to provide drivers with increased comfort, luxury, and convenience whenever they're behind the wheel.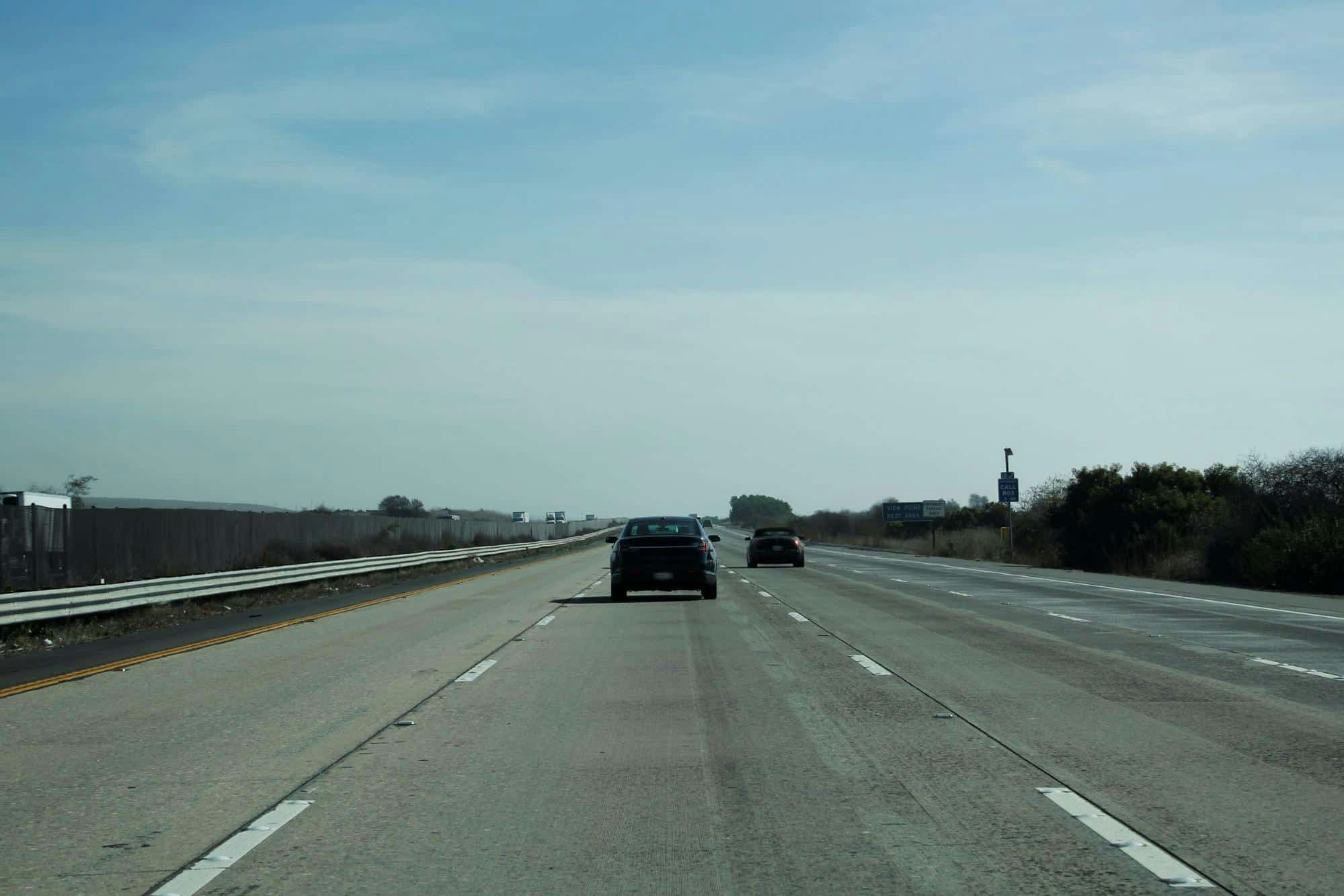 Cruise control is ideal for freeway/interstate driving such as this.
Different Types of Cruise Control
There are 3 types of cruise control systems.
Speed Limiter
Adaptive Cruise Control
Semi-autonomous Cruise Control
What is a Speed Limiter?
A speed limiter will limit how fast the driver can accelerate behind the wheel. All modern vehicles contain a standard speed limiter capping speed between 120 mph and 180 mph depending to protect the vehicle's engine and discourage reckless driving. However, an additional limiter can be added as an option in many European-made cars, as well as Tesla, Ford, and Nissan. Drivers are still required to keep their foot on the pedal to keep their vehicle in motion, but will not be able to accelerate past a predefined speed limit.
What is Adaptive Cruise Control?
Adaptive cruise control uses sensors around the vehicle's exterior to maintain speed while keeping a safe following distance from the car ahead. The system will slow you down and speed you up as the flow of traffic fluctuates throughout your commute, removing a lot of the stress from daily driving. However, adaptive cruise control may not work well in bad weather or protect you from sudden movements, so you will want to always keep your full attention on the road.
What is Semi-autonomous Cruise Control?
Luxury automakers such as Tesla and Audi are implementing the newest rendition of cruise control on their latest vehicle models – Semi-autonomous Cruise Control. It works largely the same as adaptive cruise control, but assists drivers with lane guidance and steering. There are several variations of semi-autonomous cruise control that include additional convenience features for the driver.
How to Use Cruise Control – 6 Step Guide
These are the steps to using cruise control effectively.
Observe weather conditions
Build speed
Engage cruise control
Set cruise control
Watch the road and steer
Brake to disengage
1 – Observe weather conditions
As mentioned, cruise control may become inconsistent in rainy, snowy, or otherwise hazardous conditions. If you must drive in this situation, it may be a better idea to do so manually. Cruise control works best on a clear day with constant traffic flow.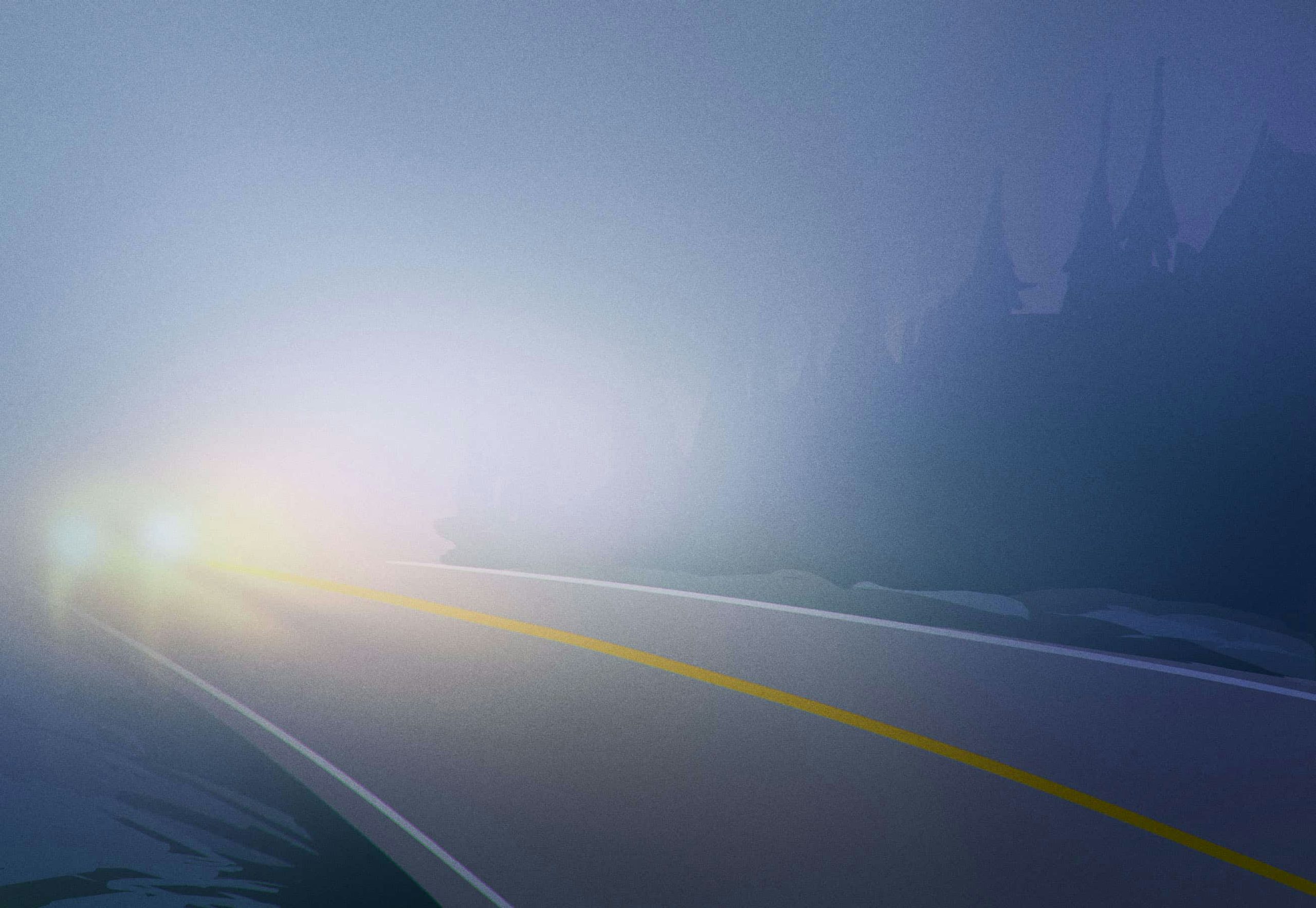 Cruise control is not suitable for bad conditions, for example when driving in fog.
2 – Build speed
Accelerate to your desired speed as you prepare to activate cruise control. US highways have posted speed limits between 55 mph and 75 mph. Do not attempt to set cruise control when you are traveling over the speed limit.
3 – Engage cruise control
Once you've reached your desired speed, engage the cruise control. This step will vary widely based on your vehicle make and model, however, many cruise control settings are accessible from the steering wheel controls. Check your owner's manual for further information.
4 – Set cruise control
After turning on cruise control, you'll need to set your desired speed. Many systems set the cruise control at the current speed, while others require you to manually set one. You can increase and decrease this speed as needed without interrupting the mechanism.
5 – Watch the road and steer
Watching the road is essential when cruise control is engaged. Cruise control is not a substitute for a human driver and will require supervision at every step. If you are using a semi-autonomous system, you will not need to steer but will need to keep at least one hand on the wheel for safety measures.
Engaging the cruise control does not mean that you can focus less on driving.
6 – Brake to disengage
When cruise control is no longer needed, or you need to quickly make a maneuver, simply apply pressure to the brakes to disengage the system. Once deactivated, you will be in full control of your vehicle once again.
When NOT to Use Cruise Control
While cruise control is a convenient feature for modern drivers, it is not perfect for all circumstances. In fact, utilizing the system can be quite dangerous if you're not careful. Be sure not to use cruise control under these conditions.
Heavy Traffic
Heavy, or stop-and-go traffic is not ideal for safely using cruise control. When engaging cruise control on the highway, ensure your lane is clear and there are no vehicles stopping ahead.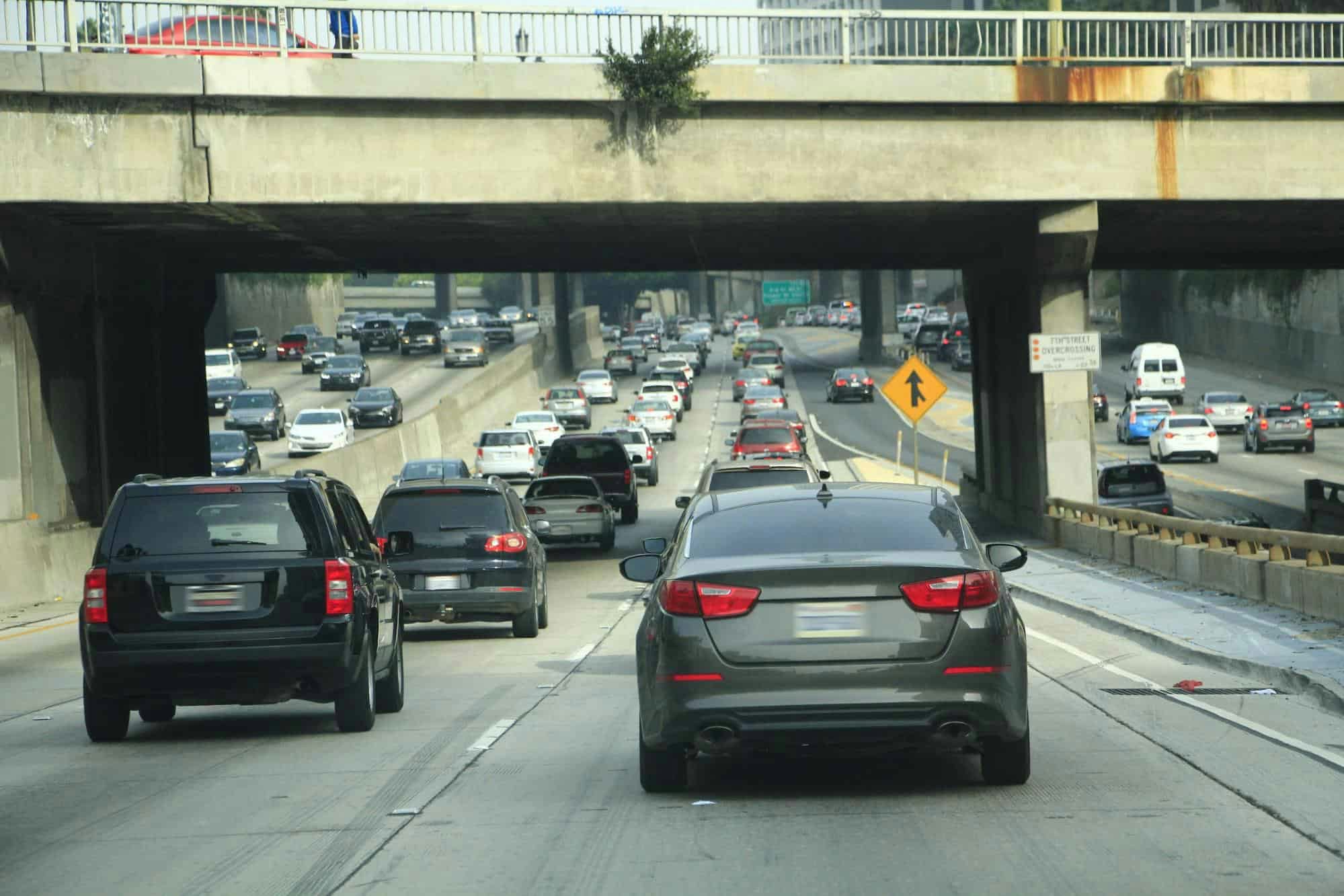 Cruise control should not be engaged in heavy traffic like this.
Wet or Icy Conditions
You need to be driving slowly while on wet and icy roads. While cruise control keeps a constant, predetermined speed, it takes away a lot of the manual control needed to stay safe when it's raining or snowing.
City Driving
While driving through the city, you'll face a number of stop lights and stop signs that will require manual braking. This action will automatically disengage cruise control.
Winding Roads
Winding roads require more attention than straight, flat streets. Cruise control systems, even adaptable cruise control, may not always detect these streets correctly, causing accidents.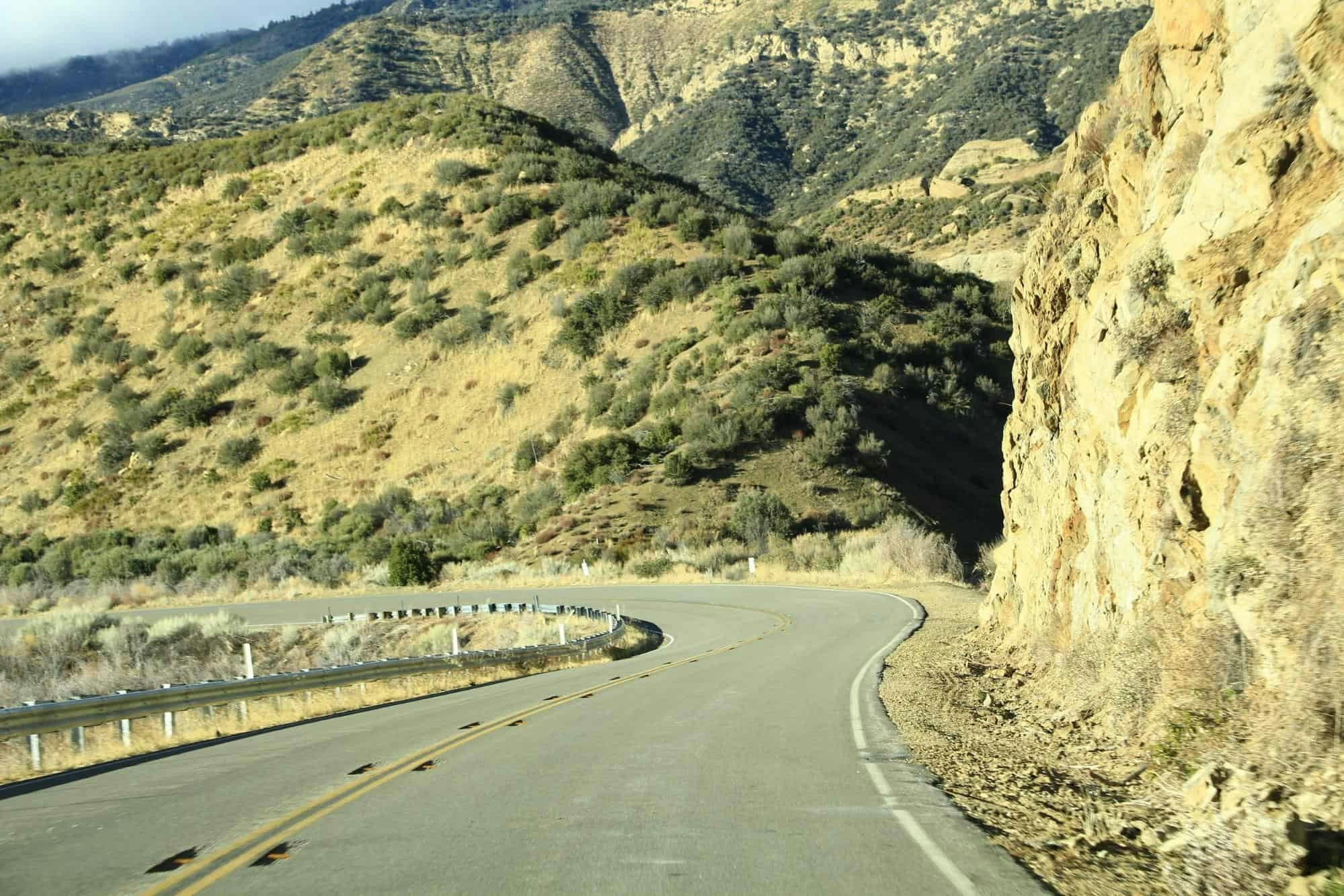 Avoid using cruise control on winding roads.
Fatigued Driving
Driving while fatigued is never a good idea, but even less so while using cruise control. Utilizing the system may add to your fatigue, as you give your vehicle more control of the journey. If you're even the least bit tired, you should never turn on cruise control.
As you can see, cruise control is a great way to relieve much of the stress that comes with everyday driving. The constant rate of speed can also drastically improve fuel efficiency for longer drivers. Cruise control has had a positive impact on the driving industry for 70 years and shows no signs of disappearing anytime soon.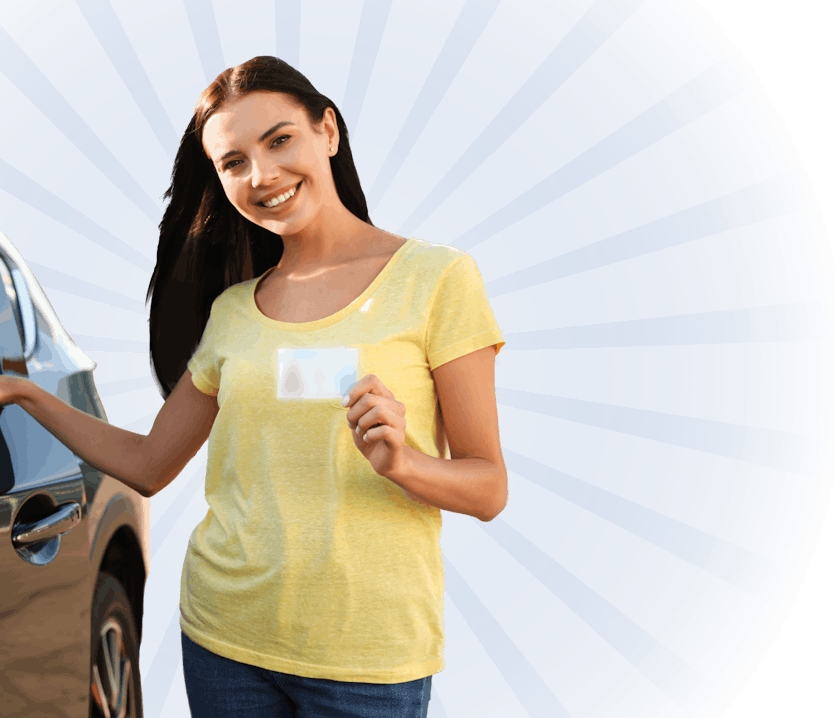 Ace your DMV test, guaranteed