Foreign Drivers Report
The best and worst countries to drive in as a tourist
One of the best ways to truly experience a new country is by car, allowing you to explore your destination at your own pace, and go wherever your curiosity takes you.
However, driving abroad can be intimidating, trying to find your way around unfamiliar roads, all while remembering to stick to a whole new set of rules and regulations and sharing the road with fellow road users who might not be quite as considerate as you're used to back home.
So, if you've recently passed your driving test and are looking to hit the open road on the holiday of a lifetime, which are the best (and worst) countries for foreign drivers?
To find out, we've analyzed a number of countries around the world on factors such as road safety and quality, as well as the cost of hiring and filling up a car.
The best countries for foreign drivers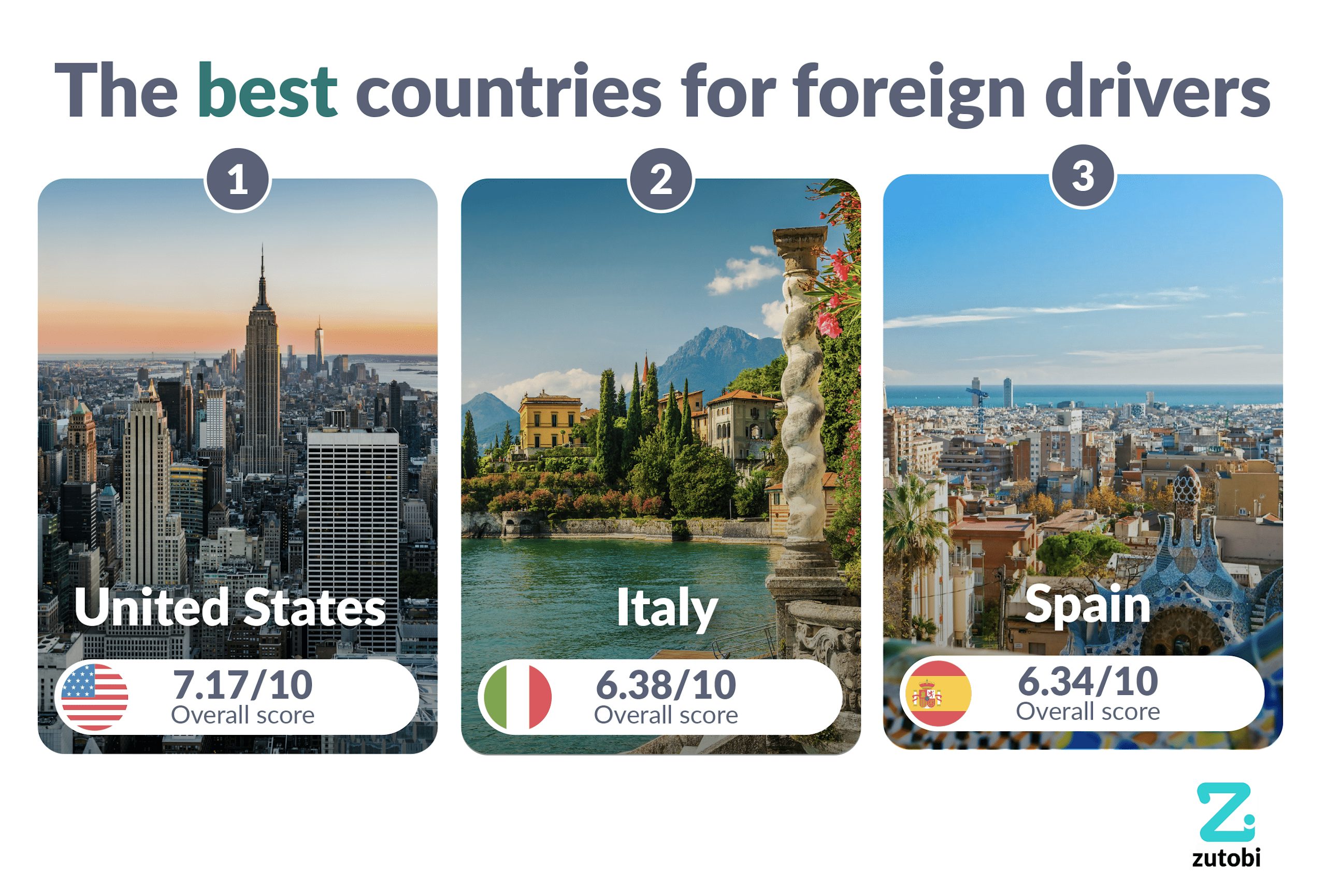 1. United States
Taking the top spot is the United States, which is, of course, one of the most iconic road trip destinations on the planet. As well as being the highest-scoring nation when it comes to interest in road trips (on both Instagram and Google), the States were also the country with the lowest average congestion (although note that this will obviously not be the case in busy cities). From the Pacific Coast Highway to Route 66, the US is home to some of the best driving routes in the world, so it's little surprise to see it at the summit of the rankings.
2. Italy
Italy's long Mediterranean coastline is perfect for exploring on four wheels, especially for lovers of culture and cuisine. From the Dolomites to the Amalfi Coast, Italy has a number of notable road trip routes to check out and it came second overall in our ranking, scoring highly for the quality and safety of its roads, as well as having a cheap average hire car cost and was also had the most attractions per person.
3. Spain
Spain is one of the most visited European nations and has lots to offer, from the gorgeous beaches to the mountains further inland, as well as historic and vibrant cities such as Barcelona and Madrid. If you choose to road trip your way through Spain, you'll enjoy a low level of congestion (14.4%), cheap car hire ($27 per day), and safe roads (3.9 traffic deaths per 100,000 people).

The best country for…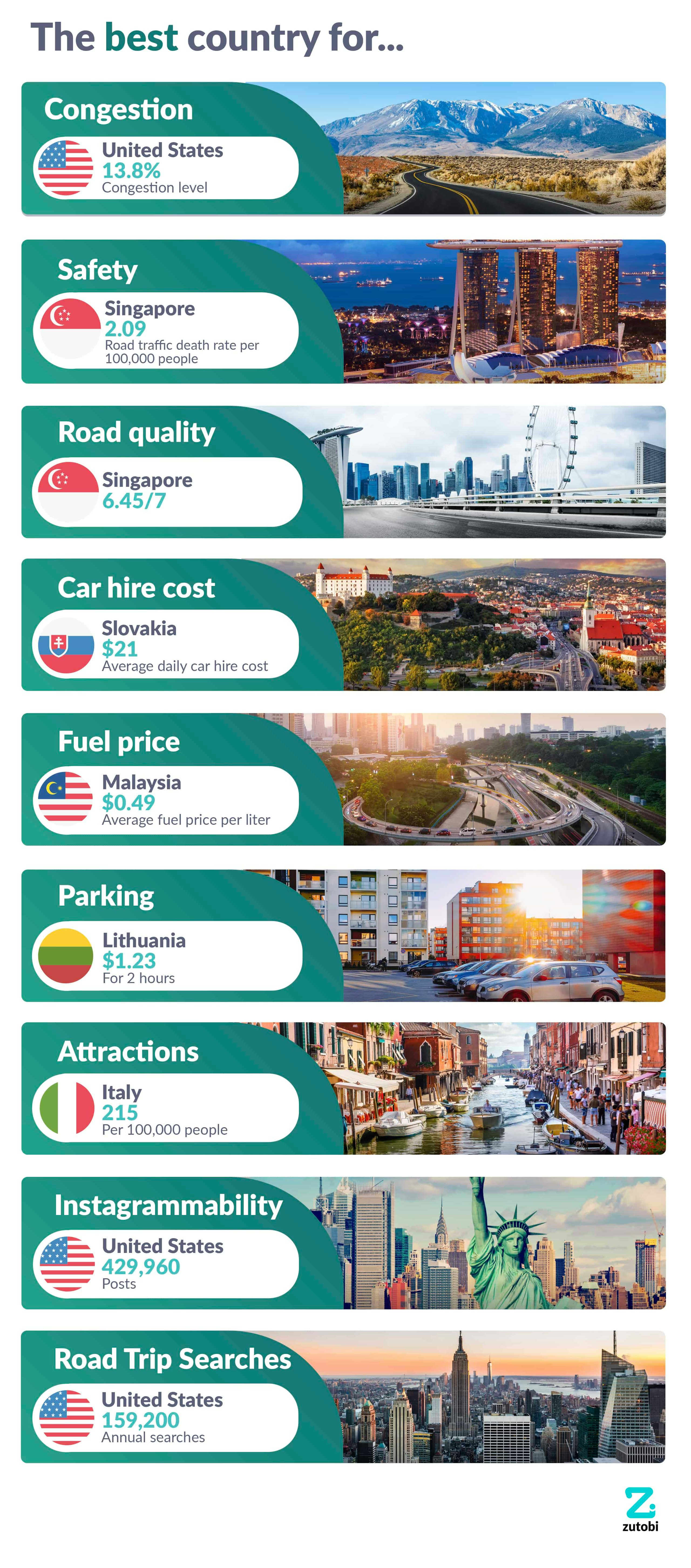 Congestion – United States (13.8%)
When you're trying to get to grips with driving in a new country, the last thing that you want is to be getting stuck in traffic. In this sense, the United States was the best-performing country, with its cities averaging a congestion score of just 13.8%, meaning that journeys take an average of 13.8% longer in rush hour. Of course, this percentage will be far higher in major cities such as New York and Los Angeles, but if you're embarking on a proper American road trip like the famous Route 66, you won't need to worry too much about traffic.
Safety – Singapore (2.09 road traffic deaths per 100,000 people)
When you take into account the unfamiliarity of driving abroad, and potentially driving on a different side of the road, if you're not careful you could find yourself in an accident. Thankfully though that's unlikely to be the case in Singapore, where there are just 2.05 road traffic deaths per 100,000 people, making it one of the safest countries to drive in in the world.
Road quality – Singapore (6.5)
When driving in a new country, you may find that not all of the roads are kept to the same condition as you're used to back home, which can present a number of challenges. However, the country where the roads are kept in the best condition is Singapore, with a score of 6.5 out of 7. In fact, the roads on the streets of Singapore are so good that they host the Singapore Grand Prix each year.
Car hire cost – Slovakia ($21 per day)
If you're driving abroad, you'll probably be hiring a car, but doing so can be a big drain on your expenses throughout your trip. However, that won't be such an issue in Slovakia, where a day's car hire costs just $21 on average.
Fuel price – Malaysia ($0.49 per liter)
Another expense that you'll have to contend with while road tripping abroad is that of fuel, and the cheapest country for a liter of gasoline is Malaysia. Malaysia's fuel is so cheap due to a lack of taxation from the government and costs just $0.49 per liter on average.
Parking – Lithuania ($1.23 for two hours)
Parking is a cost that can add up very quickly, especially when you're not a local and don't know all the best places. When looking at the cost of two hours of off-street parking, Lithuania was the cheapest country on average, at a cost of just $1.23.
Attractions – Italy (215 per 100,000 people)
While exploring the open road is an adventure in itself, it's the things to see and do that really draw you to a country, so we also took a look at which nations have the highest concentration of attractions to explore on your road trip. Italy had the most, with 215 for every 100,000 people, including cathedrals, galleries, ruins, palaces, and more.
Instagrammability – United States (429,960 posts)
Social media is a major source of travel inspiration these days and the country that saw the most people showing off their road trips was the USA, with just under half a million posts using the hashtag #USAroadtrip.
Road trip searches – United States (159,200 annual searches)
Similarly, the US was also the most searched country when it came to people researching where to go for their next road trip using Google. Over 150,000 people searched for "USA road trip" in the last twelve months.
Methodology
We looked at the 42 countries around the world for which data was available for each of the following factors. We gave each country a normalized score out of ten for each of the factors, before taking an average across all nine for our final overall score.
Congestion
An average of all the cities from each country in TomTom's 2020 Traffic Index. This score shows how much longer a 30-minute trip would take compared to the city's baseline uncongested conditions.
Safety
Estimated road traffic death rate per 100,000 people according to the World Health Organization's Global Health Observatory.
Road quality
The quality of road infrastructure in the country, scored out of seven according to the World Bank.
Car hire cost
The average cost of hiring a car for one day according to Kayak.
Fuel price
The average cost of a liter of gasoline according to GlobalPetrolPrices.com, as of November 22nd, 2021.
Parking
The average cost of two hours of parking in an off-street space according to Parkopedia's Global Parking Index.
Attractions
The number of things to do listed on Tripadvisor, calculated per 100,000 people using population data from the World Bank.
Instagrammability
The number of Instagram posts mentioning the country using the hashtag "[Country] road trip".
Google searches
The number of global Google searches for the term "[Country] road trip" between December 2020 and November 2021 according to Google Ads Keyword Planner.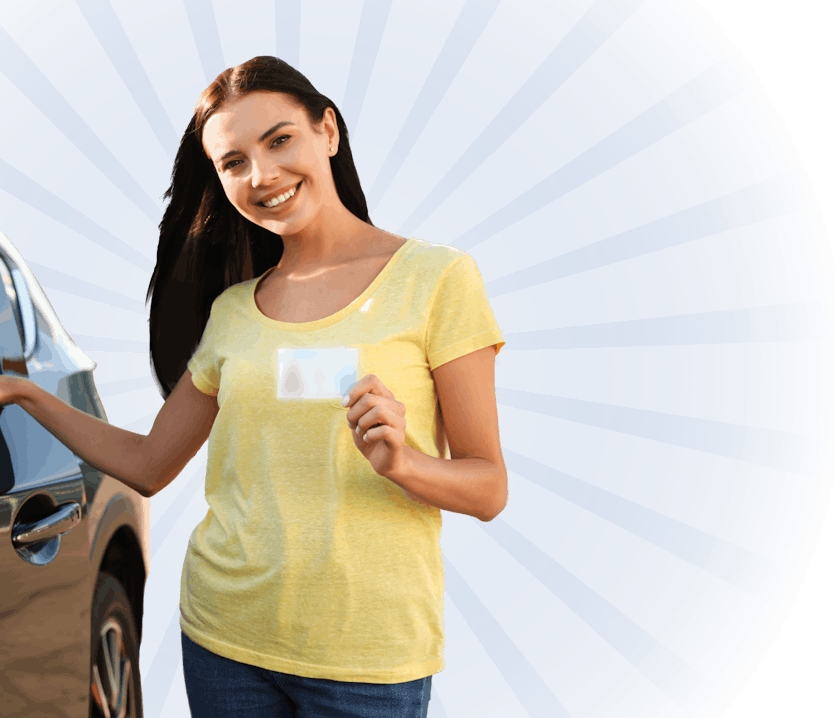 Ace your DMV test, guaranteed