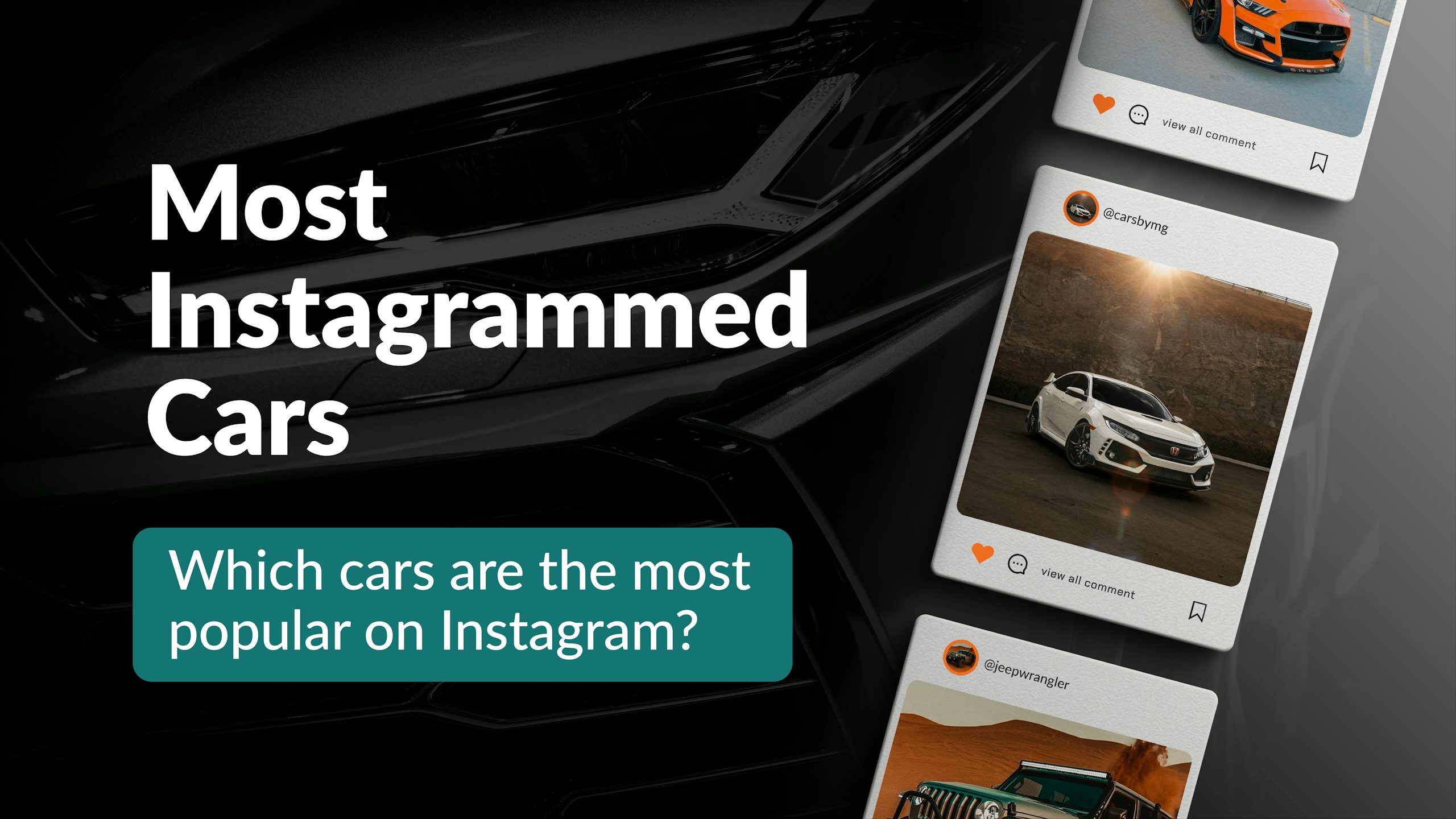 The Most Instagrammed Cars 2023
Which cars are the most popular on Instagram?
Some cars are often considered to be beautiful works of design and engineering, truly works of art. Consequently, when people see or own a good-looking, expensive, or particularly impressive car they are keen to take a photograph and share it on social media.
Consequently, many cars are featured in millions of Instagram posts by their fans and admirers. But which are the most popular cars on Instagram? By looking at the number of posts for cars of all shapes and sizes, past and present, we are able to reveal the most Instagrammed cars.
Most Instagrammed Cars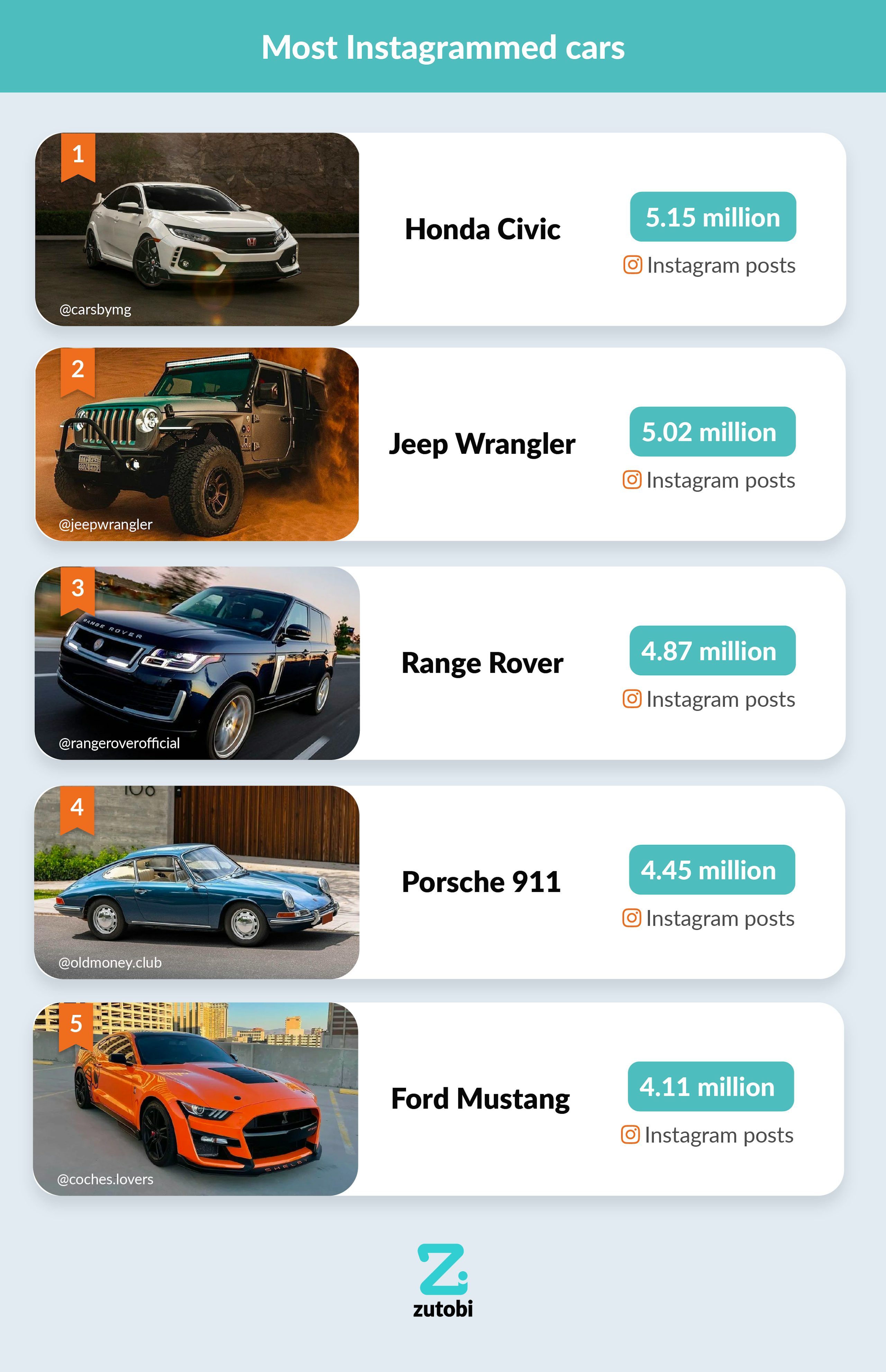 1 – Honda Civic, 5.15 million Instagram posts:
Whilst you might expect a vastly luxurious or expensive supercar to be the most popular, it is in fact the humble Honda that is number one. The Civic is celebrating its 50th year of production in 2022, and there have been over 27 million sold in that time.
2 – Jeep Wrangler, 5.02 million Instagram posts:
The Jeep Wrangler is the second most Instagrammed car in the world, and the only other one to feature in over five million posts. The Wrangler has been a car of choice for many top celebrities including David Beckham, Britney Spears, and Kim Kardashian.
3 – Range Rover, 4.87 million Instagram posts:
From a car that is often seen as a toy offroader, to one that is more than capable off the beaten track. The idea of a Range Rover is to combine the rugged dependability of a Land Rover with the luxurious comfort of a Rolls Royce.
4 – Porsche 911, 4.45 million Instagram posts:
The Porsche 911 is one of the most iconic sports cars ever created, the iconic shape has hardly changed since the 1960s, and it is clearly popular with almost 4.5 million posts on Instagram.
5 – Ford Mustang, 4.11 million Instagram posts:
Another iconic name in the motor industry is 'Mustang'. The flagship Ford muscle car launched way back in 1964 when it appeared in the James Bond film, Goldfinger. It is also still popular in modern entertainment, as it features in well over 4 million Instagram posts.
Most Instagrammed Electric Cars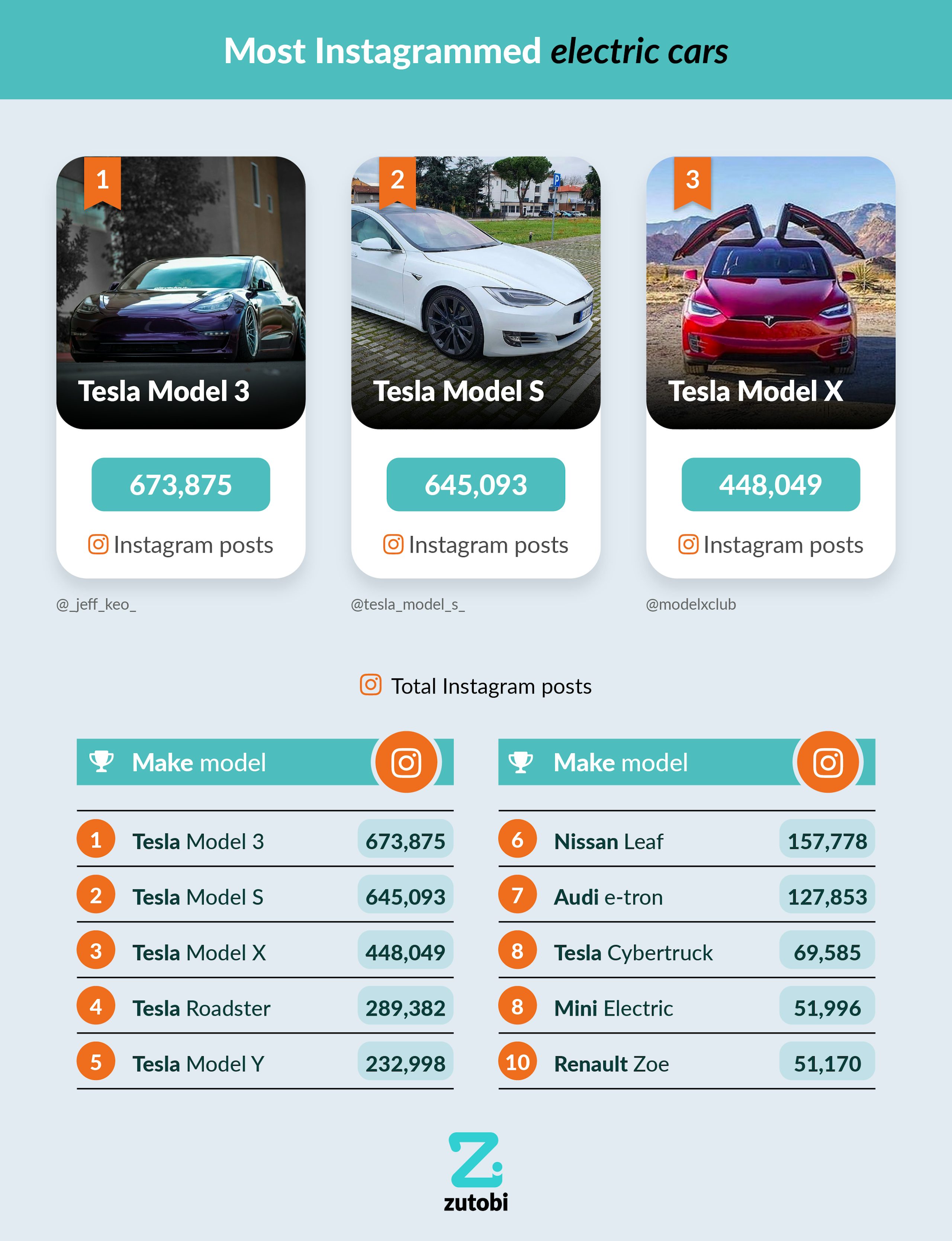 1 – Tesla Model 3, 673,875 Instagram posts:
The Tesla Model 3 is the best-selling electric car of all time, with over one million units sold worldwide. The Model 3 is also the most Instagrammed electric vehicle, featuring in over 670,000 posts.
2 – Tesla Model S, 645,093 Instagram posts:
The predecessor to the Model 3 is the Model S, which was launched five years earlier than its little brother. However, it has quickly been surpassed by the Model 3, both in terms of sales and the number of Instagram posts it features in.
3 – Tesla Model X, 448,049 Instagram posts:
The Model X is a large SUV that features striking falcon-wing doors, which give it a distinctive look. Although the Model X featured in almost 200,000 fewer Instagram posts than the two above, it cements Tesla's dominance at the top of the EV rankings.
Most Instagrammed Supercars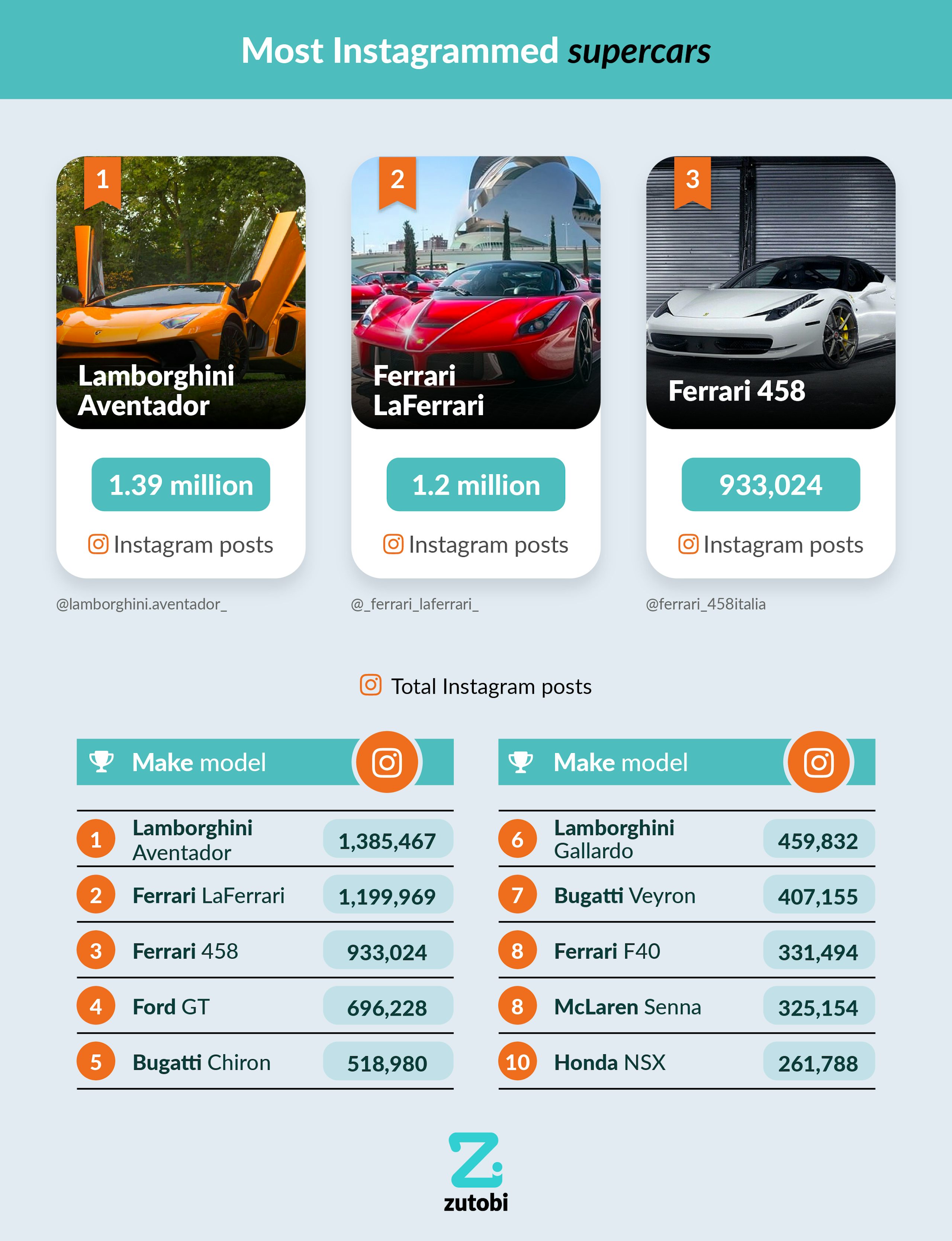 1 – Lamborghini Aventador, 1.39 million Instagram posts:
The Aventador is one of the most recognisable supercars on sale today, consequently, many people want to feature it in posts on Instagram. It was launched in 2011 to be Lamborghini's flagship V12-powered vehicle, replacing the Murcielago.
2 – Ferrari LaFerrari. 1.2 million Instagram posts:
LaFerrari means 'the Ferrari' in Italian, a name bestowed upon it by the company as it was seen as the best Ferrari of them all. The limited edition vehicle is expensive, (£1 million at launch), exclusive, (only 710 were ever built) and fast, going from 0-60mph in 2.6 seconds, with a top speed of 218mph.
3 – Ferrari 458, 933,024 Instagram posts:
The 458 is a mid-engined V8-powered supercar produced by Ferrari between 2009 and 2015, and it has since accrued almost a million Instagram posts. The car's interior layout was designed with Michael Schumacher's guidance, so it feels more like a racing car for the driver.
Most Instagrammed Classic Cars
1 – Audi Quattro, 1.63 million Instagram posts:
The Audi Quattro was famous in the 1980s for winning the world rally championship, courtesy of its four-wheel drive system. It also had an iconic shape which translated to the road-going versions, this history and those looks have meant it is the only classic car to feature in more than a million Instagram posts.
2 – DeLorean DMC-12, 719,565 Instagram posts:
Despite being a bad car in many regards, the DeLorean became famous when it was showcased in the 1985 classic movie 'Back to the Future', where it was converted into a time machine. The car has featured in almost 720,000 Instagram posts, comfortably the second most for a classic car.
3 – Ferrari F40, 331,494 Instagram posts:
A predecessor of the aforementioned LaFerrari, the f40 was a limited edition supercar built in the late 80s and early 90s. The legacy of this legendary car is almost untouchable, with it being described as the 'ultimate car to drive' by Autocar magazine.
Methodology
We compiled a list of cars both new and old and searched the hashtag on Instagram to discover the number of posts they featured in.
We then split them into separate categories for EVs, supercars, and classic cars.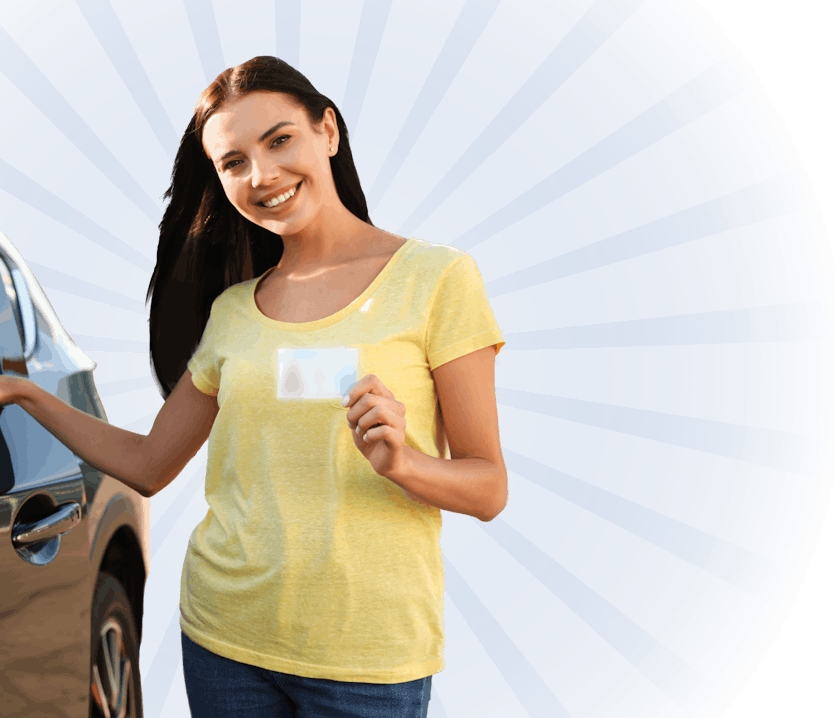 Ace your DMV test, guaranteed