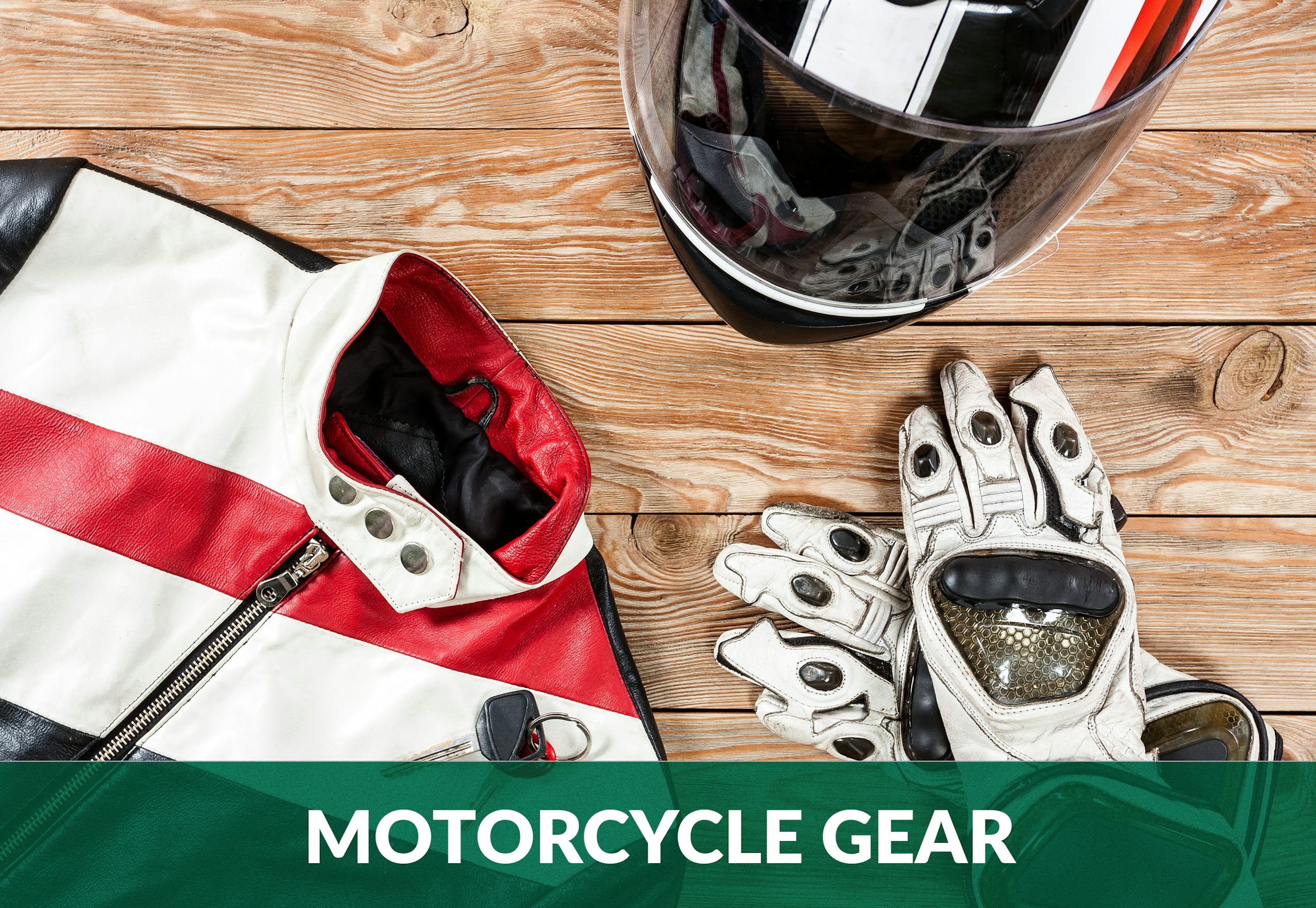 Getting Proper Motorcycle Gear as a New Rider: A Beginner's Guide
Sometimes motorcycle schools provide basic riding gear, but once you become more serious about riding, you'll want to get your own. While it's not necessary to spend thousands of dollars on gear, there are a few essential pieces every rider should purchase. Wearing high-quality gear increases your chances of surviving an accident.
All protective gear should fit well and be comfortable. Find pieces that include abrasion resistance and impact protection, as they'll be the most effective in a crash. Today, we will go through the type of motorcycle gear you need to get as a new rider.
Helmet
A helmet is the most crucial piece of motorcycle gear. Find a quality full-face helmet that fits correctly. Don't buy your helmet used – it may have defects you can't see. Be sure to replace your helmet after an accident or every few years, according to manufacturer instructions.
Reasons to wear a motorcycle helmet include:
It protects your brain from potentially fatal injuries.
It keeps insects and wind out of your face when you're riding, as well as provides sunburn protection.
Many states require riders to wear helmets.
If you want to make an extra investment, some helmets come with perks like improved ventilation, cool designs, or bluetooth capabilities.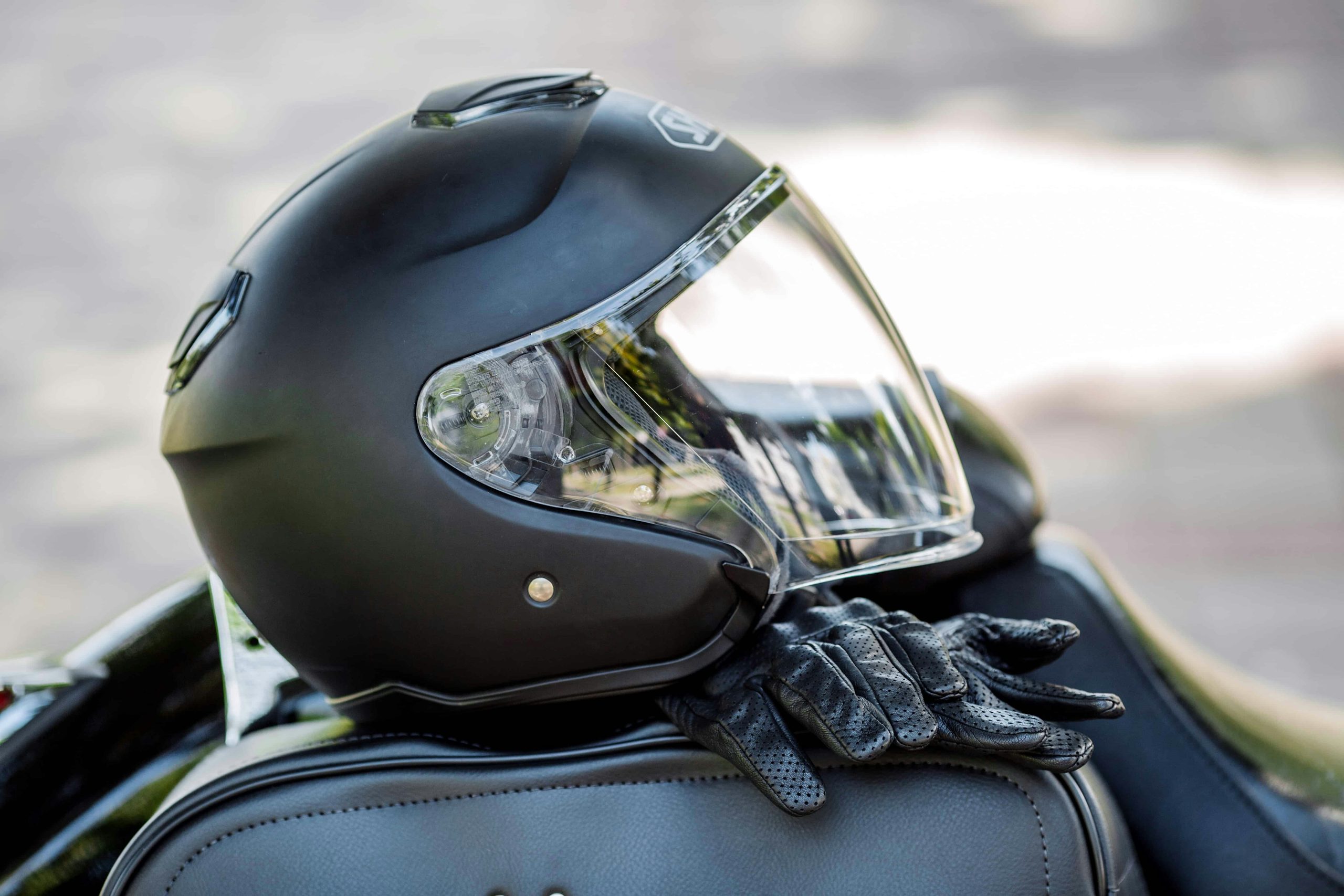 Invest in a proper helmet – it's worth it.
Riding Gloves
Most riding gloves are made of leather and include knuckle protection.
Riding gloves are important because, during an accident, you'll instinctively try to catch yourself – typically with your hands. If they're not protected, you could break bones, tear up skin, or even lose fingers.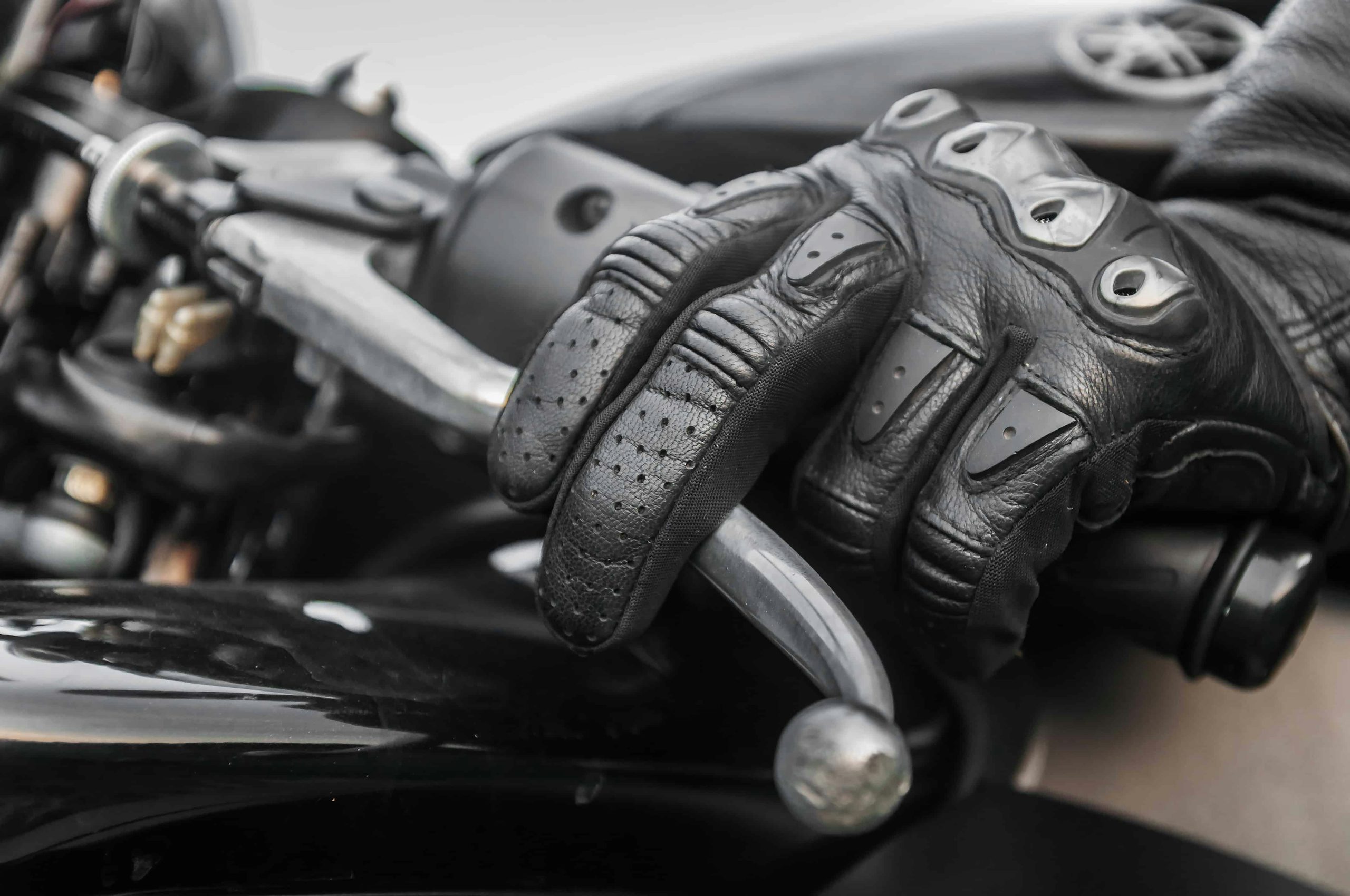 Good riding gloves are made of leather and include knuckle protection.
Jacket
A jacket sounds unappealing in the summer heat, but it's extremely important for protecting your skin if you hit the road.
A variety of motorcycle jackets are available for different uses, and they can be made of leather and/or other textile materials. You can find jackets made of mesh that are engineered to keep you from overheating. However, you'll probably want to purchase a specific jacket for inclement weather (such as wind, rain, or cold) or get a compact rain jacket that fits over your usual motorcycle jacket.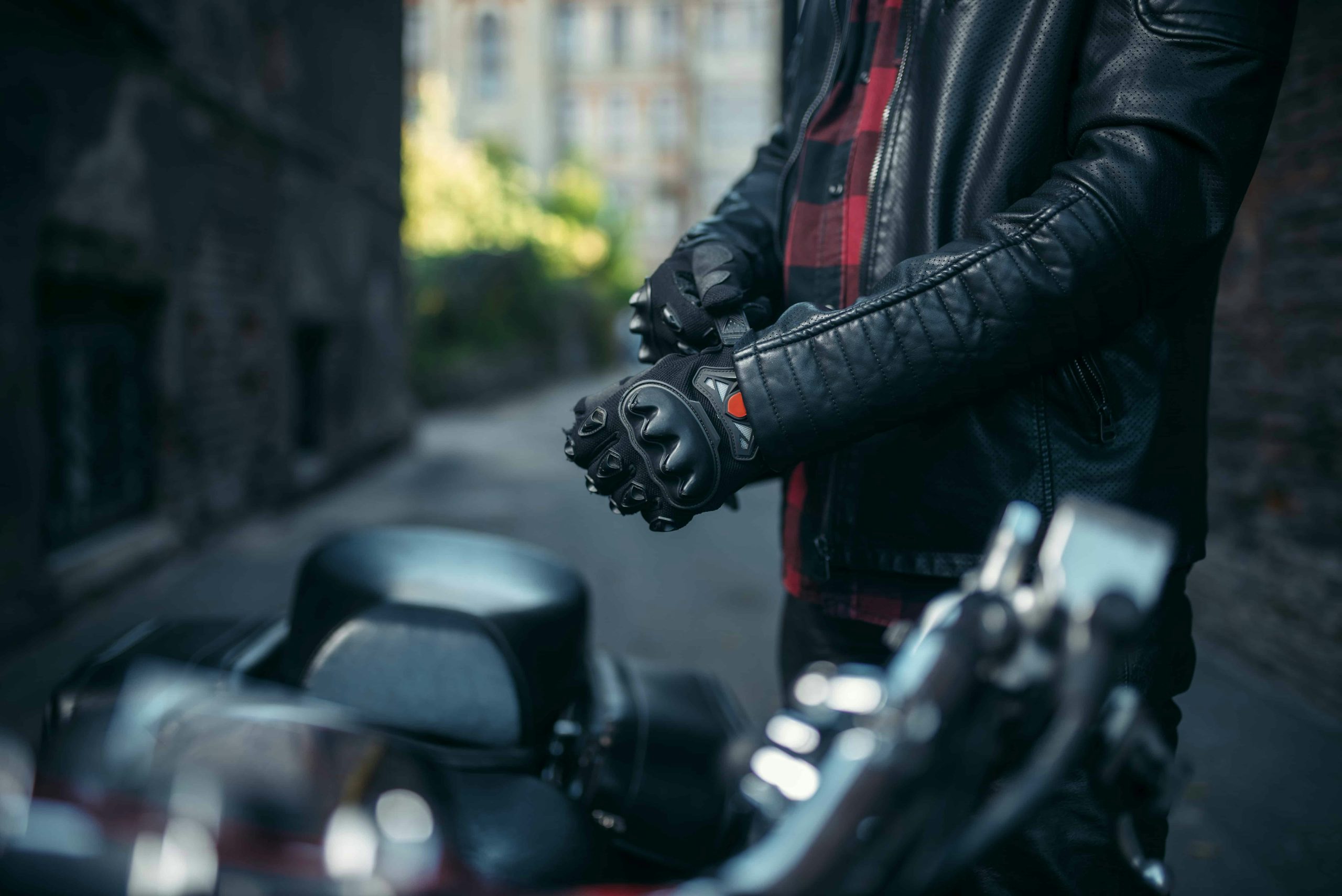 A proper jacket helps protect your skin and avoid serious bruises in case of an accident.
Motorcycle-specific jackets typically have reinforced seams and are designed so they won't flap around in the wind. Find a jacket that works with your riding style and fits snugly while still allowing sufficient flexibility.
Boots
You don't necessarily need to buy boots specifically for riding, though some stores offer them. Basically, motorcycle footwear should cover your ankles and be made of sturdy material. This will give the skin, muscle, and bones in your feet protection in case of a crash. Riding can be hard on your ankles, so high-quality boots that offer ankle support are worth it even if you never get in an accident.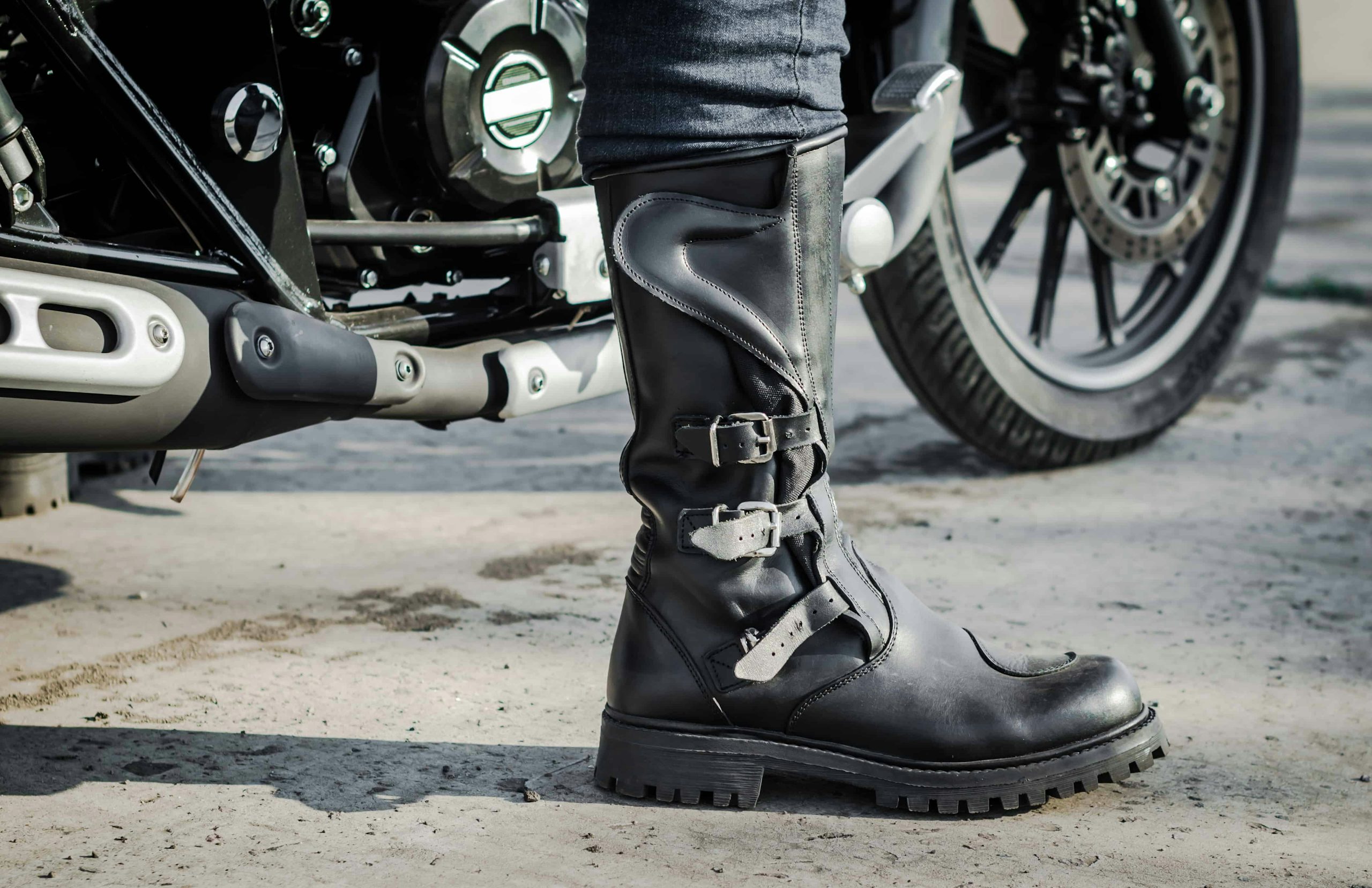 Sturdy, high-quality boots will make riding less demanding and protect your feet in case of a crash.
Pants
Wearing pants for motorcycling can be a bit of a nuisance, but normal jeans don't offer enough protection against the pavement. Pants designed for motorcycling are typically made of leather or other abrasion-resistant materials and are the best choice. However, you can purchase motorcycle jeans with built-in Kevlar patches in critical areas. While these don't work as well as motorcycle pants, they're a better choice than everyday pants or shorts.
Armor
Although many riders choose not to even wear abrasion-resistant clothing, the most-protective and important gear to add is armor for protecting elbows, knees, shoulders, spine, and hips. You can explore ratings for various armor-based products to determine protection levels.
What is the Best Cold-Weather Riding Gear?
If you're planning on riding in exceptionally difficult weather, you'll want special gear that's designed for harsher conditions. After all, you won't have the protective cabin of a vehicle to shelter your body from rain, snow, and wind.
Special cold weather gear must protect the cyclist from not only these weather conditions but do so in a way without affecting range of movement, which is a tall order. Many offerings in the market today may resemble gear that mimicks the best features of snowmobile suits or skiwear.
Begin by determining the type of weather you'll be riding in including temperature and levels of rain or snow you expect to encounter. Once you have those factors in mind, here are the key components to consider:
Outer Layer. The outside shell of your gear will be the initial protection from the elements as well as from falls. Pay attention to both material and construction design.
Inner Layer. Most liner materials are made from Gore-Tex, which is a breathable, weatherproof material that's popular in most winter gear today.
Insulation. This is the key element to cold-weather gear as it will work to trap body heat and keep those frigid temperatures out. Check out the fill weight and type of insulation to determine temperature ranges.
Ventilation. Features such as optional vents can give you the ability to let some air into your gear when you need it.
Accessories. These seemingly minor aspects of riding gear can actually make a big difference in performance. Look for YKK or waterproof zippers, Idraflap closures, Fidlocks, and attachment points for other cyclist gear.
Adjustability: Cold-weather gear should have extra buckles, straps, or Velcro closures to help you customize the fit of your gear.
Heated Gear. While battery-powered heated gear can provide even greater levels of comfort in extreme temperatures, be sure to have protective backup gear with you in case of battery loss or equipment malfunction.
Warm-Weather Gear
Motorcyclists have different challenges in hot weather. In the past, lightweight, cool gear that still afforded the same level of protection was difficult to find. However, today, perforated panels, ventilating zippers, and air vents are placed in key locations, allowing comfort and protection even in warm weather.
FAQs
Here are some frequently asked questions when gearing up for motorcycle riding as well as brief answers:
What is ATGATT? This acronym stands for "All The Gear, All The Time," which reflects a cyclist's attitude about gear being the primary way to protect against negative consequences of motorcycle riding. Although not all cyclists share this philosophy, it's one that exists to help prevent or minimize the risk of death or disability.
How much does gear cost? Quality motorcycle gear does not have to be expensive. You can buy a helmet, jacket, pants, and boots for between $200 to $400 each. Gloves may run $60 to $120. Extra elements like an armor-upgrade may cost an additional $70.
Can I wear a half helmet? Only full-face helmets will provide maximum protection from impacts as well as road and environmental hazards. Half-helmets can put you at a risk of permanently damaging your face.
What are CE standards? These are standards met by an independent agency that tests motorcycle gear. The most important ones to note are that the body armor in jackets and pants should be certified to the EN 1621-1:2012 standard for limb armor and to the EN 1621-2:2014 standard for back armor. Be sure your helmet is approved for use in your country.
What are common misconceptions about gear? Some riders believe that items such as chaps and motocross gloves provide adequate protection. However, motorcycle chaps tend to give a false sense of security as they are extremely limited in their protective ability. Motocross gloves, although popular, do not protect from asphalt abrasions.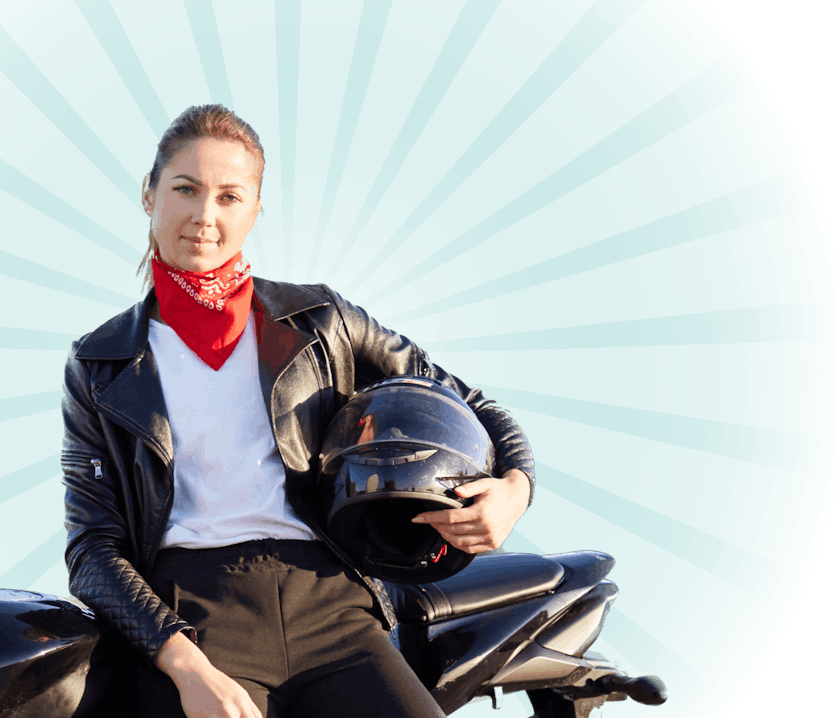 Ace your DMV test, guaranteed