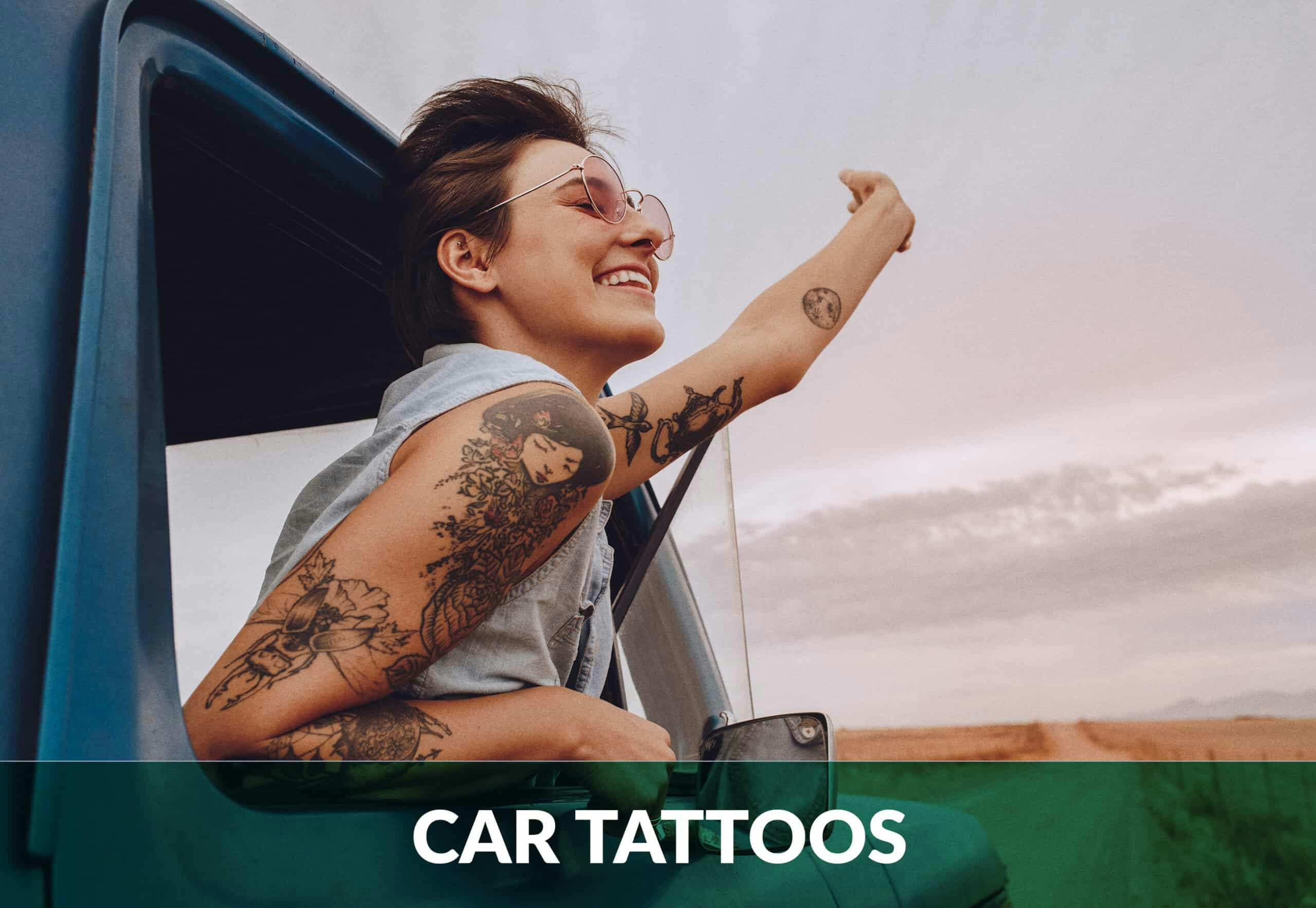 Car Tattoos – The Most Tattooed Car Brands and Models
Tattoos come in all shapes and sizes as people look to immortalize an image in body art and can mean a variety of different things. Some people are incredibly passionate about cars, from the moment that they learn to drive through to owning their last vehicle.
Many of these car fanatics have a particular car or car brand that they prefer above all others, a dream car or brand. Consequently, the temptation to transfer this passion to your body by way of a tattoo is extremely appealing.
But which manufacturers and models are the most tattooed? By looking at social media data, experts have been able to determine the most tattooed cars.
Top five tattooed car brands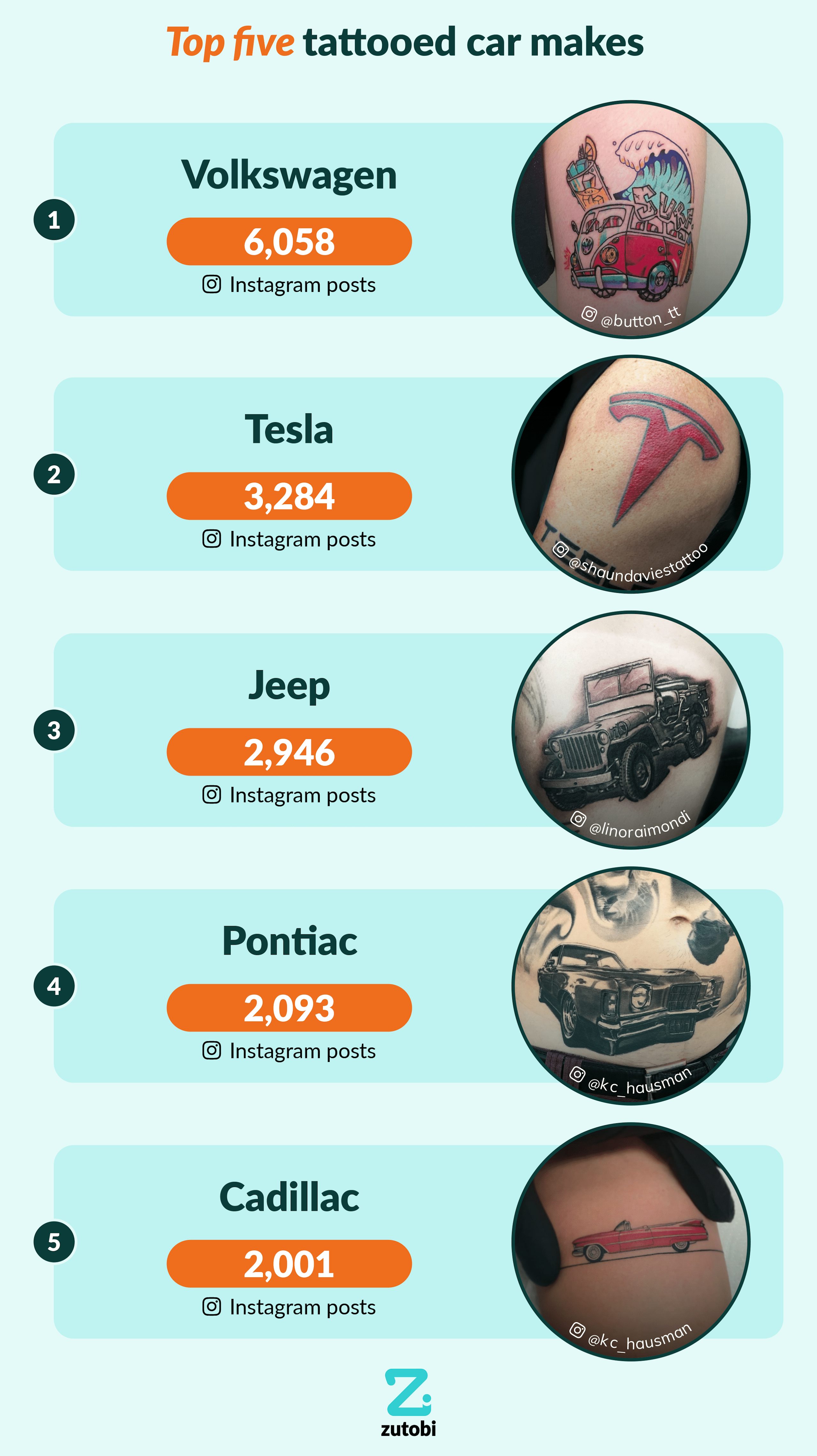 Getting tattoos of car brands is popular on Instagram, as we discovered 89 separate automobile Getting tattoos of car brands is popular on Instagram, as we discovered 89 separate automobile manufacturers to have at least one tattoo post on the social media site. The mean average score was 305 posts, with the top ten brands all having over a thousand posts.
1 – Volkswagen, 6,058 Instagram Posts
By far the most popular car brand to get tattooed is Volkswagen. The German giant has over 6,000 tattoo posts on Instagram, almost 3,000 more than its closest competitor. Over the decades VW has produced some of the world's most iconic cars such as the Beetle, and the Golf.
2 – Tesla, 3,284 Instagram Posts
Despite being one of the newest kids on the block, Tesla has made a big impression on the market and on people's choice of tattoo. There are over 3,200 Tesla tattoo posts on Instagram in total. Having been at the forefront of electric car technology, Tesla has grown massively in recent years.
3 – Jeep, 2,946 Instagram Posts
Jeep was the third most tattooed car brand, there were just under 3,000 Instagram posts for Jeep tattoos. Jeep has been around as a brand since the 1940s and has been known for making popular off-road vehicles and SUVs.
4 – Pontiac, 2,093 Instagram Posts
The most popular tattooed car brand that no longer exists is Pontiac. Despite production ceasing forevermore in 2010, there were over 2,000 Pontiac tattoo posts on Instagram. Famous Pontiac cars include the Firebird, and the Aztec (the car driven by Walter White in the hit TV series Breaking Bad).
5 – Cadillac, 2,001 Instagram Posts
Cadillac rounds out the top five and ensures that US car brands dominate the higher echelons of the rankings. Known for their soft ride and comfortable interiors, Cadillacs are the epitome of luxury American motoring.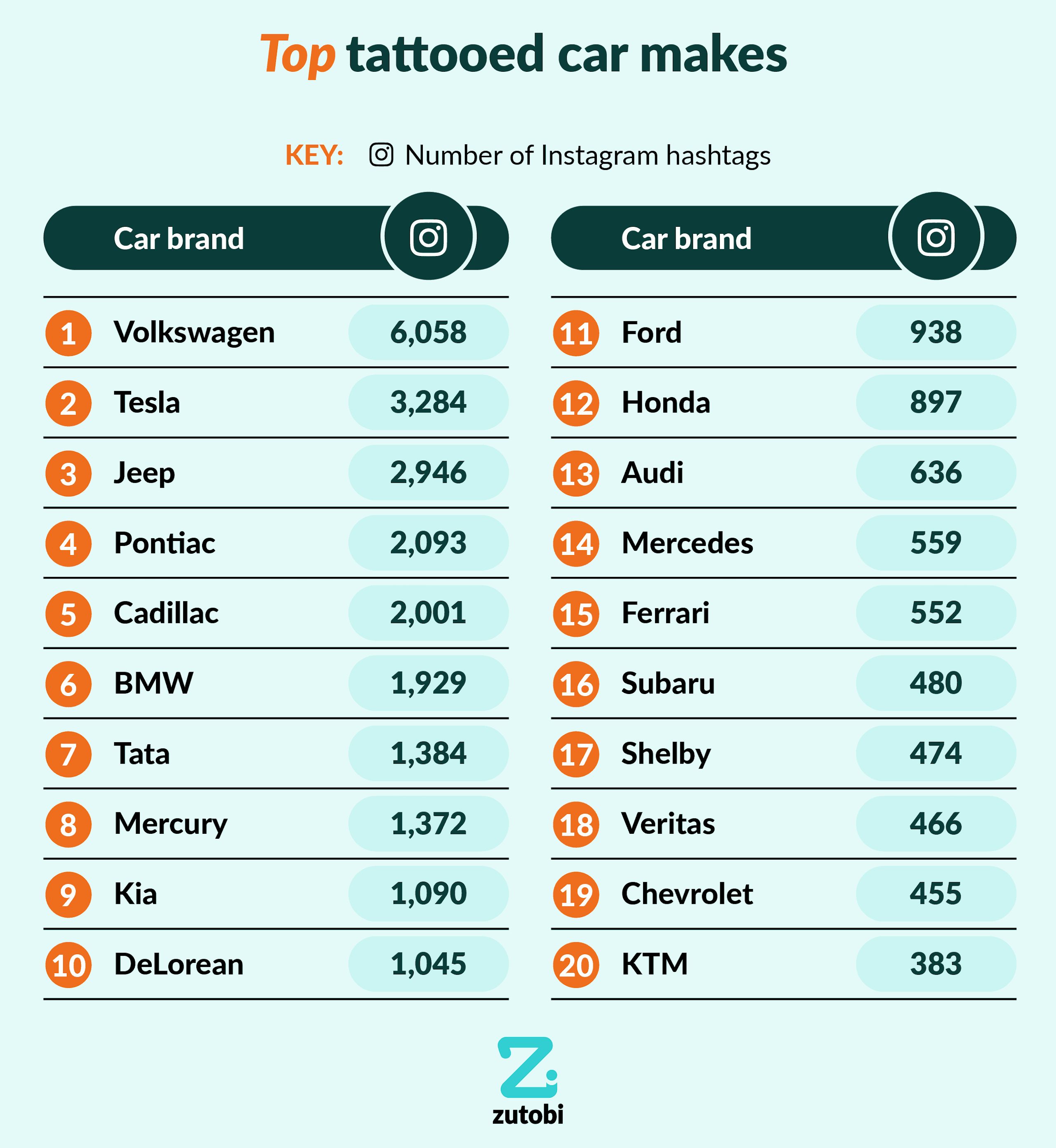 Top five tattooed car models
Whilst many people are getting tattoos of car brands, the same cannot be said for individual models, at the very least people aren't specifically creating hashtags for them. Out of 330 cars searched, only two had over 1,000 hashtag searches.
1 – Ford Mustang, 16,614 Instagram Posts
The Ford Mustang is the most tattooed car with over 16,000 Instagram posts, it is not a surprising choice as the king of muscle cars has captured the imagination of petrolheads for almost 60 years.
2 – Chevrolet Impala, 1,069 Instagram Posts
The only other car to have over 1,000 Instagram posts dedicated to tattoos is the Chevrolet Impala, this shows that these two are by far the most inked car models. Despite being far less famous than the Mustang, the Impala is another icon of the American motor industry.
3 – Audi TT, 968 Instagram Posts
Audi's small sports car comes in third place, however, this also makes it the most tattooed European car. Since the first-generation TT was rolled out in the late 1990's, the roadster has been one of Audi's most iconic cars, henceforth almost 1,000 people have had it inked onto their skin.
4 – Chevrolet Camaro, 241 Instagram Posts
Another classic American muscle car ranks in fourth place, there were just under 250 Instagram posts for Chevrolet Camaro tattoos. The Camaro went through many different variations in its run from the mid 60's to the early 2000's, before the name was revived in 2010 for the current version.
5 – BMW M3, 205 Instagram Posts
The fifth most inked car had 205 tattoo posts, this is only 1.25% of the total achieved by the Mustang. The M3 is often considered the quintessential sports saloon, a complete car good at almost everything.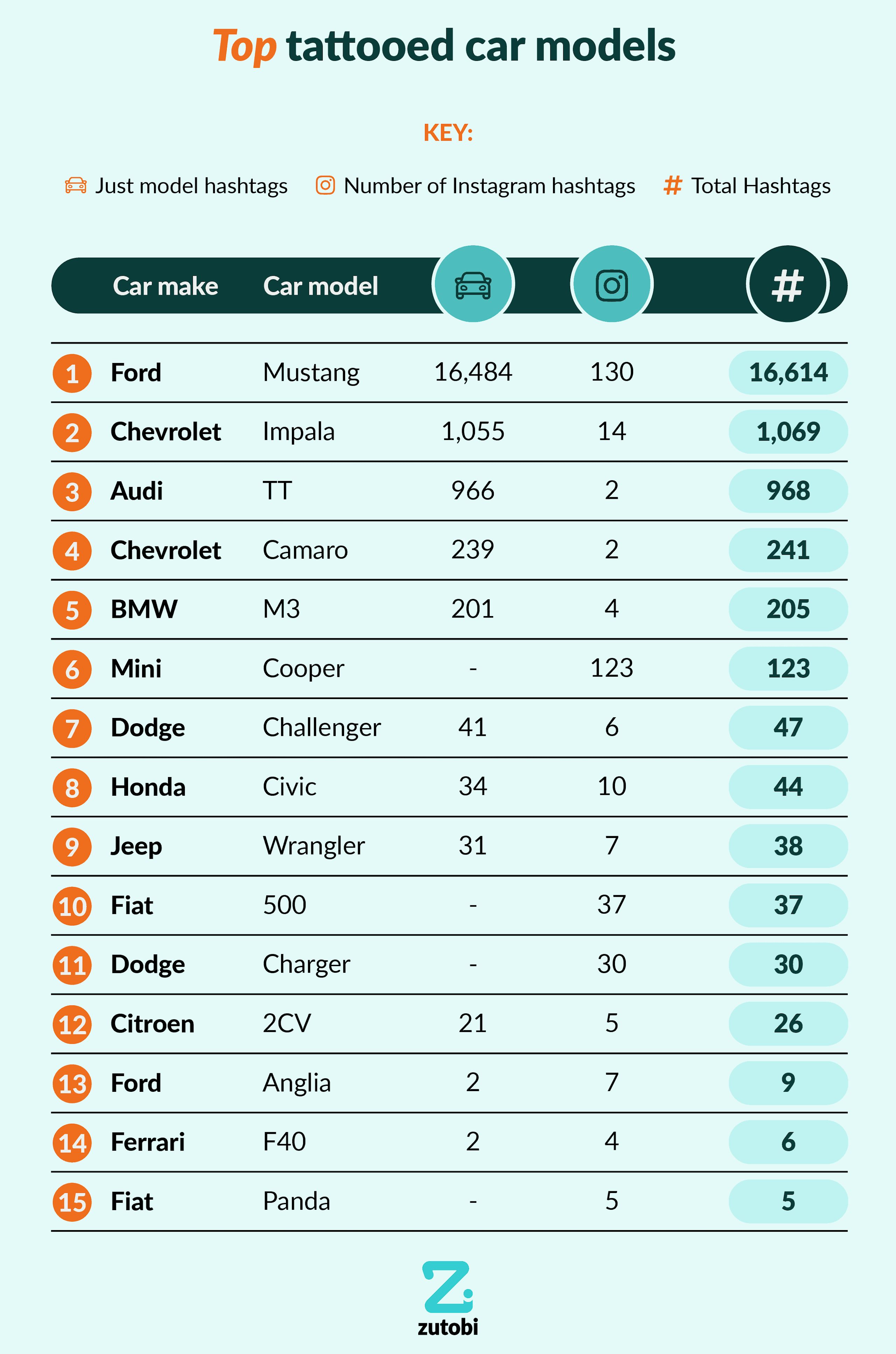 Methodology
A list of popular car brands from across the globe was created using a list from Wikipedia, we looked at both current and defunct car brands.
We then searched the brand followed by the word tattoo on the keyword tool to find the number of hashtag posts.
We searched car models separately from makes, as not everyone adds the brand name to the model when uploading a tattoo post. As a result, some models have more posts than the manufacturer that makes them.
This was then repeated for individual car models.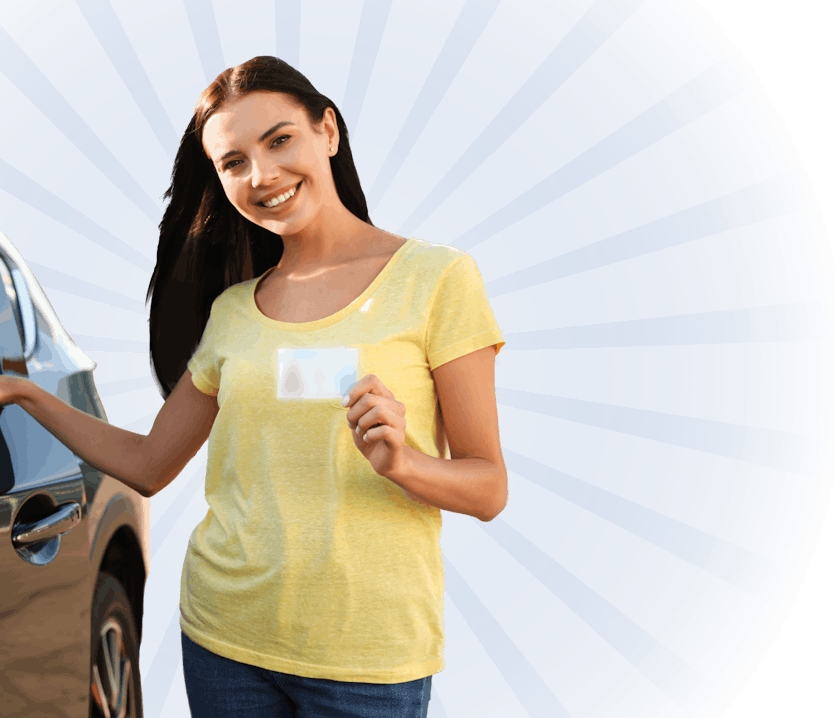 Ace your DMV test, guaranteed