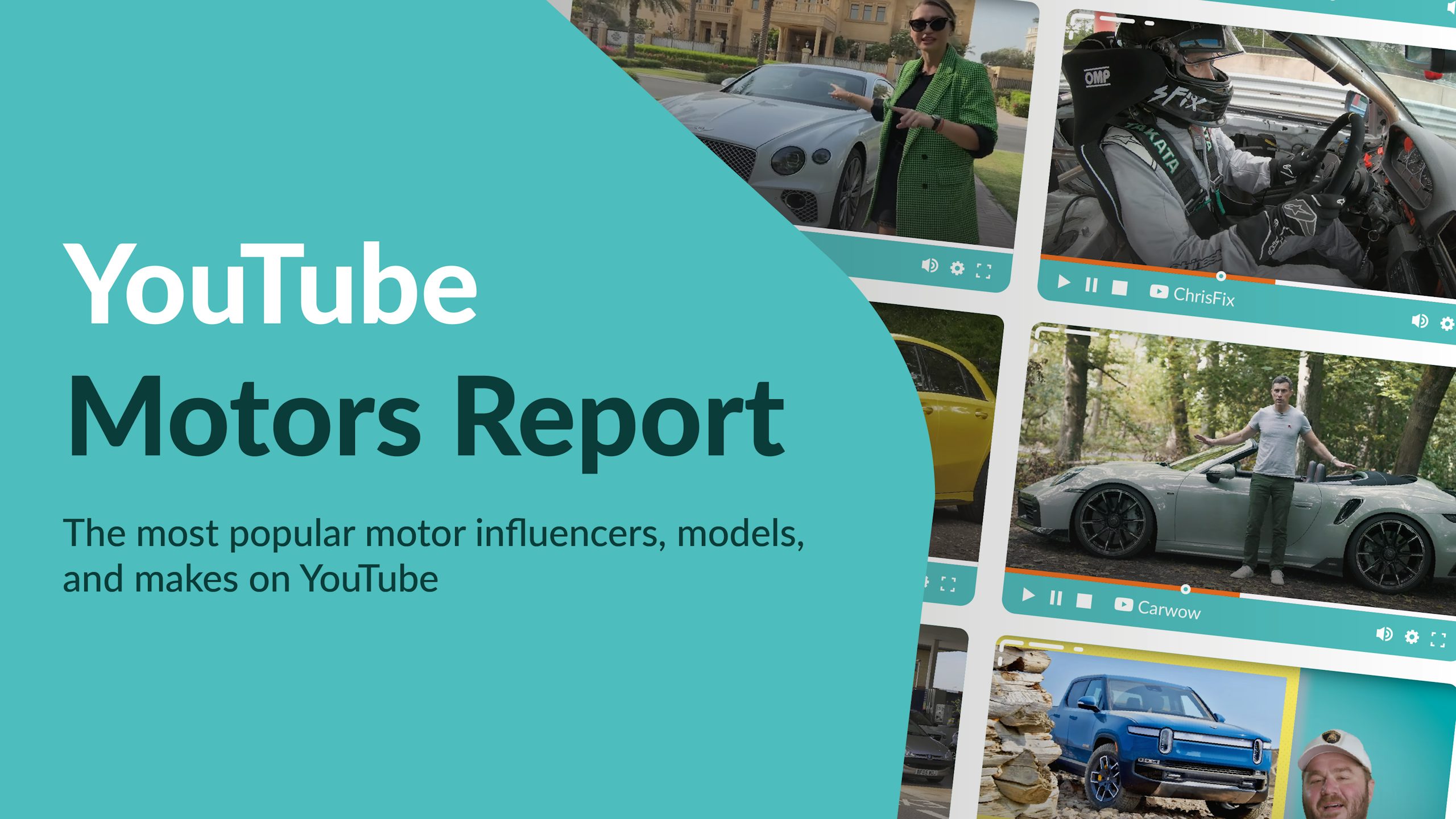 YouTube Motors Report
The most popular motor influencers, models, and makes on YouTube in late 2022
As soon as we learn to drive, we are opened up to the exciting world of cars and engineering and our love for everything automotive extends from wheels to screens. Automotives attract billions of views on YouTube for many dedicated channels.
Any automotive enthusiast will tell you there is an abundance of videos and content dedicated to all things cars on YouTube. YouTube offers a diverse cast of content creators, from car manufacturers and race car drivers to mechanics and supercar hunters. All provide devoted content to the people's favourite cars and manufacturers.
So, which car makes and models are the most popular on YouTube? And which channels have achieved the largest following?
This report has investigated search trends for 586 popular models and 59 popular makes on YouTube, alongside recording the total number of subscribers for the largest automotive YouTube channels.
The most popular makes on YouTube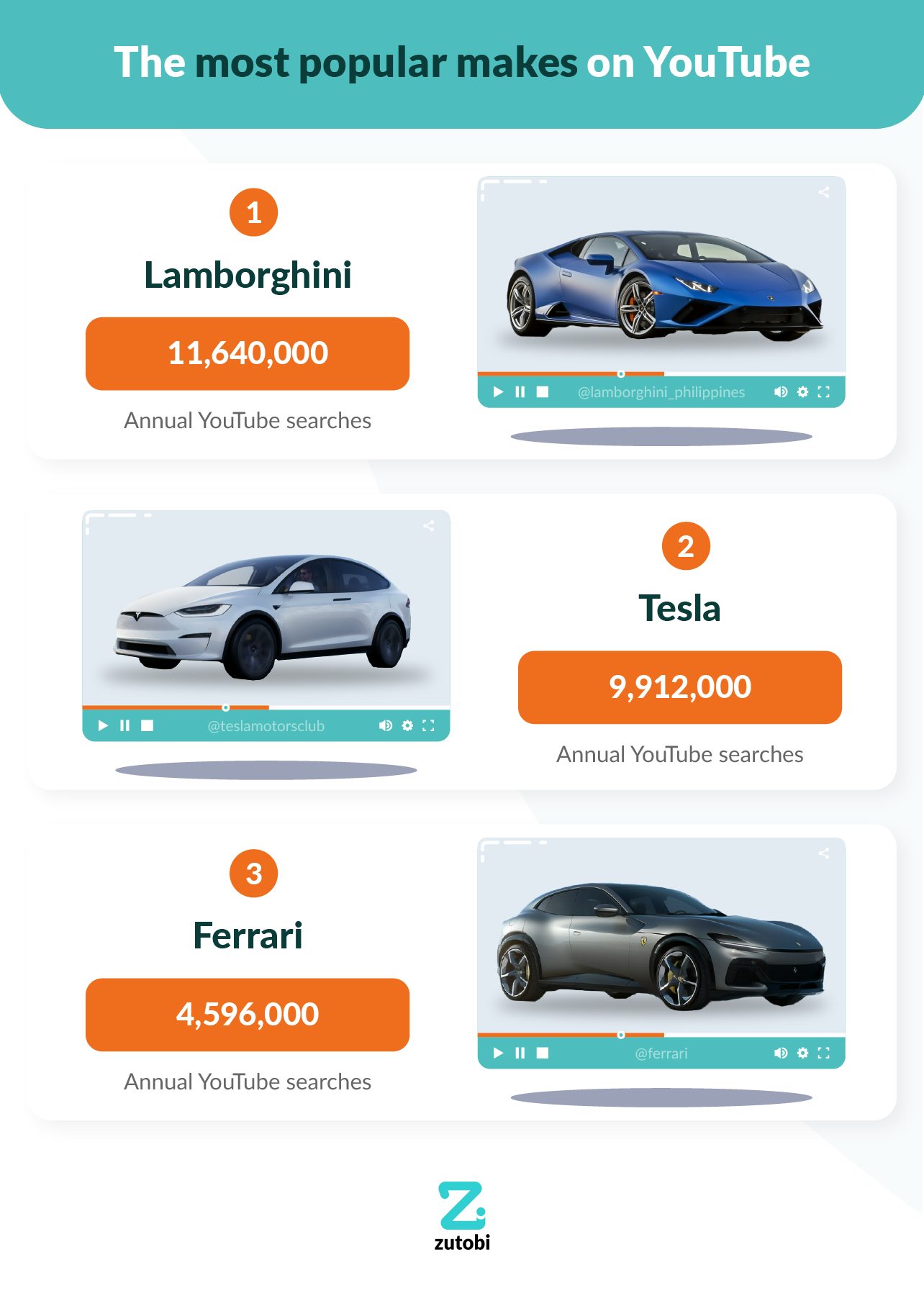 Lamborghini – 11,640,000 annual YouTube searches
Luxury sports car manufacturers are, rather unsurprisingly, the most searched-for makes on YouTube. Lamborghini, the Italian automotive company, has seen the highest volume of searches this year with over 11 million. Lamborghini is known for producing some of the most powerful cars on the market. Their fastest model, the Lamborghini Veneno, can reach speeds of 221 mph.
Tesla – 9,912,000 annual YouTube searches
Tesla is a predominantly green company, designing and manufacturing electric vehicles, battery storage, solar panels and other related products. Tesla has found a home among car enthusiasts seeing over 9 million searches on YouTube this year. Interestingly, Tesla spends nothing on advertising and instead relies entirely on organic growth and minimal marketing. This approach has achieved clear brand recognition for Tesla and driven its popularity.
Ferrari – 4,596,000 annual YouTube searches
Ferrari is the second Italian luxury sports car manufacturer in the top three most-searched-for manufacturers on YouTube. Ferrari saw just shy of 5 million searches this year and is perhaps better known for its role in Formula motorsport. In fact, Ferrari is the only professional team to have competed in every season of Formula 1 racing since the world championship began, and is possibly the most iconic team in the sport.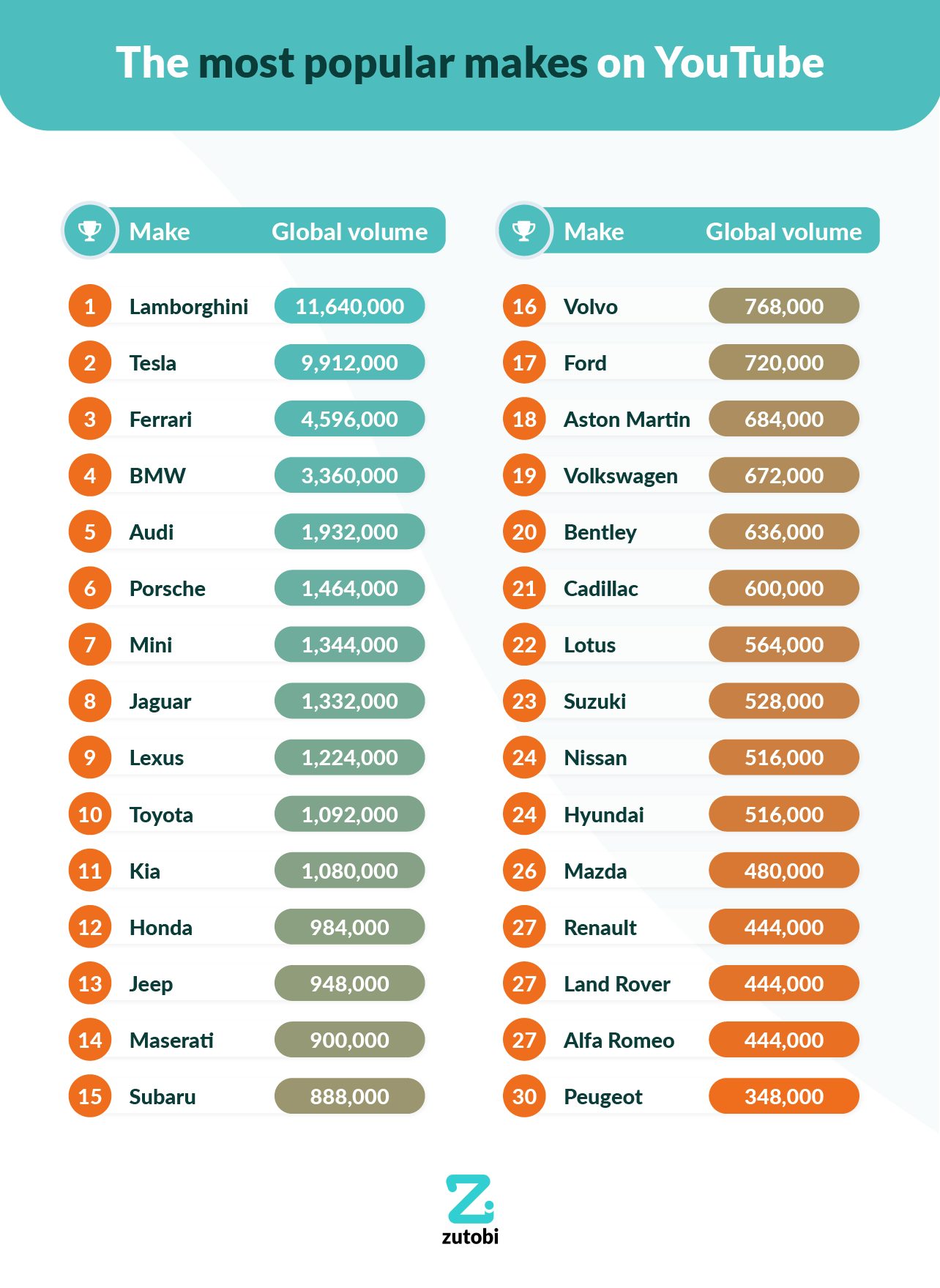 The most popular models on YouTube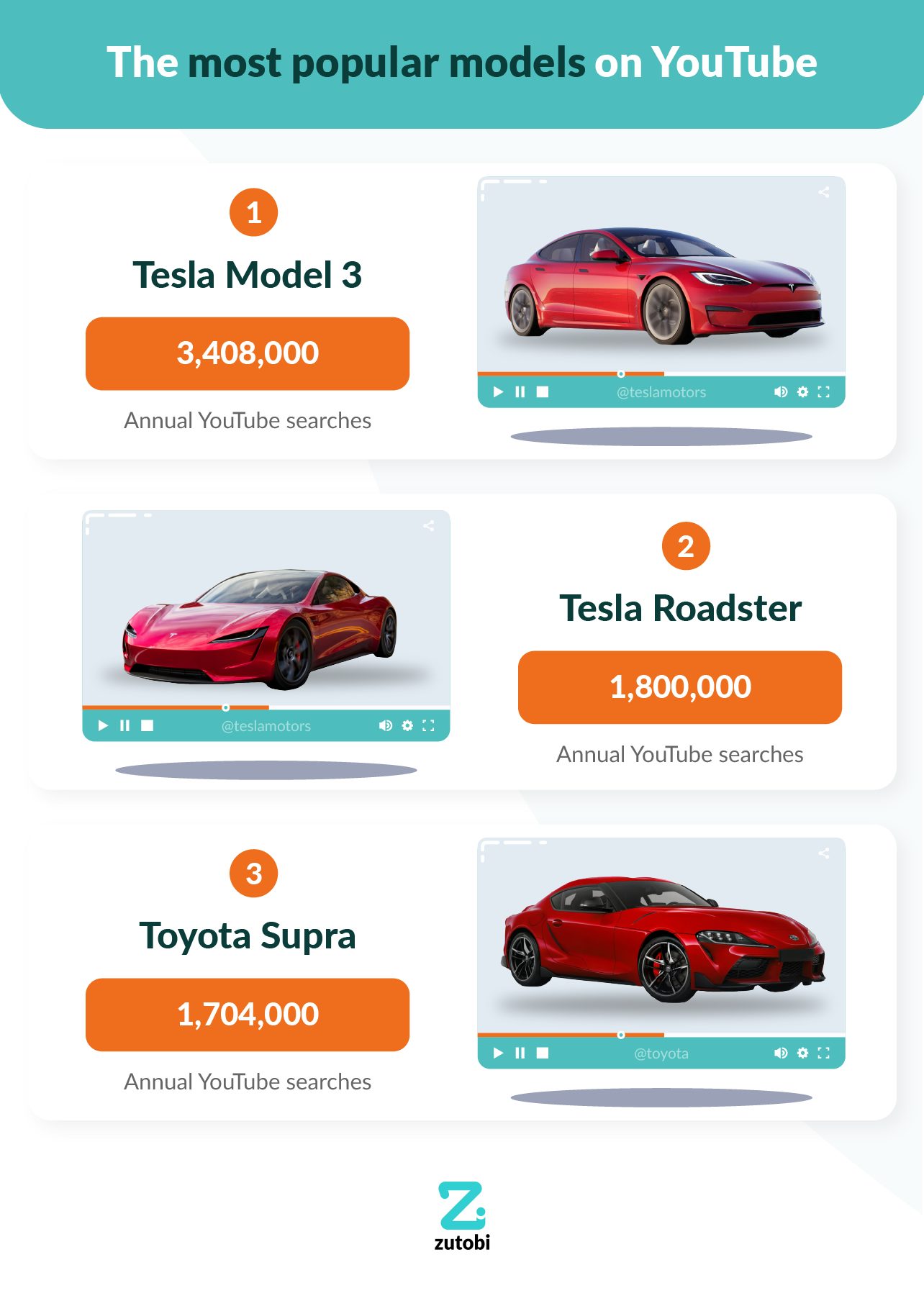 1 – Tesla Model 3 – 3,408,000 annual YouTube searches
With Tesla hitting the second place spot for the most searched-for makes on YouTube, it is unsurprising to see two of their most significant models fill the top two spots for most popular models. The new Model 3 is one of Tesla's most anticipated models, with its debut expected sometime in the winter of 2023.
Most viewed Tesla Model 3 videos on YouTube
How we tint side windows! Tesla Model 3 – 19 million views
A step-by-step guide on how car windows are tinted using a Model 3 is the most viewed video on YouTube featuring this model.
Why Tesla's Model 3 Received A 5-Star Crash Test Rating – 19 million views
This is a crash test for the Model 3, for those wanting to see how it fairs when ramming into walls and being crushed by 20,000 pounds of force.
TESLA MODEL 3 TOP SPEED DRIVE ON GERMAN AUTOBAHN – 16 million views
This video shows off the Model 3's top speeds on Germanys famous Autobahn – a road without a speed limit. The Model 3 hits speeds over 200 mph.
2 – Tesla Roadster – 1,800,000 annual YouTube searches
The Tesla Roadster is Tesla's successful attempt at producing a supercar. This model is the first electric supercar to smash multiple performance records and fit seating for four people. The Roadster can also reach incredible speeds of up to 250 mph. The Roadster has seen 1.8 million searches on YouTube making it the second most popular model on this list.
Most viewed Tesla Roadster videos on YouTube
How Many Types of Doorhandles are on a Tesla? – 32 million views
This short shows off the tucked-away door handles on the Tesla Roadster.
Falcon Heavy Test Flight – 31 million views
This is a clip of the famous stunt pulled by Elon Musk when he sent a Roadster into space using SpaceX's Falcon Heavy, the most powerful rocket in the world.
Live Views of Starman – 19 million views
Starman is the aptly named mannequin who pilots the Tesla Roadster which got shot into space. This video is a 4 hour clip of starman and his Tesla floating through space
3 – Toyota Supra – 1,704,000 annual YouTube searches
In third place for the most popular model on YouTube is the Toyota Supra which saw 1.7 million searches on YouTube this year. This sleek, powerful sports car is popular around the world. Sharing technology with BMW, this slender sports car holds up well against its competitors for its price owing to its widespread popularity.
Most viewed Toyota Supra videos on YouTube
Toyota Supra HUGE TURBO! on AUTOBAHN – 28 million views
In this highly viewed clip the Toyata Supra hitting some insane speeds, over 220 mph, on the Autobahn.
BUILDING A SUPRA IN 10 MINUTES *FOUND IN A FIELD – 26 million views
This 12 minute video does what it says on the tin. After finding a written off Supra in a field, the car is dedicatedly restored and driven again.
"The Pitch" | 2022 Toyota GR Supra Commercial | Toyota – 16 million views
This video is Toyota's very own official trailer for the Supra. In this epic commercial, the Supra's immense power, sound, and aggressive driving capabilities are on full show.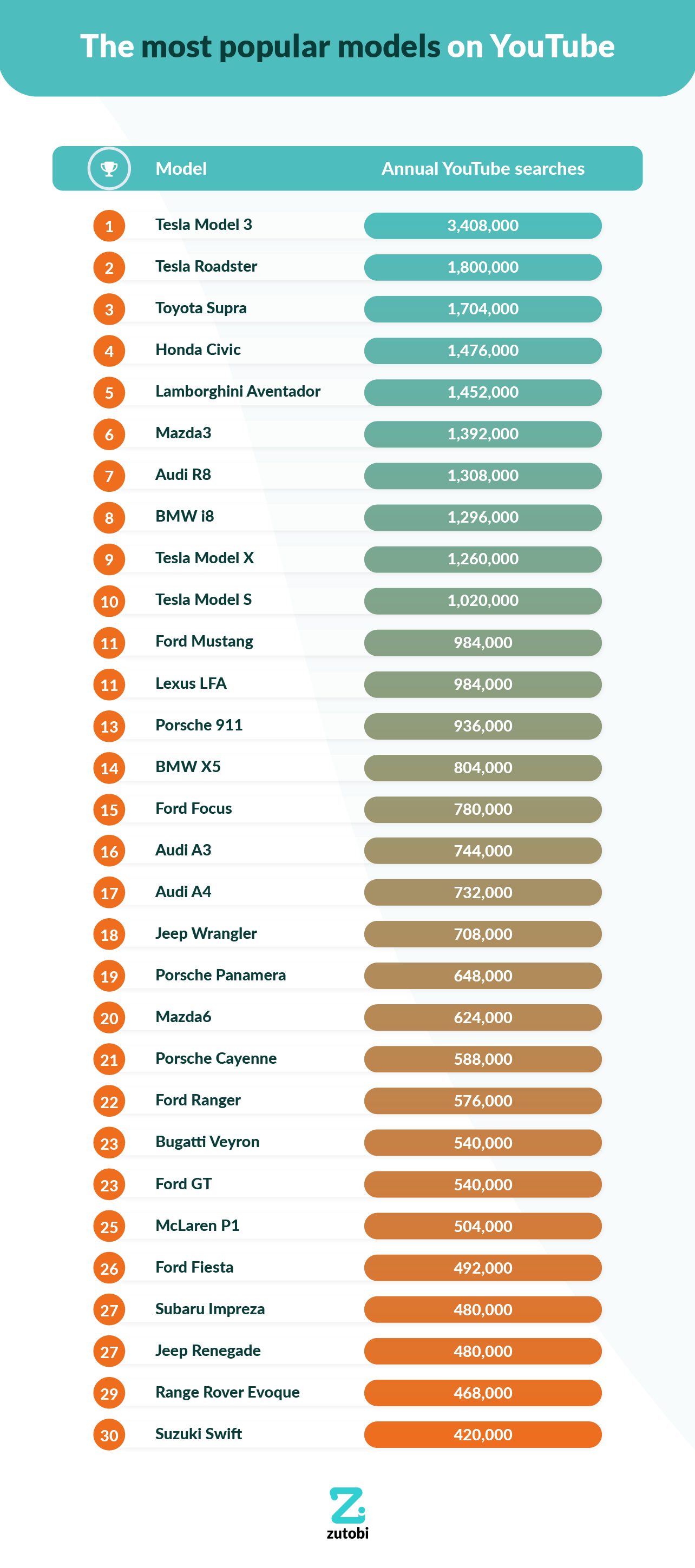 The most popular motoring YouTube channels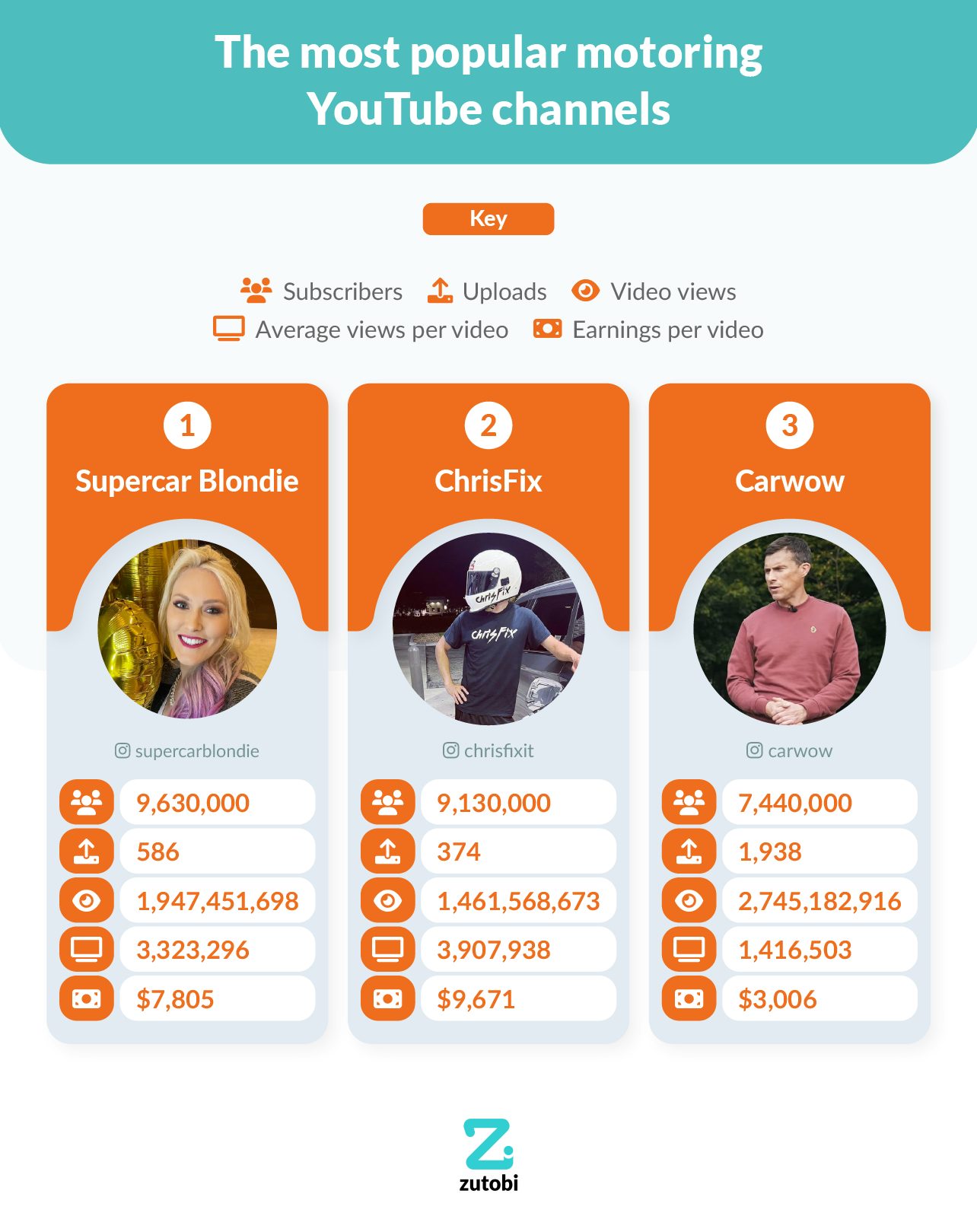 1 – Supercar Blondie
Subscribers – 9,630,000
Uploads – 586
Video views – 1,947,451,698
Average views per video – 3,323,296
Earnings Per Video – $7,805
The most subscribed automotive channel on YouTube is Supercar Blondie which has achieved a following of 9.63 million subscribers. Supercar Blondie deviates from the more traditional automotive channels. Rather than delving into nitty gritty details, Supercar Blondie reports general overviews of popular supercars and hypercars, identifying their coolest features. This makes her videos far more appealing to a wider audience.
2 – ChrisFix
Subscribers – 9,130,000
Uploads – 374
Video views – 1,461,568,673
Average views per video – 3,907,938
Earnings Per Video – $9,671
Just behind Supercar Blondie is ChrisFix, with a YouTube following of 9.13 million subscribers. In contrast to Supercar Blondie, ChrisFix specialises in very detailed how-to DIY videos for automobiles. Dishing out expert car advice in every video, ChrisFix buys cheap used cars, cars that won't even start, and teaches viewers step-by-step how to fix them up.
3 – Carwow
Subscribers – 7,440,000
Uploads – 1,938
Video views – 2,745,182,916
Average views per video – 1,416,503
Earnings Per Video – $3,006
In third place is Carwow, which has gathered 7.44 million subscribers. Carwow is a business specialising in a free way to buy or sell cars online. Their YouTube channel has amassed such a following from its religious uploads of car reviews, bargains, vlogs, and head-to-heads, totalling 1,938 videos to date. These videos attract around 1.5 million views each.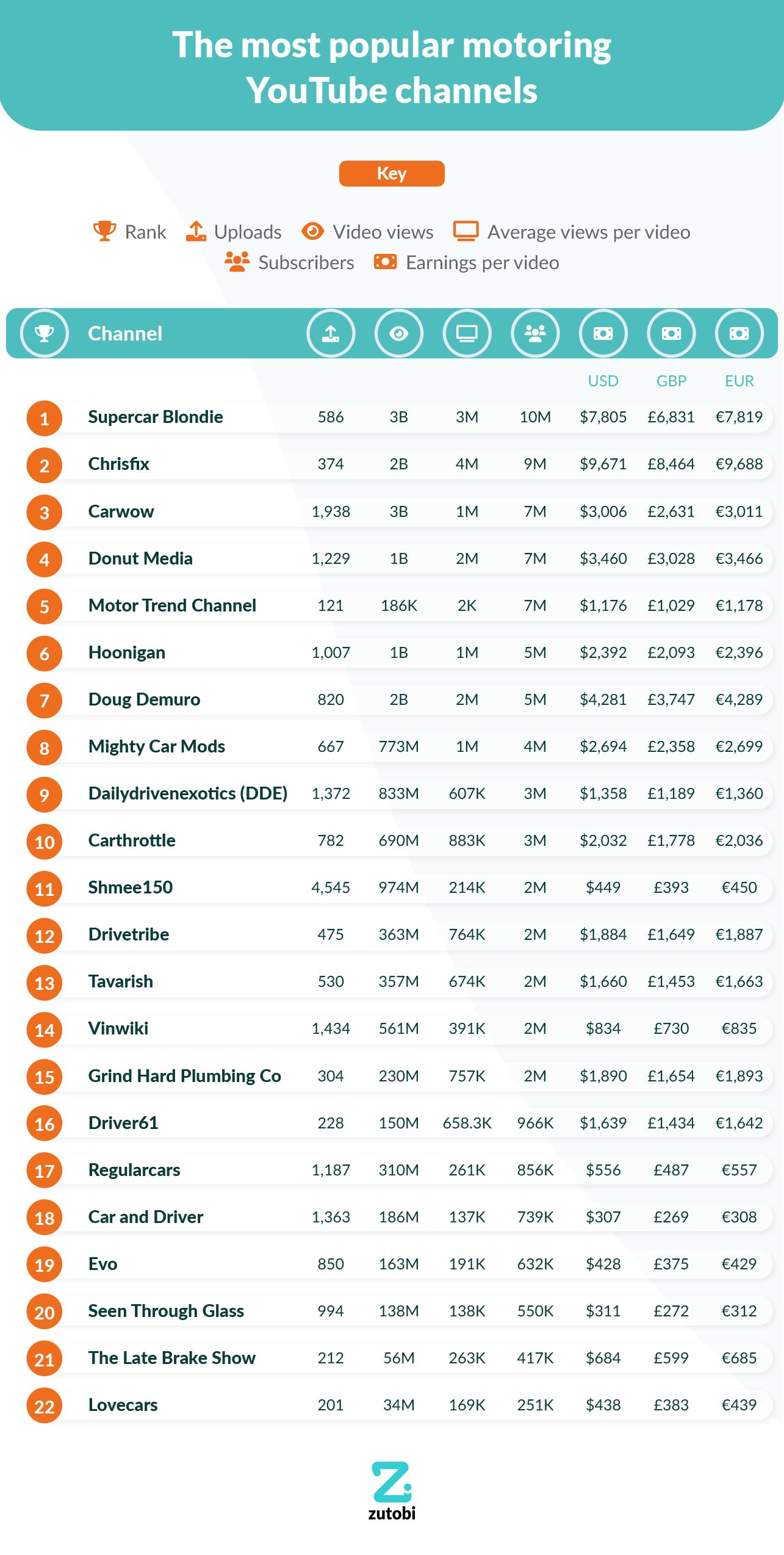 Methodology
Seed lists of car makes and models were created from izmostock and Wikipedia. In total, 585 models and 59 makes were analysed. Ahrefs was used to record the global monthly search volume for each make and model on YouTube (this was multiplied by 12 to estimate annual search volume).
YouTube channel video uploads, video views, and subs, were taken from SocialBlade. Estimated earnings per video were recorded from Influencer Marketing Hub. In total, 100 car channels were analysed. Only the top 30 biggest YouTube channels were analysed for earnings.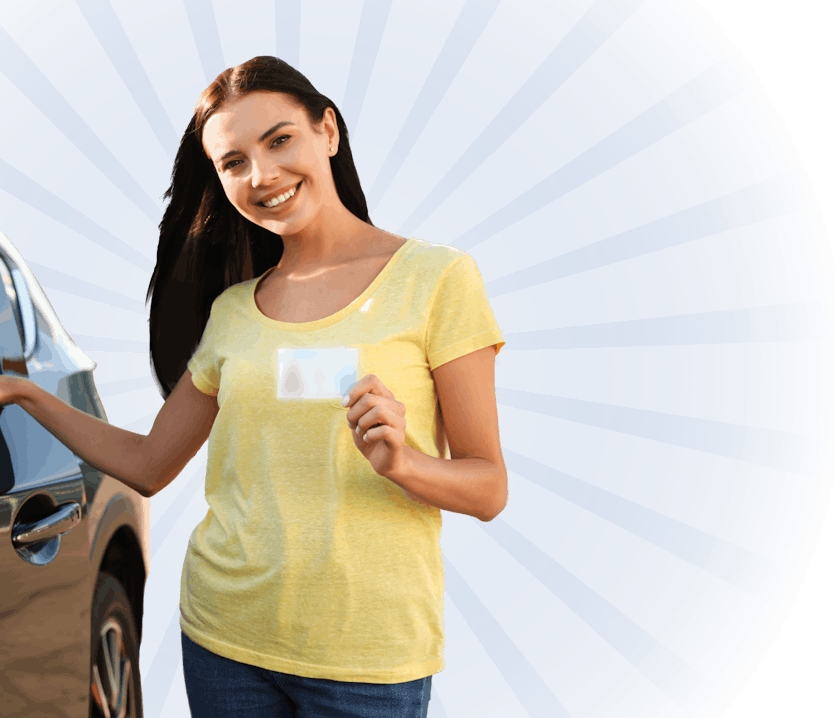 Ace your DMV test, guaranteed