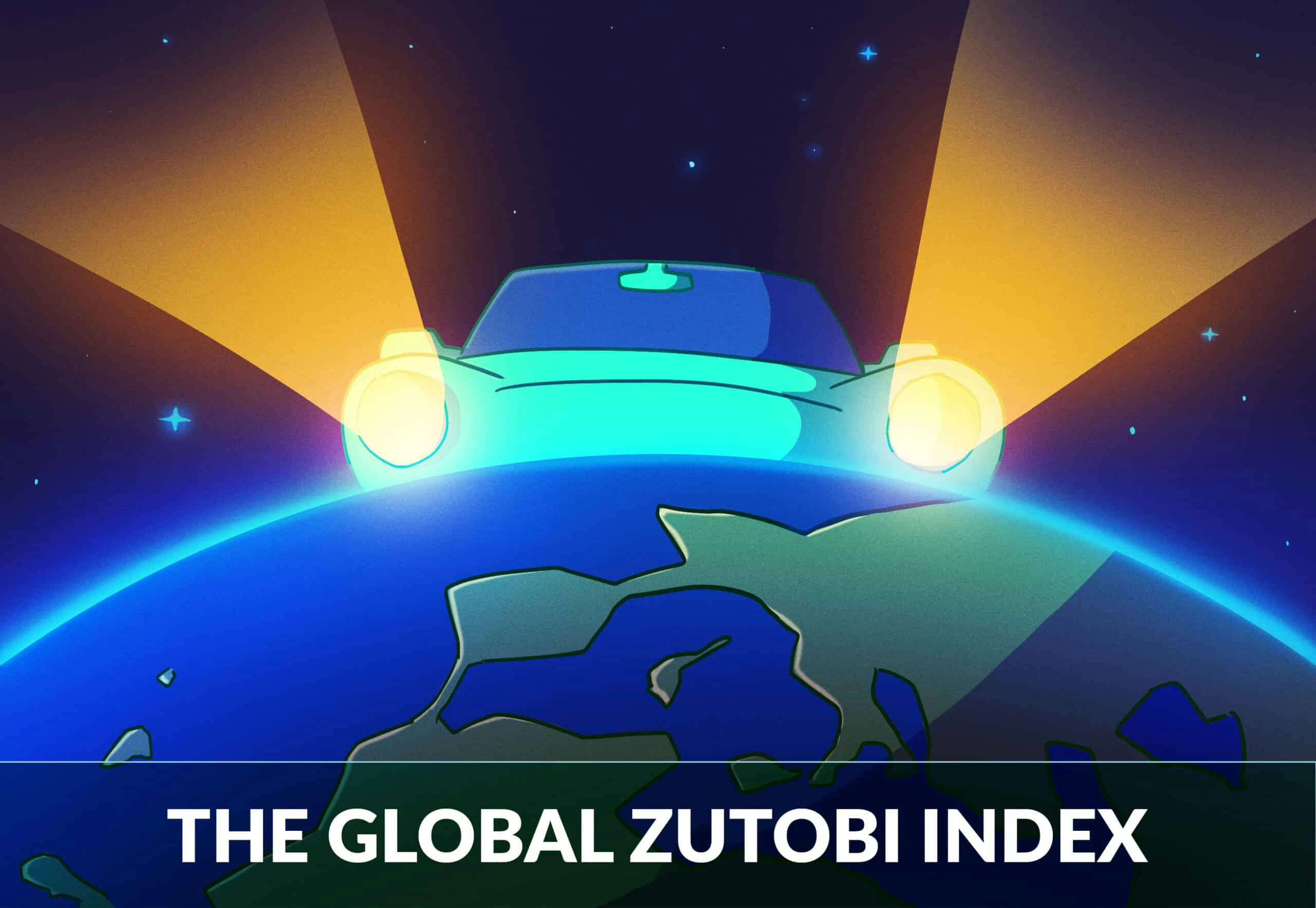 The Easiest & Hardest Countries to Learn to Drive – Global Zutobi Index
Being able to drive is a freedom that many dream about when growing up, getting behind the wheel and setting off to explore the world on four wheels. But for some, the reality of becoming a legal driver is harder than they would have imagined, with tricky tests and a lot of information to learn before they are allowed on the highways.
However, in some parts of the world, these tests are slightly less difficult, and this combined with the financial cost of the tests can make it easier for drivers in certain countries to obtain a license. But where in the world is it easiest to learn to drive? By looking at the cost of tests, as well as their difficulty, and the age that you are permitted to drive, we have created a ranking of the easiest countries to learn to drive in the world.
The Easiest Countries to Learn to Drive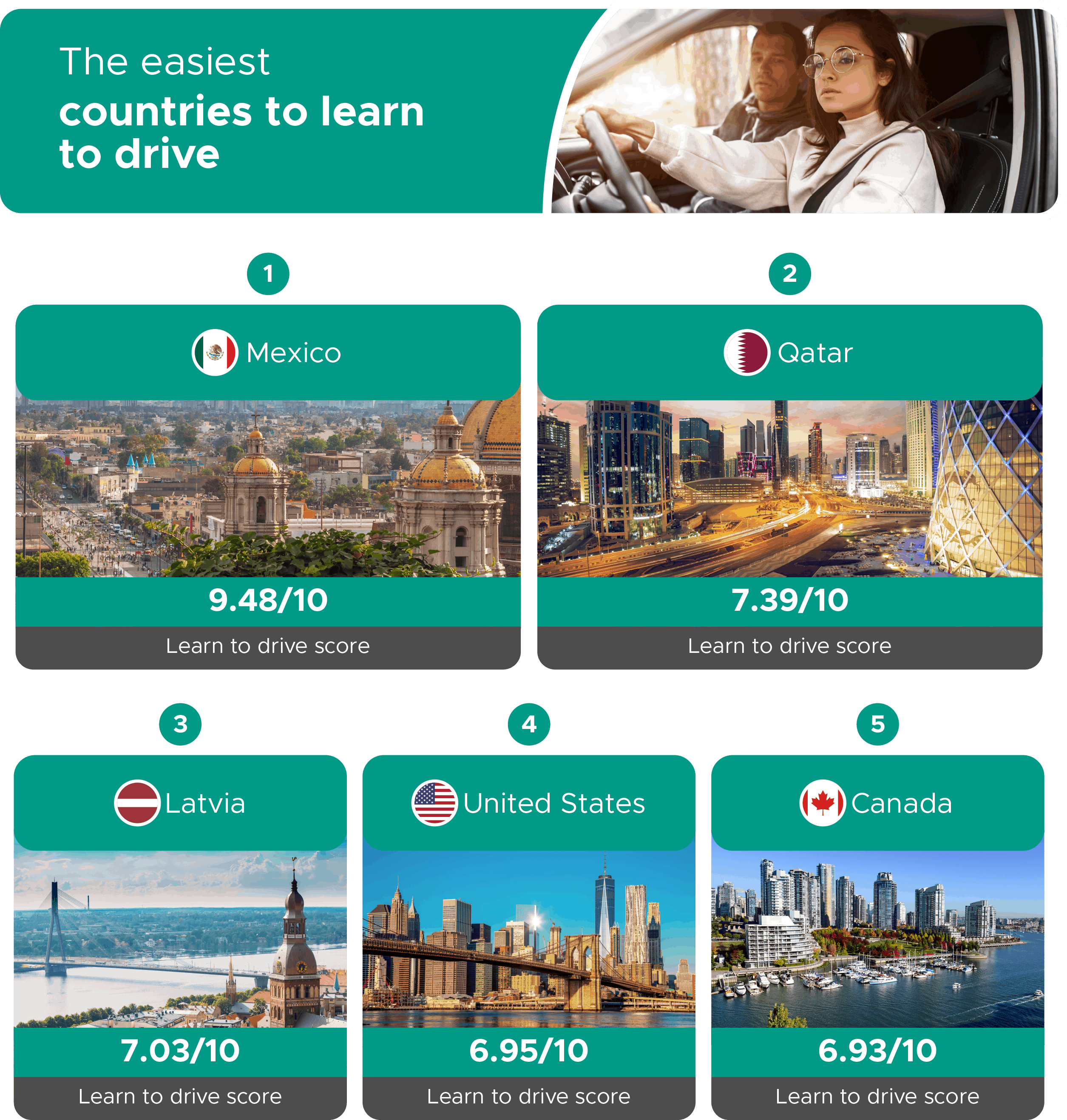 1: Mexico – Learn to Drive Score, 9.48/10
Getting behind the wheel in Mexico is incredibly easy for a number of reasons: Firstly, in a large portion of the country, you do not legally have to take a practical test to get a license, just a theory test and moreover, prior to 2018 there was no test at all. Another reason is that you can legally drive at 15 in Mexico which is younger than the majority of countries (who will not let you drive before 18).
2: Qatar – Learn to Drive Score, 7.39/10
The youngest age that you can legally drive in Qatar is mind-bogglingly low, at just fourteen years old, which is almost half a decade younger than the global average. On top of this, the price of a driving test in Qatar is £30 which is less than half the global average of £75, the Qatar road test does include both a theory and practical section.
3: Latvia – Learn to Drive Score, 7.03/10
Latvia is the European country where it is easiest to learn to drive, and it is the third easiest country in the world to get behind the wheel. A test in Latvia only costs £26, which is cheaper than Mexico and Qatar, but their minimum driving age is older at 16.
4: United States – Learn to Drive Score, 6.95/10
Just like Latvia the age you can drive from in the USA is 16 (although a handful of states have slightly different laws), and similarly with all the top five easiest countries to drive they require no hours of lessons before taking the test. The cost of the test in the US is slightly below the worldwide average at £84 ($116).
5: Canada – Learn to Drive Score, 6.93/10
The third North American nation in the top five easiest to drive globally is Canada, who narrowly come third place in the fight for the easiest place to learn to drive in that continent. Canada's score of 6.93 overall, is only 0.02 behind the USA due to a marginally higher price of a test at £14 more expensive.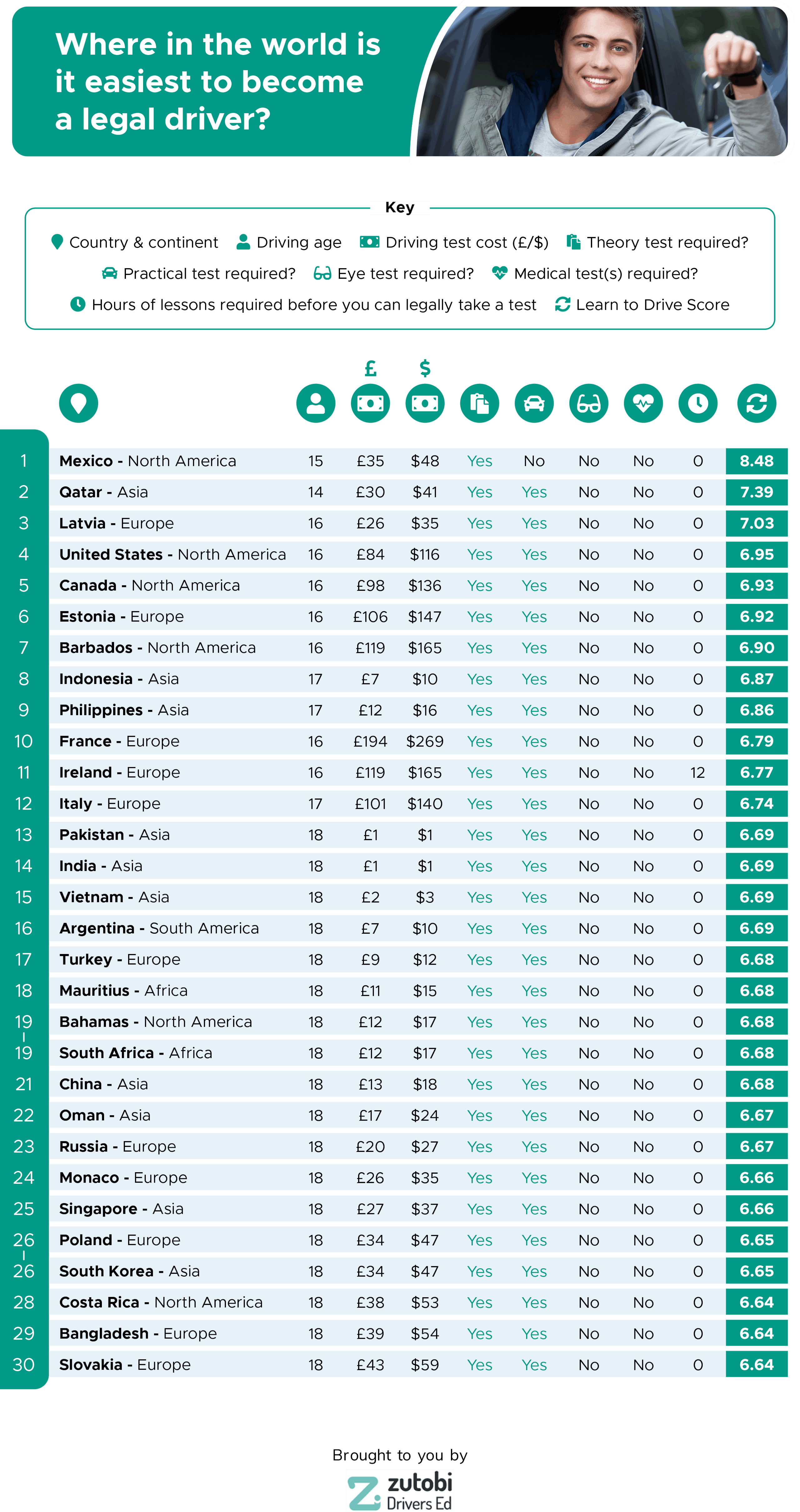 The Hardest Countries to Learn to Drive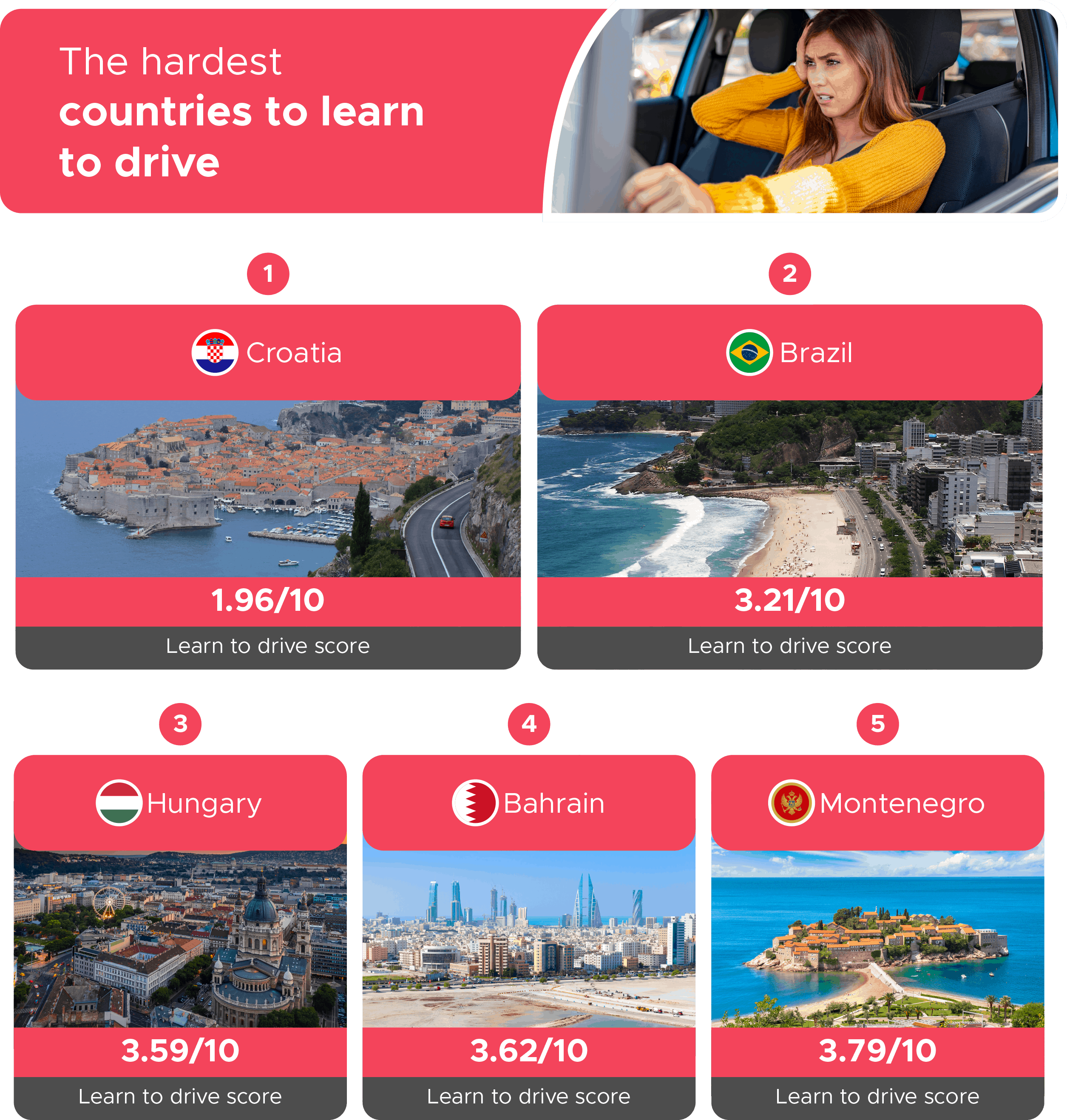 1: Croatia – Learn to Drive Score, 1.96/10
Croatia is the toughest country to get behind the wheel due to their expensive and stringent driving tests that require a minimum amount of learning and monitoring to pass. Average Croatian driving lessons cover about 85 hours on average, and it is a legal requirement to have these lessons before you can even take a test. Croats also have to produce multiple medical clearances and spend around £930 to pass their test and obtain their license.
2: Brazil – Learn to Drive Score, 3.21/10
In total, before you can take a road test in Brazil you are legally required to partake in 60 hours of lessons, 45 on theory and 15 practical lessons out on the road. Brazilian laws also mean that applicants must undergo excessive medical examinations, such as a psychological test before they are allowed to drive. The total cost of all these tests comes to around £213 on average, and all these factors combined make Brazil the second hardest country to become a driver in.
3: Hungary – Learn to Drive Score, 3.59/10
Hungary is the third hardest country to get behind the wheel. Hungarians looking to pass their test must undergo eye and medical examinations, then undertake a minimum of 58 hours of lessons before they can take a test. On the bright side for prospective Hungarian drivers, they can get a license a year earlier than most countries and the costs are relatively cheap.
4: Bahrain – Learn to Drive Score, 3.62/10
Bahrain is the fourth hardest country to be able to drive. Medical, theory, and finally a practical test must be undertaken by prospective Bahrani drivers. On top of that, they must be 18 years old to start driving, and the test costs £361.
5: Montenegro – Learn to Drive Score, 3.79/10
The fifth hardest country to drive is the small European state of Montenegro who achieved a score of 3.79. Montenegro has the 9th most expensive driving test at £239, on top of this they require a medical and eye examination prior to testing. Only then can the 18 year old prospective drivers take a theoretical paper and practical driving test.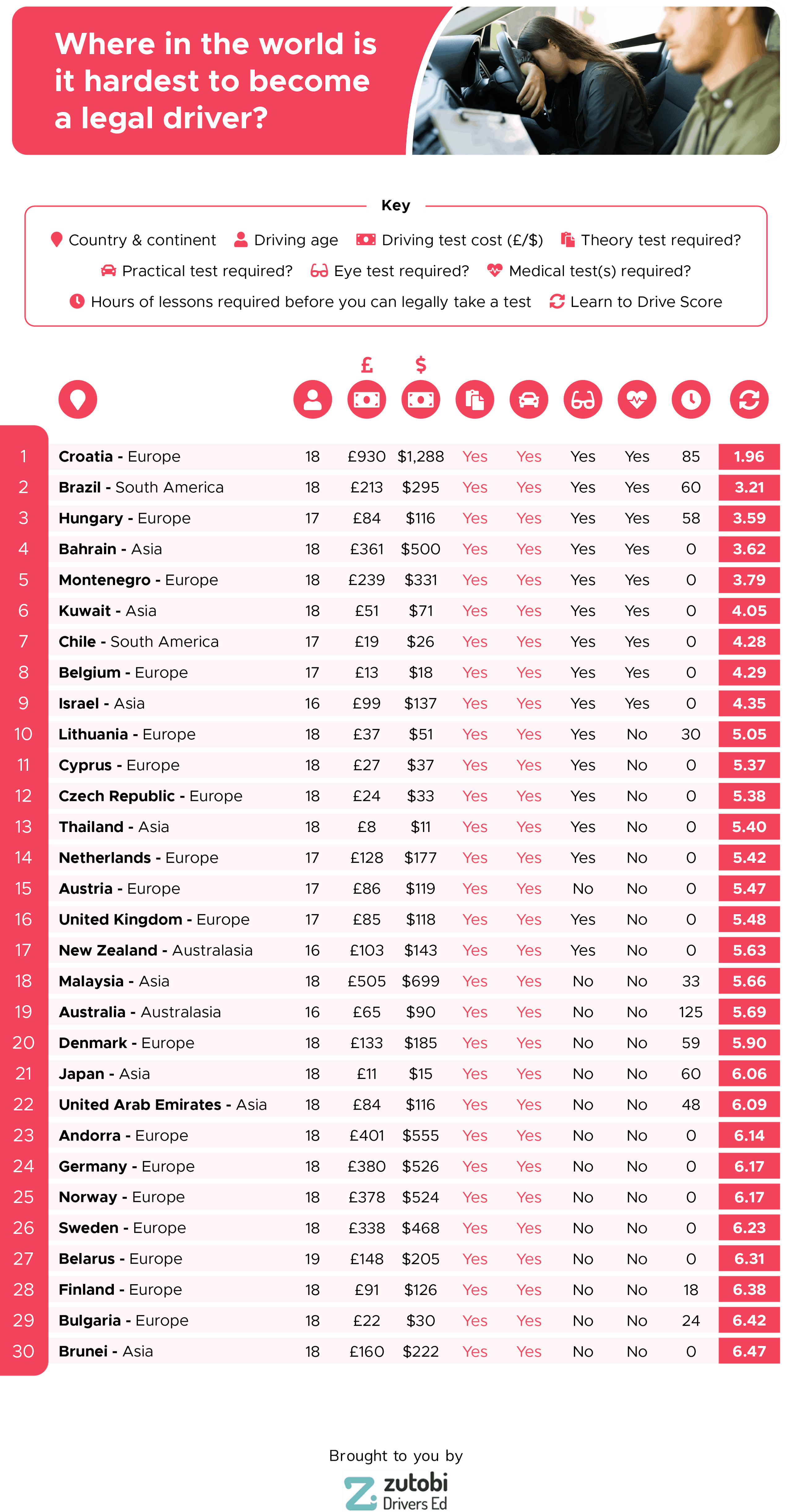 The Cheapest and Most Expensive Countries to Take a Driving Test
Younger people in society tend to be the ones on average with the lowest incomes and smallest savings, and consequently, the expense of taking a driving test is a big factor in how easy it is to drive in each country.
Cheapest Countries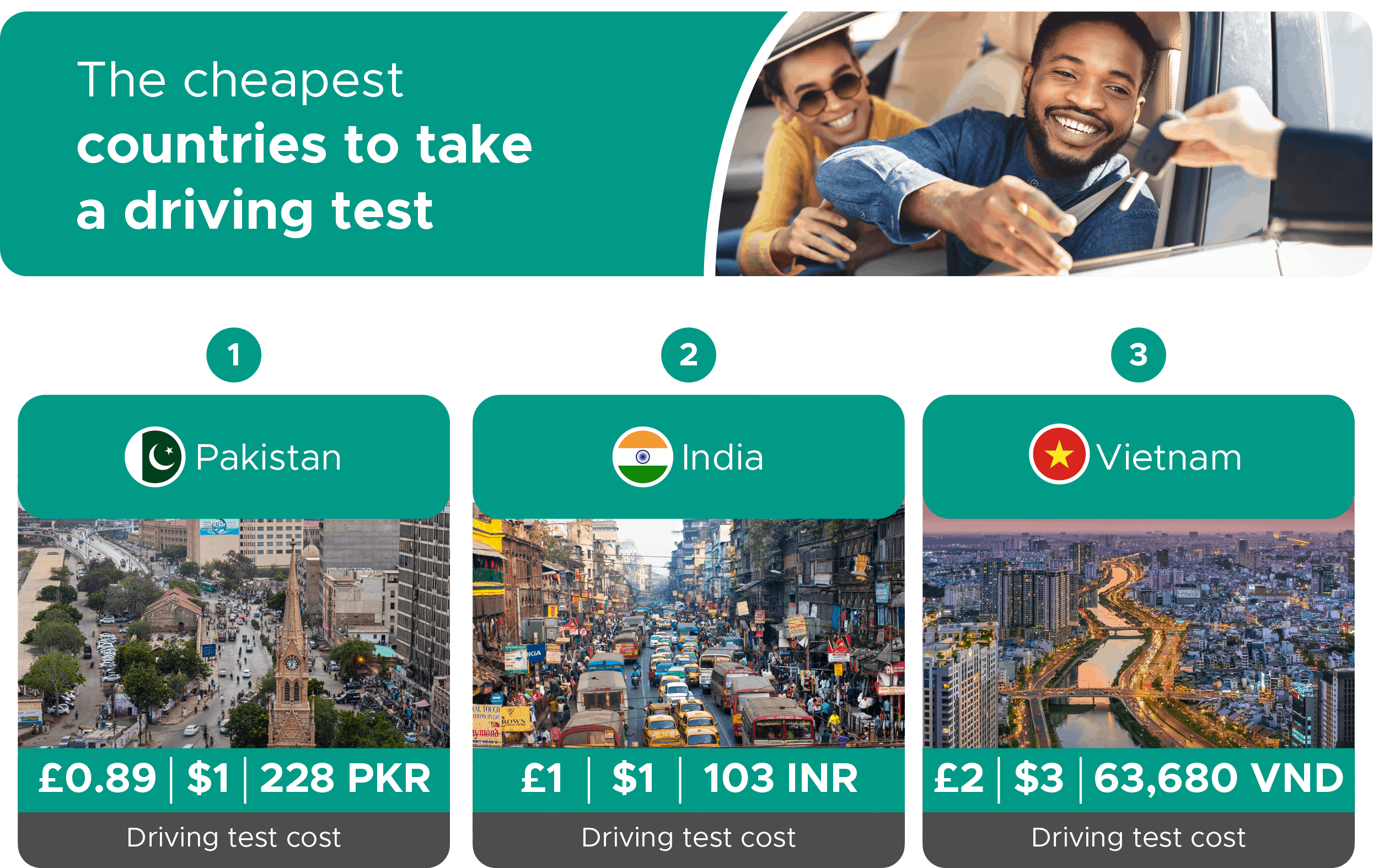 1: Pakistan – £0.89
A Pakistani driving test is incredibly cheap, in fact, the cost is less than £1 (200 PKR). Along with being affordable, the tests are supposedly incredibly easy and therefore the country has a high pass rate.
2: India – £1
Across the border in India, it is almost as cheap as their neighbor to take a driving test, with the cost being £1. This is incredibly cheap and just like Pakistan, the test is incredibly easy with a high pass rate.
2: Vietnam – £2
Another Asian nation completes the top three cheapest nations to take a driving test, as it only costs the equivalent of £2 in Vietnam. The Vietnamese test consists of 450 questions in a theory test, and then a short practical test.
Most Expensive Countries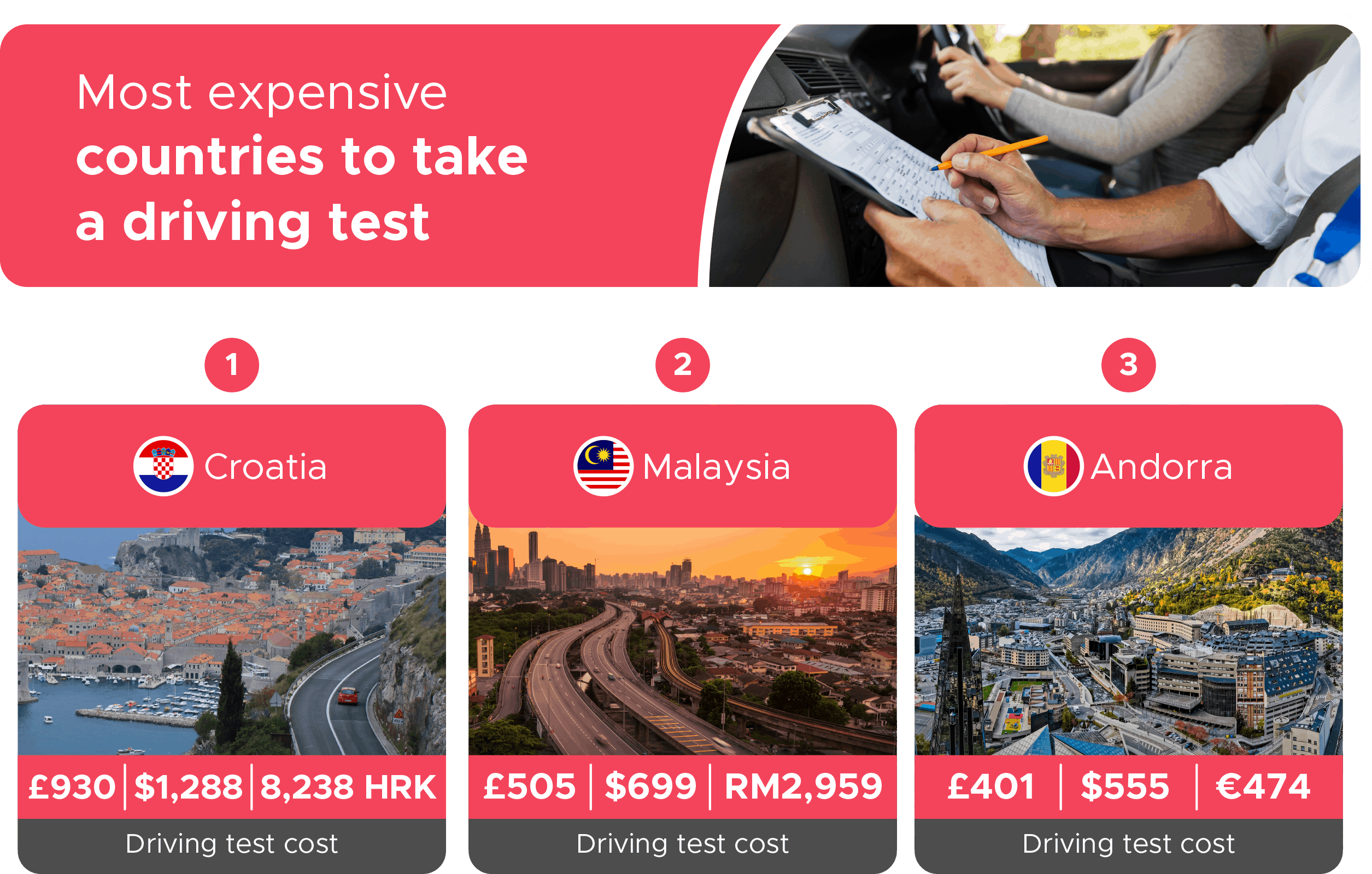 1: Croatia – £930
As previously discussed, 85 hours of driving lessons are a compulsory part of taking a Croatian driving test and consequently, this makes a test there incredibly expensive. As the average fee for the tests around the world is £106, Croats have to pay an average of £824 more than most countries.
2: Malaysia – £505
The Malaysian driving test is very thorough and consequently very expensive, it requires applicants to complete theoretical and practical examinations. On top of this, Malaysians are required to spend 33 hours in lessons. Although the total cost of £505 is over £400 less than Croatia, it is still expensive enough to rank them second.
3: Andorra – £401
The minuscule Pyrenean principality of Andorra is the third most expensive nation in which to take a driving test, with a total cost of just over £400. Because Andorra is so small, all tests take place on one day of the week from the same test center.
Countries with the Craziest Driving Tests
Whilst many countries make drivers partake in a theory and practical test, the toughness of these tests vary dramatically from country to country. Therefore, we have selected three nations that we believe have madly easy tests.
India – India has the most deadly roads in the world. In 2011 there were almost 74 million vehicles on the road in India (roughly twice as in the UK). In the UK there were roughly 3,000 people killed a year on the roads, whereas in India it was 196,000, this is equivalent to 22 deaths an hour. It is unsurprising that there are so many to pass the Indian driving test. All you have to demonstrate is the ability to drive forward, turn left, and then stop in 50 yards to obtain a licence.
Burundi – The driving test in Burundi appears slightly pointless, seeing as they are not a legal requirement so the majority of drivers do not have one. On top of this, there is no training required before you have a test and despite this many still pass which is not a great reflection on the quality of the test. 4.42% of all deaths in Burundi were on the road, and this is extraordinary as there are only 63,000 cars registered in the country.
Egypt – The Egyptian road test has long been the subject of ridicule from the rest of the world judging by the fact that you previously only had to drive forwards and backwards 10 feet to pass. Now however it is slightly harder, as they now have to drive 6 meters forward and backwards around a bend, and have to pass a short theory test.
Methodology
We looked at data for every country in the world and removed the 87 that we could not find complete data for, leaving us with 108.
We then cut down the list further to just include developed or wealthy countries, we included any country that fitted one of these three criteria:
Any nation that is an OECD member state.
Any nation with a score of 8 or above on the human development index
Any nation with one of the top 50 largest GDP's in the world
We decided to combine seven aspects to create the total driving test score, these are:
Age you can drive
Cost of a driving test
Is a theory test required?
Is a practical test required?
Is an eye test required?
Is a medical exam required?
Hours of mandatory lessons to take the test
Data was found from numerous sites including Zuto, Admiral, and World Atlas.
For some nations where elements of data were missing, we found individual sources. By compiling the scores for each category we used a weighted index calculation to give each nation a score out of ten which we then ranked them by.
Who is behind this study?
Zutobi is an international drivers education company with courses in the United States, United Kingdom, Australia, France, Sweden, and Germany. Our mission is to help make the roads is a safer place.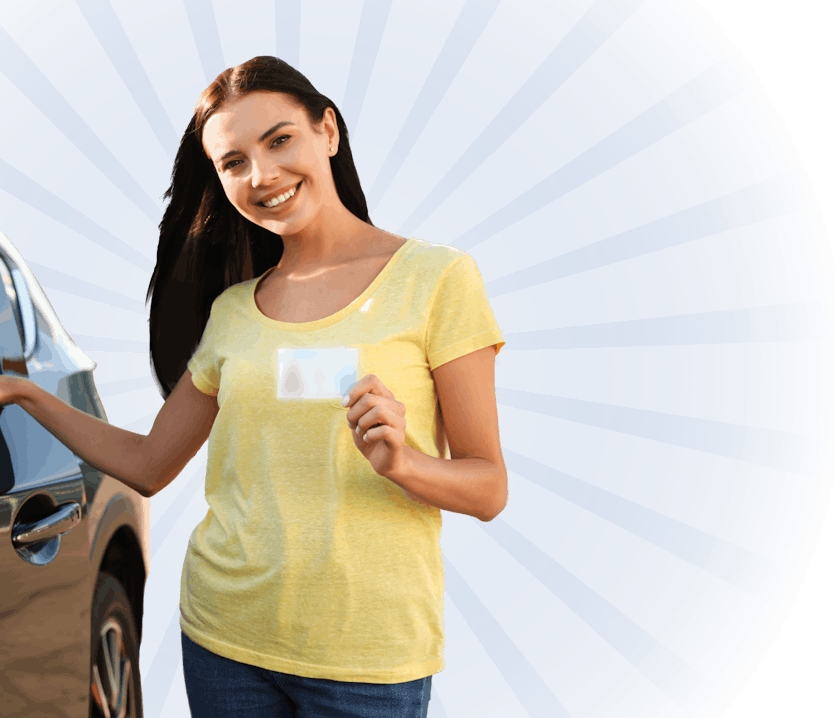 Ace your DMV test, guaranteed